News
Stay informed about the latest enterprise technology news and product updates.
Thin is In: MS Announces Windows Thin PC and More
At yesterday's Microsoft Desktop Virtualization Customer Roundtable, the company soft-announced a beta date for Windows Thin PC (aka WinTPC) some time before the end of March, 2011. This is a locked down, small-footprint version of Windows 7 designed to permit existing PCs to serve as thin clients. (You can see a fascinating video about this event on the Desktop Virtualization home page, including an on-cam interview with Microsoft Windows GM Gavriella Schuster, as she walks viewers through a raft of customer success stories on this technology.)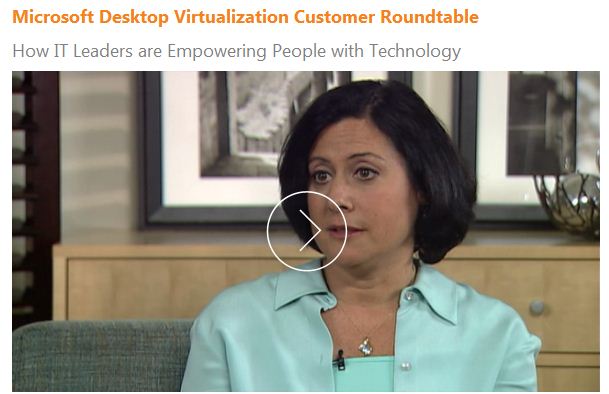 Microsoft has now instituted GA (general availability) for App-V 4.6 SP1 as well. It's intended to make virtualizing applications faster and easier. The latest release includes "package accelerators" to simplify and speed up the app virtualization process, and deliver those virtualized apps over their network infrastructures. These package accelerators should be available in early April, with tools for Adobe Reader, Office 2010, and Microsoft Project planned among the first such offerings.
At the same time, Microsoft Enterprise Desktop Virtualization (MED-V) version 2.0 is also in GA status. This technology permits IT professionals to package up and deliver legacy applications inside VMs that can run on Windows 7 through direct desktop integration (packaged apps run from icons on the desktop or Start Menu entries, though their runtime environments operate inside VMs running older MS operating systems, typically Windows XP). This latest release includes improved linkages with System Center Configuration Manager as well as various third party solutions.
Of course, these technologies are available only to customers who have purchased Software Assurance (SA) licenses or a Virtual Desktop Access (VDA) subscription. For more information, see Dan Kuznetsky's exellent ZDNet blog ("Virtually Speaking") entitled "Microsoft Announces Windows Thin PC and Both App-V and MED-V Updates" or Kurt Mackie's February 16 story for "the Journal" entitled "Windows Thin PC Details Revealed."