News
Stay informed about the latest enterprise technology news and product updates.
Tips for Reducing Windows' On-disk Footprint
Reading one of Sergey Tkachenko's recent Winaero blogs yesterday, I learned that Windows 10 will compress the OS files on a system/boot drive. See his "Reduce the size of your Windows 10 installation using compact.exe" for all the details.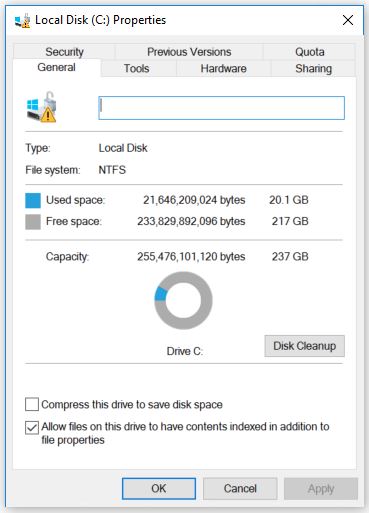 With proper grooming, the on-disk footprint for Windows 10 can be pretty slim indeed, as this properties info from my Vell VP11Pro tablet shows.
What makes this article really valuable, though, is his compendium of what he called "other optimizations to reduce the total amount of disk space take by Windows 10" (most of these also work for Windows 7, 8, and 8.1 as well, BTW; links in the following bulleted list all point to other blogs from Tkachenko that further elaborate on the topics mentioned; comments in italic are my comments or additions to that list):
Make sure your C:\Windows\SoftwareDistribution\Download\ folder is empty. [Note: this is where Windows Update stashes downloads, and if you empty it out, you can't uninstall the affected updates, and you won't seem them listed in Update History anymore.]
Run Disk Cleanup with administrator privileges regularly as

we showed you earlier

to clean up previous Windows installations including Insider Preview files if you are part of the program, Windows Update cleanup, error dumps and logs, System Restore data.
Make sure your browser caches are empty and your %tmp% directory is clean. [Note: CCleaner will happily empty all browser caches as part of its usual clean-up routine.]
Turn off hibernation entirely

if you have an SSD and use Sleep instead.
Uninstall built-in Universal apps

that you don't need.
These are all great tips for compacting Windows' overall on-disk footprint, and especially worthwhile on low-end tablets and devices with limited storage capacity (which I define as 64 GB or less). Here are some additional tips for further reducing your Windows 10 on-disk footprint:
Move paging file to another partition or storage device (if available; how-to).
Disable system restore or move restore images to another partition. (In System applet in Control Panel, click System Protection tab, then manage Protection Settings or Configure restore settings as you wish.)
Use DriverStore Explorer to delete obsolete or unused device drivers (see "Check Out DriverStore Explorer" or "The Importance of DriverStore Clean-up" for more info on this great tool).
Properly groomed, a Windows 10 installation can be pretty svelte: even with all my go-to applications installed including MS-Office 2013 my Surface Pro 3 has an on-disk footprint of only 27 GB; my Dell Venue Pro 11 7139 has 20.1 GB (but no MS-Office). These techniques really work!