News
Stay informed about the latest enterprise technology news and product updates.
Why eMMC Makes New-Crop Low-Budget Devices Cheap
Right now, you can buy an el-cheapo HP Windows laptop for $200. It's designed to compete with Chromebooks, while offering a more familiar (and complete) computing experience — at least, in the minds of some — than the "other platform" can provide. Curious as to what's inside the New HP Stream 11 (official product name: HP Stream – 11 – d010nr Laptop) after reading about it on Paul Thurrot's SuperSite for Windows, I wandered over to HP's specs page to learn more about what makes this device tick.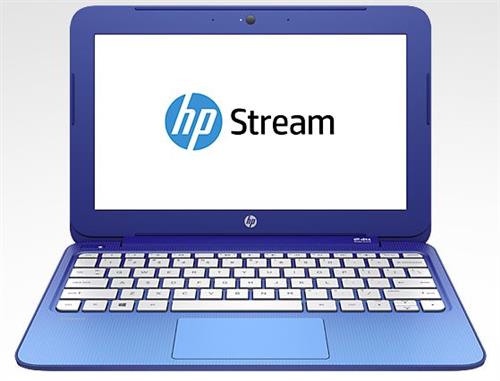 Thurrott loves the look of the new HP Stream 11; I see it as just another 11″ notebook, albeit a very inexpensive one.
Here's what HP provides buyers for their $200 bucks. It's not overwhelming, and to me it's very reminiscent of what those of us who decided to give netbooks a try about 5 years ago were likely to encounter, updated to reflect more modern OSes and mobile device components:
HP Stream 11 Specifications
Item
Details
Processor
2.16 GHz dual-core Intel Celeron N284
Operating System
Windows 8.1 x63 with Bing
Graphics
Intel HD Graphics
Display
11.6″ WLED-backlit 1366×768
Memory
2GB 1333 MHz DDR3 SDRAM
Hard disk
32 GB eMMC
Wireless
802.11 b/g/n, BT 4.0
Power Supply
45W AC adapter
Battery
3-cell, 37 Wh Li-polymer
Ports
USB3x1, USB2x1, HDMI, audio
Expansion slots
SD card reader
Energy Efficiency
Energy Star qualified; EPEAT Silver
Webcam
HP TrueVision Webcam with digital mike
Audio
DTS Sound+
Color
Horizon blue
Pointing device
HP ImagePad with multi-touch gesture
Keyboaerd
97% size island-style
Dimensions
11.81×8.1×0.78″
Weight
2.74 lbs (1.24 kg)
Warranty
1-year limited
Software Included
See specs page: bottom row of table
The secrets to the low price come primarily from four elements. First, the Windows 8.1 with Bing option involves no MS license costs to HP, and brings the price down by $50-80 right there. Second, the Celeron processor is a no-frills workhorse that provides basic functionality sans bells and whistles, and in large lots, can't cost more than $20 apiece. 2 GB of memory isn't the absolute minimum, but it's a workable amount; in large quantities, such SO-DIMMs probably cost $10. The real secrets to the low cost of the device are the slow but cheap eMMC storage device ("eMMC" stands for embedded MultiMediaCard, which is essentially the same kind of flash chips and controller found in an SD card or a low-end UFD, with low speeds to match; less than $25 in large quantities) and the all-plastic clamshell enclosure for the laptop itself. The device is a close match for many Chromebooks in components and by no coincidence whatsoever, also in cost.
Now, it remains to be seen if there's an appetite for such devices. I'm planning on buying one for my son's 5th grade class at school. His fourth-grade teacher loved the Chromebook I gave her for that class to use. Now, we'll see if a workable Windows analog gets the same reception.