News
Stay informed about the latest enterprise technology news and product updates.
Windows 10 1608 Release?
Yesterday a news item hit the Windows blogs that simply offered this headline "Windows 10 Anniversary Update Available August 2," with no additional content or explanation. This morning, that blog post was revealed in full. Given the timing it suggests that Windows 10 1608 will be the next release number. Here's the initial statement from that item, which I found through the Microsoft News Center:

Download this free guide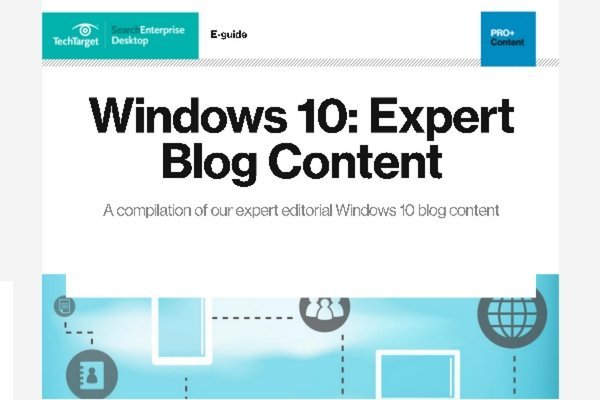 Download: Our 23-Page Editorial Collection of Windows 10 Blog Content
Inside this exclusive download offer, you'll find a compilation of all of our top followed Windows 10 blog content written by our expert editors, who combined have over 30 years of experience in the IT industry. We've compiled a variety of these expert blogs for you - offering best practices and breakdowns designed to help IT professionals tackle the top Windows 10 tips, tricks, concerns and more.
Does an August 2, 2016 release date mean the version will be 1608 instead of 1607? Only time will tell.
Why Windows 10 1608, not 1607?
As recently as last week, the version number associated with Insider Preview builds was 1607. However, given an announced release date in August I have to speculate (and believe) that the actual release will be labeled 1608 instead. That's because version numbering for Windows 10 starts with the last two digits of the year (16) and month (08) in which it gets released.
The afore-cited blog post does more than announce the release date. It also recites the primary features and enhancements to the upcoming Anniversary Update including numerous security items, Windows Ink, a more pervasive Cortana (Windows 10's digital assistant), Edge power efficiencies and extensions, gaming, and more. The "Set up School PCs" app designed to make Windows 10 setup easy for educators also receives mention.
And, as you would expect given Microsoft's continued adherence to the expiration of the free upgrade from Windows 7 or 8.1 to Windows 10 on July 29, 2016, there are several mentions of that looming date or deadline in the blog post as well. Given that today is June 29, the deadline for the free update falls in exactly one month. Those who haven't already exercised this option will want to do so in the next thirty days, even if only to capture a backup image for future use, followed immediately by a rollback to whichever older version of Windows you actually intend to keep on using for a while. That way, you can re-install that image later on to assert your rights to that free upgrade after the deadline has come and gone. Please don't say I didn't warn you…