News
Stay informed about the latest enterprise technology news and product updates.
Windows 10 market share hits number 2
Every month or so, I like to check in at NetMarketShare.com and see what's up with Windows 10 in the relative rankings for desktop operating systems. When I did so this morning, I observed that Windows 10 market share has now taken over the number 2 spot. It's behind only Windows 7 at this point, with a share of 14.15% to Windows 7's 51.89% share. That's a ratio of 3.67 to 1, so it will still be years before Win10 can aspire to lead in those rankings.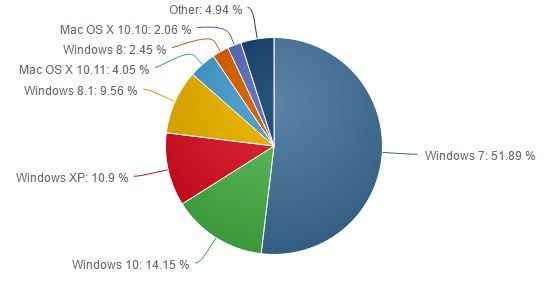 At 14.15%, Windows 10 Marketshare is now 3.16% ahead of Windows XP, and 2.14% ahead of Windows 8 and 8.1 combined.
[Image source: NetMarketShare.com Desktop share by version for 4/4/16]
Explaining Windows 10 Market share and Its Continuing Increases
Here's what I believe explains the continued upsurge of Windows 10 market share in these rankings:
Windows XP continues to tail off as severe procrastinators finally appear to be upgrading away from this ancient OS
Windows 8 and 8.1 are also tailing off as the deadline for free upgrades to Windows 10 approaches (7/29/2016)
Windows 7 is decreasing gradually as some elements of that population also take the free upgrade plunge
Overall, though, the process is going more slowly than many had expected, as both Windows 7 and 8 versions maintain market share more stoutly than the free upgrade path might have suggested. The next quarter should be absolutely fascinating to watch as the free upgrade deadline at the end of July gets ever closer.
At last week's Build conference in San Francisco, MS announced that the total Windows 10 installed population was now at 270 million. If we assume for a moment that the market share numbers at NetMarketShare.com reflect the global PC population at all accurately, that puts the total number of PCs "out there" at around 1.9 billion. For Microsoft to make its goal of 1 billion PCs running Windows 10 by the end of 2017, a substantial portion of the Windows 7 base is going to have to take the plunge between now and then. Extrapolating from IDC forecasts for PC sales from 2015 through 2019, less than 210 million new PCs are likely to be sold between now and the end of 2017. That means that over half a billion PCs from the installed base will have to migrate to Windows 10 for MS to hit its magic number. Can that happen? Maybe it will, but only time will tell for sure.
If we look back in time, and assume the 270 million figure to be through the end of March, 2016, that equates to an 8 month period (overlooking the snippets at the end of July and the beginning of April). Do the math, and we get a monthly run rate of 33.75M. Fast forward to the end of 2017 to total up 30 months, and multiply again to get 1.01B. So far, the numbers indicate it's possible if the run rate continues. I guess what happens when the upgrade expires (or if the upgrade is extended) will decide this matter. Again: we'll see!