News
Stay informed about the latest enterprise technology news and product updates.
Windows 7 Boosts Demand for Desktop Support Staff
Given that the IT sector is lagging the overall rebound in employment across all industries, both inside and outside the US, I'm always glad to see the occasional ray of sunshine where IT is concerned. That's why I read this April 17 story from the UK edition of Network World with greater than usual interest: "Windows 7 fuels demand for desktop support." I don't want to make a mountain out of a mole hill, but this phenomenon dovetails pretty nicely — and predictably — with another Windows 7 phenomenon: an ongoing business technology and desktop refresh stimulated by the combination of an aging XP hardware base and enough improvement in economic conditions to get businesses thinking about investing in their desktop and notebook fleets.

Download this free guide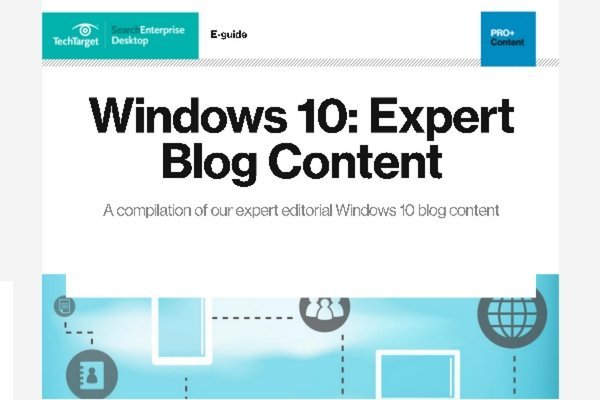 Download: Our 23-Page Editorial Collection of Windows 10 Blog Content
Inside this exclusive download offer, you'll find a compilation of all of our top followed Windows 10 blog content written by our expert editors, who combined have over 30 years of experience in the IT industry. We've compiled a variety of these expert blogs for you - offering best practices and breakdowns designed to help IT professionals tackle the top Windows 10 tips, tricks, concerns and more.
By submitting your personal information, you agree that TechTarget and its partners may contact you regarding relevant content, products and special offers.
You also agree that your personal information may be transferred and processed in the United States, and that you have read and agree to the Terms of Use and the Privacy Policy.
Along with capital expenditures for new equipment comes a brand-new OS on those machines, plus opportunities to migrate or upgrade systems less than three years old (if purchased for potential Vista use, a desktop or notebook will run at least a little better using the same hardware for Windows 7, if not more so). All this adds up to a growing appetite for Windows 7 deployment in businesses of all sizes, and thus also, an appetite for Windows 7 qualified help desk, support desk, and technical IT staff.
That probably adds credence to Chris Pirie's claim (see my IT Jump Start interview with Chris Pirie of MS Learning from last Friday) that Windows 7 training and certification is also fueling a considerable jump in Microsoft Learning's activity and revenue levels. It's also possible that the study Pirie cites in that blog, which reports that Windows 7 is going to add considerably to IT budgets and activity levels as well, is not too far off the mark. I can only hope this ray of sunshine portends a break in the otherwise cloudy IT employment outlook — hopefully, sooner rather than later.