News
Stay informed about the latest enterprise technology news and product updates.
Windows 7 Support Ends 1/14/2020
The German arm of Microsoft started banging the drum for retirement and replacement of Windows 7 last week in a fascinating blog post. It's entitled "Windows 7 Supports Ends in Three Years." (German original, open in Chrome, then right-click and select translate.) The post seeks to make several interesting points, after observing that Windows 7 support ends 1/14/2020 — namely:
Windows 7 can no longer keep up with today's increased security requirements
Windows 7 incurs higher operating costs than newer versions. They come from added maintenance, increased support needs, and time lost to malware attacks
In Windows 7, modern peripherals such as printers may no longer be recognized
The newest Intel, AMD, and Qualcomm chips will run Windows 10 but not Windows 7
I'm tempted to write this off as Microsoft seeking to cultivate FUD (Fear, Uncertainty and Doubt) in its business user base. Except for something that stands out in stark relief in the December 2016 Desktop OS Market Share pie chart: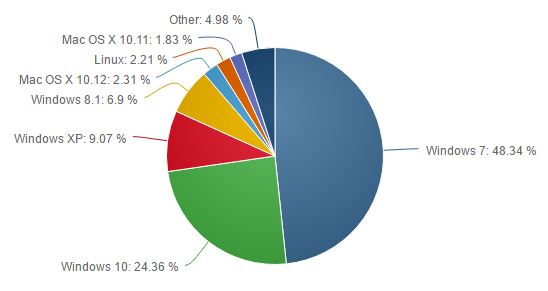 Windows 7 still outnumbers 10 by 2-to-1, but over 9% of the monitored population still runs XP.
[Source:NetMarketShare.com, captured 1/23/17]
What Happens When Windows 7 Support Ends 1/14/2020?
Obviously, MS wants Windows 7's slice of the pie shown in the preceding chart at zero BEFORE end-of-life comes around. But, given that 9-plus percent of users who accessed any of NetMarketShare's servers in December 2016 were still using XP, is that a reasonable wish? Probably not. XP hit end of life on April 8, 2014. But in just one example of what continued afterward, the US Navy paid MS $9.1M in 2015 for continued support for XP and Office 2003 components.
My best guess is that the claims and observations that MS is making in the blog post are completely factual. That said, those remarks are plainly intended as a goad. MS want its huge base of business users planning and executing a migration strategy away from Win7 before that date arrives. I don't blame them. But the continuing hump of XP users (which could be as large as 165M users, assuming that the size of the Win10 population is at 450M in this chart) says otherwise. It will be fascinating to watch how this unfolds. Stay tuned!