News
Stay informed about the latest enterprise technology news and product updates.
Windows 8 Release Preview Hits the Street
Just after lunch yesterday, I got the word that the Windows 8 Release Preview was out (you can download your own copy from http://windows.microsoft.com/en-US/windows-8/download whenever you like, but be warned: there's enough download traffic to those servers right now to make the download process take an hour or longer, even over a fast connection. As with previous Windows 8 downloads, you start with a smallish (5.5 MB) download bootstrap, and then it goes and grabs the real thing (about 18 GB) on its own after that.
There's no upgrade from the Customer Preview to the Release Preview, either. The installer gave me only the option of starting over with a clean install, so I knew I'd have some cleanup work to do on my Lenovo ThinkPad X220 Tablet to get all the drivers and software right. But where the Customer Preview left me with 18-20 drivers to update, the Release Preview left me with 12 that DriverAgent could "see" right off the bat, though I did also have to provide a driver for the Ricoh multi-memory card reader so Device Manager could lose the yellow question mark that denotes an "Unknown Device" and gain a valid entry (and driver) for that card reader instead. Here's what the final results looked like in DriverAgent after a couple hours' work following the hour or so it took me to download (45 minutes) and install (15 minutes) this latest Windows 8 version: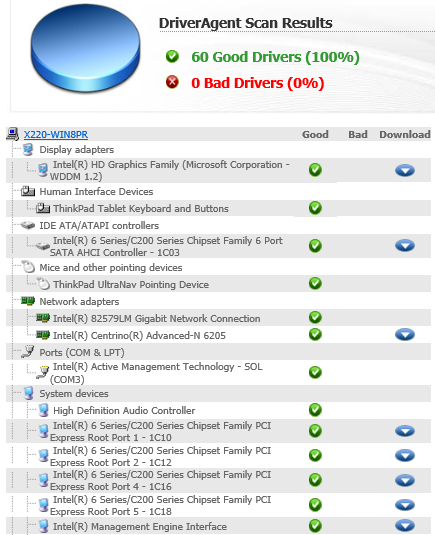 Having now been through Windows 8 installations a dozen or more times, this one seemed to go pretty smoothly. I knew where to go to get all the drivers, and all of the tricks needed to get them to install properly (running infinst.exe -a -P target directory ) gave me access to the driver files in the latest 9.3.0.1020 Intel chipset download, so that I could go patch up the various PCI Express Root Port, Enhanced USB Host Controller, and DRAM Controller entries that the Intel update program failed to handle on its own. Then, after a quick visit to the Lenovo Windows 8 Beta Drivers page, I was more or less up-to-date with everything.
I do notice some slight visual changes in the UI, but probably not as far as the next release will go. This time I still see slight drop shadows on Windows, and some modest Aero/glass effects, but flatter colors, a flat taskbar, and squared-off corners on all desktop windows. I also ran into some interesting tear-off behaviors all over the desktop (and in IE) but a swap for the most recent Lenovo Synaptics trackpad driver seemed to take care of that pretty handily. The Windows Experience Index still includes a Windows Aero metric, however, and I'll be curious to see if that survives and translates all the way into the GA release in October.