News
Stay informed about the latest enterprise technology news and product updates.
Windows Marketshare Jul-Aug 2016
Around the beginning of each month I look at what's happening with Windows marketshare. Courtesy of TenForums poster Lehnerus2000, I show activity for July and August with a pair of vertical bar graphs abstracted from NetMarketShare.com. Trends for Windows marketshare Jul-Aug 2016 don't hold many surprises, except perhaps for two marginal items. That is, Windows 7 marketshare actually edged up slightly over this period (from 47.01% to 47.25%). So did Windows 8.1 at an even more marginal 0.12%. But those gains are probably within the margin of sampling error. Thus, it's probably no indicator that Windows 7 and/or 8.1 are gaining desktops.

Download this free guide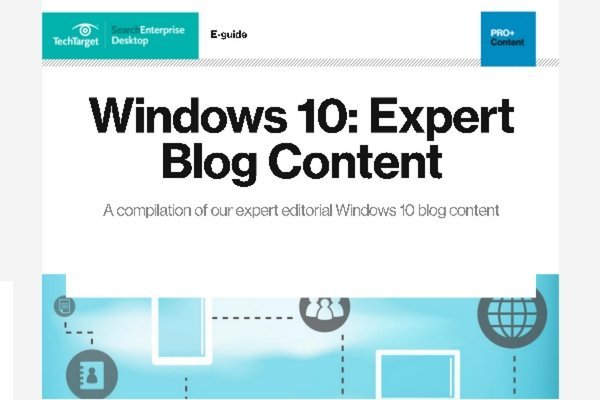 Download: Our 23-Page Editorial Collection of Windows 10 Blog Content
Inside this exclusive download offer, you'll find a compilation of all of our top followed Windows 10 blog content written by our expert editors, who combined have over 30 years of experience in the IT industry. We've compiled a variety of these expert blogs for you - offering best practices and breakdowns designed to help IT professionals tackle the top Windows 10 tips, tricks, concerns and more.
By submitting your personal information, you agree that TechTarget and its partners may contact you regarding relevant content, products and special offers.
You also agree that your personal information may be transferred and processed in the United States, and that you have read and agree to the Terms of Use and the Privacy Policy.

Windows 7 holds on, 10 keeps climbing, and the others all decline or stay put.
[Click image to see full-size details.]
Windows 10 shows growth of around two percent (1.86% to be more precise), while Windows XP dips about one point (0.98%). Other losers include the Mac OS X and Other headings, which together gave up about 1.2%.
What Does Windows Marketshare Jul-Aug 2016 Augur?
The most interesting thing is that August growth of two percent comes after the free upgrade period has come to a close. Consider Microsoft's contention that 300 million PCs were running in May, 2016. Consider also its current "By the Numbers" assertion that it's running on 350 million device right now. That indicates that 720 million computers are running Windows 7. Given a two percent swing per month going forward, that puts Windows 10 on 622 million devices in December 2018. Alas, that's well short of Microsoft's goal of 1B. That leads to one sure and unavoidable conclusion: either Windows 10 adoptions need to pick up the pace or MS ain't gonna hit that goal.
My best guess is that with the US armed services getting serious about migration later this year and over most of next year, other large enterprises and organizations will follow in 2017 and 2018. Thus, it's possible that MS might indeed make this goal. But it will depend almost entirely on business uptake. Stay tuned: I'll keep you posted.