News
Stay informed about the latest enterprise technology news and product updates.
Windows PC Hardware Whack-a-Mole
As I'm slowly but surely upgrading all of my PC's to Windows 7 — I'll keep a few dual-boot notebooks with Vista, and netbooks with XP, just for testing and checking on older OSes — I'm encountering interesting things on my systems right and left. In a recent blog on ViztaView.com, I recount how a bungled BIOS flash cost me the use of my machine during a one-month period when I had to wait for replacement BIOS chip to show up in the mail. It seems that the Asus BIOS protection capabilities for the P5K motherboard are not resilient enough to withstand a completely mangled BIOS, though they are pretty good at dealing with bad settings and suchlike.

Download this free guide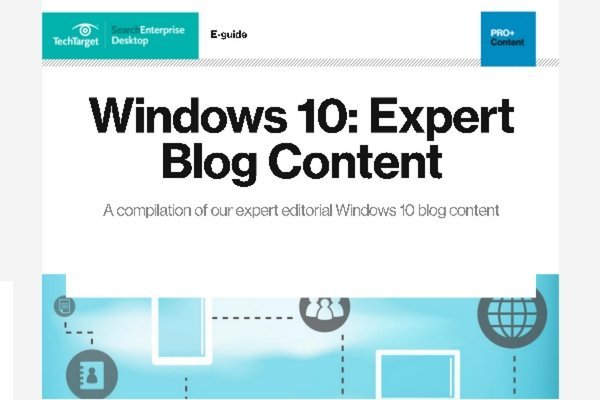 Download: Our 23-Page Editorial Collection of Windows 10 Blog Content
Inside this exclusive download offer, you'll find a compilation of all of our top followed Windows 10 blog content written by our expert editors, who combined have over 30 years of experience in the IT industry. We've compiled a variety of these expert blogs for you - offering best practices and breakdowns designed to help IT professionals tackle the top Windows 10 tips, tricks, concerns and more.
By submitting your personal information, you agree that TechTarget and its partners may contact you regarding relevant content, products and special offers.
You also agree that your personal information may be transferred and processed in the United States, and that you have read and agree to the Terms of Use and the Privacy Policy.
With the return of that machine to activity, thanks to a quick replacement of the bad BIOS chip with a good one, that PC roared back into life. But alas, something then caused its built-in Atheros GbE interface to go on the fritz. While I was able to bring the machine back up and begin using it, I quickly realized that although the on-board NIC appeared to be working to some extent (to the point where lights were blinking, both BIOS and Device manager able to recognize the interface, inbound and outbound network activity could even be registered in the IP stack, and commands like PING LOOPBACK or PING <own-IP-address> appeared to be working) the machine had become unable to access the network. To make things interesting, DHCP simply wouldn't work, though I could manually assign a working IP address and get enough of a configuration working that I became sure the problem did not lie in the IP stack software itself.
After about two-and-a-half hours of sometimes calm and deliberate, sometimes hot and heavy troubleshooting that included OS repair, uninstall/reinstall of the Atheros drivers, disabling of the firewall and other security software, replacement of DHCP auto-configuration for TCP/IP with manual settings, and a romp through my D-Link DIR-655 combo router/WAP/gateway device interface, I came to the conclusion that for whatever reason, the network interface simply wasn't working. I was able to confirm this an hour or two later, when one of my partners showed up with an AirLink101 Wireless USB adapter (802.11b/g/n, which I'm using with an D-Link DWL2100AP 802.11g WAP).
For this device, Plug'n'Play worked just like it's supposed to: in under a minute I had a working network connection. I just wish I hadn't loaned out all three of my wireless USB devices because I could've solved the problem much more quickly if I'd had one around to try the old network troubleshooting practice best epitomized as "if the obvious path doesn't work, try a known good working alternative path." The AirLink will keep that machine working until I have time to head down to Fry's to pick a PCI or PCI-e GbE interface for my test machine, which should boost my networking speed noticeably, and should cost me no more than $20-22 (here's a NIC from TRENDnet that costs a whopping $10).
Next, I'm going to migrate my current production install from my Gigabyte P35T-DQ6 mobo build into a new case, replace that mobo with an Asus P5Q3, substitute a 128 GB SSD for my mirrored 500 GB Samsung drives, and consolidate a bunch of smaller data and archival drives into a single 1 TB Samsung SpinPoint drive. But first, I'll have move my working files and applications onto the now-operational test machine so I can keep working while the switch is in process. Who knows what other moles to whack I'll find along that way? Stay tuned, and I'll let you know!