A desktop theme is a customized graphical user interface (GUI) that replaces a computer's ordinary sounds, icons, pointer, wallpaper or screensaver with something designed to reflect the interests of the user. For instance, if you were interested in bass fishing, you could have a picture of a lake for your computer wallpaper, icons that resemble different kinds of fishing lures, sounds that are related to boats, water and fishing reels, a screen saver from your favorite TV show about bass fishing, and a pointer that looks like a fish. Although desktop themes are popular for home use, many network administrators frown upon desktop themes, primarily because it is possible for a user to inadvertently introduce a virus by downloading a theme from an unknown source.
There are free desktop themes, as well as shareware themes, available on the Internet for all operating systems. It is also possible for users to create their own desktop themes. Microsoft used to require that users purchase an application called Microsoft Plus! to use desktop themes, but they included it as standard issue in Windows 98 and Windows Me. The initial release of Windows 2000 does not include the Plus! package (or its equivalent), although high customer demand leads some industry watchers to predict that the Plus! package will either be included in the next edition of Windows 2000, or be released separately (as it was for Windows 95). In Linux, the latest version of the KDE graphical desktop environment includes a tool to enable users to change their desktop theme. In the spirit of "if you can't beat them, join them", IBM is sponsoring a desktop theme contest for Linux users; first prize is a three thousand dollar donation to the winner's favorite non-profit Open Source organization.
Content Continues Below

Download this free guide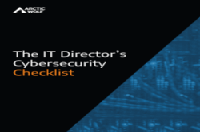 Download Your Cybersecurity Checklist
Use this checklist to assess and develop your cybersecurity strategy, focusing on key areas for consideration such as asset inventory and control, 24x7 vulnerability management, and administrative privileges & access control.
This was last updated in
October 2008
Continue Reading About desktop theme
Dig Deeper on Enterprise desktop management