Get started
Bring yourself up to speed with our introductory content.
Windows 10 guide for IT administrators
Windows 10 is not your dad's OS. It boasts slick user-focused features, but it also has improved management and security features for IT.
Introduction
Windows 10 has a lot going for it, including major additions, such as Continuum, Cortana, Microsoft Edge, Universal Windows apps and even holograms.
But the OS isn't all user-focused. Microsoft also included better security, changes to the command prompt and a back end that's more similar to Windows 7 than 8. That means many shops that hesitated to migrate off Windows 7 to Windows 8 can skip it completely and head right to Windows 10, if they want to.
That being said, most organizations won't jump on the Windows 10 bandwagon as soon as it launches. The technical preview and various builds had some issues and bugs to work out along the way, and it's safe to assume the OS won't be perfect on July 29, 2015, the day it's released to manufacturers.
Learn more about some of the new features, as well as how Microsoft went about fixing the Start menu, and explore the ups and downs of the technical preview.
1

What's new?

-
Windows 10's new features
Windows 10 brings a variety of new features to the table. Cortana, a digital assistant, learns from the user's behavior to provide better answers and advice. Continuum can detect whether or not a keyboard is present on a 2-in-1 device and adjust the interface to match. Universal Windows apps, which allow developers to build a single version of an app that works across multiple Microsoft devices, will make it easy for users to run the same apps on a variety of devices.
2

Long-awaited changes

-
Windows 10 fixes past issues
Windows 10's revamped Start menu will be familiar to anyone who has used Windows before (before Windows 8, that is). In addition, the Continuum functionality powers up a touch-based or traditional Start menu depending on the device the user is on. There are also security improvements, changes to the command prompt and a new method for adding updates.

Download this free guide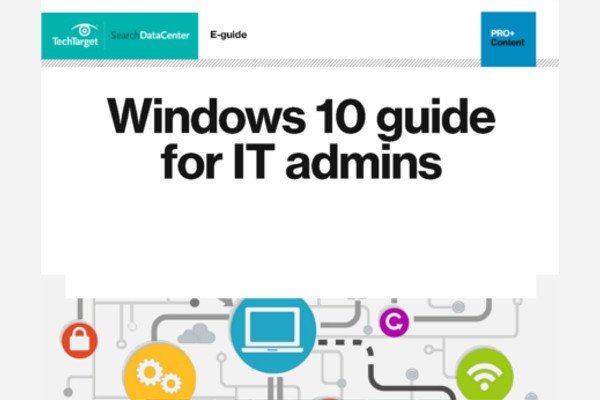 Download the PDF Version of This Essential Guide to Windows 10
Rather than going through each of these articles individually, save yourself the time and effort by downloading our comprehensive PDF version of this essential IT admin guide to Windows 10 so that you can access all of this expert content in one, easy-to-read resource
3

Put Windows 10 to the test

-
Trials and tribulations of the Win10 tech preview
The technical preview allows IT to work with Microsoft's newest OS and see how it runs. There are some problems with the preview, including visual and graphics issues, but it's the only way to dive into key new features such as Continuum, Universal Windows apps and the new Web browser, Microsoft Edge