Manage
Learn to apply best practices and optimize your operations.
Windows 10 how-to guide
Windows 10 is full of changes from previous versions. Understanding how to customize the Start menu, resolve Microsoft Office problems and much more is important.
Introduction
Once IT departments emerge from the muck and mire of a Windows 10 upgrade, they must ensure all their hard work was worth it.
That means knowing how everything in Windows 10 works. If performance lags or an application such as Microsoft Office fails after the upgrade, then all that hard work was for naught. From maximizing performance to troubleshooting common errors, they need to know the operating system cold.
Dive into this detailed Windows 10 how-to-guide to learn how to fix common problems, avoid unwanted notifications, deal with potential storage limitations and more.
1

Performance

-
Make Windows 10 performance purr
As with most aspects of the IT world, performance is the end all be all for Windows 10. Users need their applications to work on it, they need their batteries to stay charged and they need little bugs to stay out of the way. Here's how IT can make sure users get what they need.
2

Common problems

-
When Windows 10 just won't work
Nothing in this world is perfect, and Windows 10 is no exception. In fact, sometimes IT runs into problems activating Windows. Then there can be corrupt file systems, Windows Update can simply stop working or Windows 10 can keep producing driver errors. Check out the following stories to resolve some of these critical errors.

Download this free guide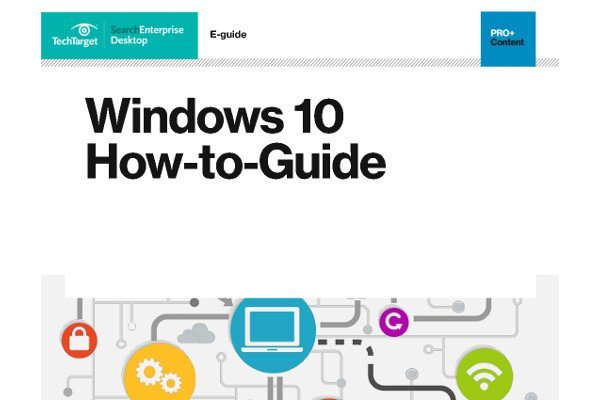 PDF: Windows 10 How-to-Guide
Simply upgrading to Windows 10 is not enough to ensure that this investment is worth your time. You need to know how to keep performance levels high and fix common problems as they arise. Download this full Windows 10 How-to-Guide now for more related content.
By submitting your personal information, you agree that TechTarget and its partners may contact you regarding relevant content, products and special offers.
You also agree that your personal information may be transferred and processed in the United States, and that you have read and agree to the Terms of Use and the Privacy Policy.
3

Disk issues

-
Clear up Windows 10 storage
Storage can be the root of many Windows 10 problems. Once disk space fills up or the system gets bogged down by too many unnecessary files, performance drags, users get upset and IT has to get to work. There are a few ways to make sure storage limitations don't crush Windows 10, including deleting the Windows.old installation file.
4

Spring cleaning

-
Reduce Windows 10 clutter
Users do not want to be inundated with notifications they don't care about or have to wade through a Start menu with tools they never use. Admins and users must know how to limit task bar notifications, customize data save locations and even schedule updates.