Evaluate
Weigh the pros and cons of technologies, products and projects you are considering.
Windows 10 security guide to fortify your defenses
Take a closer look at our Windows 10 security guide and examine some of the top features such as Isolated User Mode and learn how to perform tasks such as booting in Safe Mode.
Introduction
Windows 10 does not revolutionize operating system security, but it does take some aspects in new directions.
From basic security needs, including encryption and password complexity standards, to its features, including Windows Hello for Business, there is a lot to keep track of when it comes to Windows 10 security. Add in tools such as Wi-Fi Sense, which can allow unauthorized users onto a corporate network, and administrators really have their work cut out for them with Windows 10.
Follow this Windows 10 security guide, which covers security basics, explores the key features and shows how to make critical changes, to build an impenetrable Windows 10 fortress.
1

Security considerations

-
Windows 10 security musts
It's critical for IT admins to prevent users from causing security problems. A major point of emphasis should be the simple things with Windows 10 security, including limiting users' access to data and designating who can share what and with whom. Also discover what the ideal security setup looks like.
2

Security features

-
The Windows 10 security tool shed
Windows 10 is chock full of security features from Windows Hello for Business, which brings two-factor authentication and biometrics to the table, to Isolated User Mode, which turns to virtualization to improve security. Microsoft's latest OS also includes Windows Information Protection and tighter web browser security in Microsoft Edge.

Download this free guide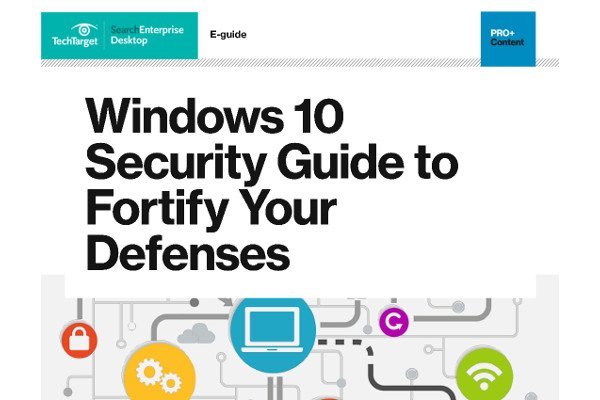 PDF: Windows 10 Security Guide to Fortify Your Defenses
Windows 10 didn't reinvent the security wheel, but they did put a new spin on it. This Windows 10 Security Guide covers the basics, key features, critical changes, and everything else you will need to know to get started. Download the full guide for more related content.
By submitting your personal information, you agree that TechTarget and its partners may contact you regarding relevant content, products and special offers.
You also agree that your personal information may be transferred and processed in the United States, and that you have read and agree to the Terms of Use and the Privacy Policy.
3

Security how-to

-
How to improve Windows 10 security
Even with the security features in Windows 10, admins must know how to make alterations to certain aspects of the OS to better mitigate any risks. This includes keeping third-party software up to date, limiting which wireless networks users can connect to and turning off features such as Wi-Fi Sense.
4

Security quiz

-
How well do you understand Windows security?
Show off how much you learned from our Windows 10 security guide.
Take the quiz
5

Glossary

-
Windows 10 security terms to know
Sift through this compilation of key terms in our Windows 10 security guide.