icetray - Fotolia
Five Windows 10 2018 resolutions to follow
IT pros who emphasize these resolutions in 2018, including a focus on the easy-to-overlook security holes in Windows 10, will have a great year ahead.
The start of a new year often leads people to make resolutions; some people strive to lose weight, others look to save money. Whatever they select, the goal is to make their lives better.
Windows professionals should follow suit and make their own Windows 10 2018 resolutions. The right changes can make both their lives and their users' lives better in 2018.
From improved security to fewer privacy concerns, the time is now to adopt these five Windows 10 2018 resolutions for the new year.
Focus on the simple things for security
IT can put a lot of its security concerns to rest in the new year by shoring up obvious areas. For example, IT can easily encrypt users' personally identifiable information and other data by activating BitLocker, which is built into Windows 10. IT should also educate users on how to avoid bad links or malicious emails. It's impossible to completely eradicate the risks associated with users making mistakes, but some teaching can go a long way.
Are you an expert on Windows 10 features? Prove it with this quiz
Are you a Windows 10 expert? Flaunt your knowledge with this quiz about app compatibility, the OS upgrade process and more.
Many organizations also run into rampant levels of unpatched third-party software. Attackers know that IT often forgets to update third-party software because there can simply be too much to keep track of. Fortunately, there are patch management tools out there, such as GFI LanGuard, that IT can use to identify unpatched software and address it.
In addition, IT needs security standards on every desktop. Setting minimum password lengths or whitelisting applications can really fortify an organization's defenses.
Put Windows Update problems in the past
Windows Update can hit some snags that block updates, which can create security and compliance risks. IT should make sure that all devices are connected to the internet because Windows Update requires an internet connection to function.
Windows also delivers an error code when Windows Update fails. IT can search the internet for that code to diagnose the problem. If that proves fruitless, IT should make sure the device meets Windows 10's minimum hardware requirements. It is also possible for a user's device to simply run out of the space it needs to update. IT can clear space with Disk Cleanup.
Windows 10 certainly isn't perfect, and there are a host of nagging problems that can make it tough to deal with for users.
Problems with Windows Update can also crop up if something happens to the System Reserved Partition, which contains the Boot Manager, Boot Configuration Data and BitLocker startup files. The partition works as part of the update process. Sometimes users delete the System Reserved Partition because they don't know what it is and want to free up space on their devices. The partition can also run out of space. The Disk Management Console gives IT pros a window into the System Reserved Partition so they can make sure it's present and see how much space it still has.
IT can also use the Windows Update Troubleshooter to identify and resolve any issues that commonly cause Windows 10 update problems.
Take full advantage of Windows 10 features
Microsoft has already released several major updates since the OS debuted in 2015. The Fall Creators Update added Exploit Guard, a tool within Windows Defender Advanced Threat Protection that enables IT pros to block malicious websites and combat zero-day attacks with intrusion policies. For users, the Fall Creators Update enhanced the My People app by enabling them to pin contacts to their task bars and open an email, instant message or video chat directly from there.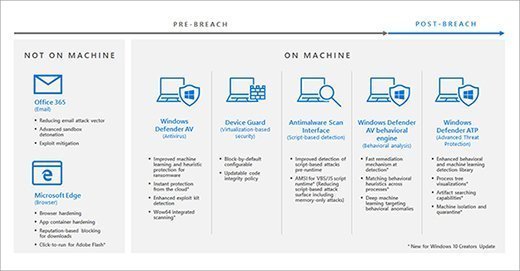 The new features are great, but it's important to also maximize the existing features. Windows Defender Device Guard, for example, enables IT to create code integrity policies that whitelist which apps are allowed to run on Windows 10.
IT can bolster security even more with Windows Hello for Business, which enables both biometric and two-factor authentication. Users can also work with the Cortana digital assistant to make appointments, get directions and more. And, of course, there is Continuum, which can orient the screen of a 2-in-1 device to match the presence of a keyboard.
Turn off annoying ads
Windows 10 certainly isn't perfect, and there are a host of nagging problems that can make it tough to deal with for users. Ads, for example, pop up everywhere in the lock screen, the Start menu and in the Windows 10 Action Center. It is possible to suppress them, but users or IT must do it on a case-by-case basis. There are different toggles for turning off the ads for the Start menu than for the lock screen.
Address privacy concerns
The last of the five Windows 10 2018 resolutions is dealing with privacy concerns. Microsoft collects data from users, including security settings, contact lists, passwords and website visits. It also collects email and text message information, but does not read the contents. This data collection is supposed to help Microsoft customize the user experience. Apps such as Cortana, for example, rely on users' personal information to better meet their needs.
There are ways to limit the data Windows 10 gathers. With telemetry data, for example, there are three settings: Basic, Full and Enhanced. Enhanced sends the most data of the three back to Microsoft. In Windows 10 Enterprise and Education, the user can even turn telemetry data collection off entirely. IT can employ Group Policy settings to limit other data collection or to alter privacy settings.