Evaluate
Weigh the pros and cons of technologies, products and projects you are considering.
Four Windows 10 migration tools to consider
With the right tools -- such as the Windows ADK or MAP -- at their disposal, IT pros can take some of the headaches out of a move to Windows 10.
IT professionals have so many Windows 10 migration tools at their disposal, it's easy to get lost in the alphabet soup of the tools' acronyms.
From the Microsoft Windows Assessment and Deployment Kit, or Windows ADK, to the Deployment Image Servicing and Management (DISM) tool, each utility Microsoft offers does something a little different, including testing application compatibility or automating different aspects of the process.

Download this free guide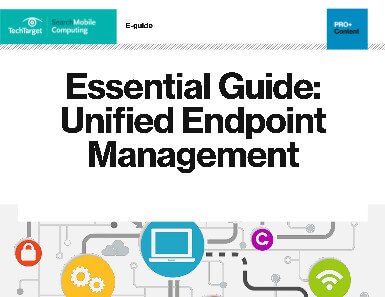 Free PDF: Your Essential Guide to Unified Endpoint Management
Download this 44-page guide to learn everything you need to know about UEM.
Get a handle on some of the top Windows 10 migration tools IT pros can use to manage their move to the new OS.
Microsoft Windows ADK
The place to start with Windows 10 migration tools is Windows ADK, because it actually contains some of the other key services. In fact, the ADK is, as the name implies, a toolkit consisting of utilities such as Windows System Image Manager (SIM), System Preparation and DISM. IT pros can mix and match the exact Windows 10 migration tools they want to include in their kit and use them to test software and hardware compatibility before a Windows 10 migration or automate a large-scale deployment of the OS.
Windows ADK also includes two tools that every IT pro should know: the Windows Preinstallation Environment (WinPE) and the Windows Recovery Environment (WinRE). WinPE is a scaled-back version of the OS IT pros can use when deploying Windows 10 to users' devices to support the OS installer and other software components. It also serves as an emergency option for recovering a Windows 10 desktop in the event of a failure. WinRE serves a similar function and allows IT to boot up a version of the OS to troubleshoot problems, such as issues with file integrity.
Microsoft Windows DISM
The devices and apps users work with, as well as the back-end infrastructure, all need to work in concert with the OS.
IT can work on the desktop image or hard disk before deploying Windows 10 with DISM -- a command-line tool in Windows ADK. DISM gives IT the power to change or update features, packages or drivers within the OS. IT pros generally make the changes while the OS is offline, but there are DISM commands that can allow them to make alterations to an active OS session.
DISM also contains important information on image files and hard disks, including where the image file comes from. The image files IT pros work with when using DISM can be a Windows Imaging Format file, a virtual hard disk or a Hyper-V virtual hard-disk file.
Microsoft Windows SIM
Windows SIM is another of Microsoft's Windows 10 migration tools IT can use to simplify the move. It allows IT pros to create and manage an unattended setup answer file. The answer file allows them to automate portions of the Windows 10 installation process. For example, the answer file contains Windows Setup settings, such as how to partition the disks and which disk to put the image on, as well as what the default language should be. IT can also add third-party apps, device drivers and more to a Windows 10 image with SIM.
The information the answer file contains can be broken down into components, properties and other resources. The components are the different configuration passes -- or phases -- in the Windows Setup process. For example, offlineServicing applies software updates and language packs to the OS. Properties are more user-focused, allowing IT to dictate the keyboard layout or skip portions of the installation process that require user input, such as agreeing to the End User License Agreement.
To add third-party apps and more with SIM, IT must create a distribution share. A distribution share is optional, but it allows IT to make more customizations to the image, including adding scripts and drivers. Finally, IT can add packages that include instructions for the deployment process on which apps to add or remove from the image.
Microsoft Assessment and Planning Toolkit
When moving to Windows 10, compatibility is critical. The devices and apps users work with, as well as the back-end infrastructure, all need to work in concert with the OS. IT pros can use the Microsoft Assessment and Planning (MAP) Toolkit, which inventories the entire network, to assess what they have and how ready it is for a move to a new OS, server version or cloud-based deployment. The Windows 10 Assessment Report, for example, shows whether or not hardware is compatible with Windows 10.
The reports the MAP Toolkit creates include in-depth details, such as the total number of users, the number of users running Windows and the number of users working with a particular application. The toolkit consists of four main parts: the toolkit itself, sample reports, a training kit and information on what MAP needs to run, as well as any prevalent issues to watch.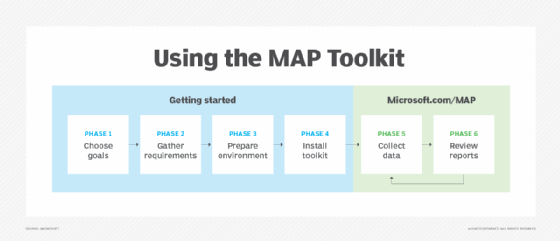 Dig Deeper on Microsoft Windows 10 operating system