makspogonii - Fotolia
Manage
Learn to apply best practices and optimize your operations.
How to create a near-perfect Windows 10 deployment
Deploying Windows 10 successfully may seem like a daunting task. IT can make it happen by creating storage room, implementing tough security and knowing what to avoid.
In Remember the Titans, Coach Herman Boone demands that his players be "perfect in every aspect of the game." No exceptions.
It may be tough to reach Boone's lofty goals of perfection with a Windows 10 deployment, but with the right approach, IT can at least earn the coach's respect. IT administrators should be aware of the storage space Windows 10 needs and implement certain security measures to keep the OS secure.

Download this free guide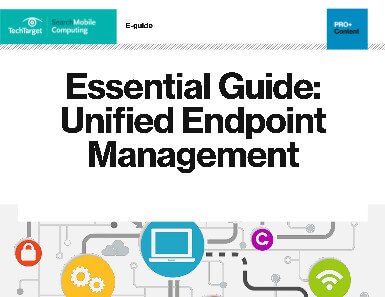 Free PDF: Your Essential Guide to Unified Endpoint Management
Download this 44-page guide to learn everything you need to know about UEM.
Windows 10 is not brand-new anymore. So, the information IT professionals need to create the near-perfect Windows 10 deployment is out there; they just need to know where to look.
What does strong Windows 10 security look like?
IT has some Windows 10 security features it can use to thwart suspicious activity. First, IT should enable BitLocker for Windows 10, which comes with some improved data encryption capabilities. The second move is to set up Windows 10 Group Policy Objects, which allow IT to monitor and define user access to the OS. IT should also turn on Windows Firewall and keep the OS up to date. Security updates allow Microsoft to address the most current issues and better protect against zero-day attacks.
Third-party security tools can help in areas such as software patching and file checking. One way to test for weak spots is by using open source software, such as Metasploit, which tests networks and systems for vulnerabilities. Another option is HitmanPro from Sophos, which adds a layer of encryption to users' devices. IT may also consider a third-party firewall. Attackers are less likely to target a firewall that fewer organizations use.
What about ideal Windows 10 storage?
Low storage space is a common source of problems in a Windows 10 deployment. During the update process, the OS transfers existing user files, which take up space. And the OS itself takes up room on the hardware. IT should use a file cleanup service to flush out files that are no longer in use or valuable. Admins can perform a cleanup manually or use third-party disk cleanup tools.
Users have applications they save data on, as well as profiles with data and settings saved to a registry. Admins should know how workers use their applications and profiles, as well as how many applications and profiles each department has, to accurately account for the amount of storage it needs for Windows 10.
Finally, boot storms, which slow down productivity and agitate users, are bound to happen if IT does not account for storage. IT can add a solid-state drive to balance out the load on drivers.
What can IT do to make sure Windows Update works?
Windows 10 has its fair share of issues.
Window updates are necessary to keeping a Windows 10 deployment running smoothly and securely. IT can use the Windows Update Troubleshooter to pinpoint issues, but it is possible to identify an issue before turning to this tool. Admins should make sure the internet connection is on and strong; otherwise, Windows Update will not function. If the device has a solid connection, check the error code for a specific problem to address. If those two areas are in the clear, double-check to confirm that the device meets the hardware requirements for the Windows 10 update.
Another area that brings up issues is the System Reserved partition, which is created during a Windows install. The System Reserved partition takes up space on the hard drive, and sometimes, users manually delete it, not realizing it is necessary for Windows Update to function. The System Reserved partition also makes waves when there is not enough disk space to accommodate it. IT should use Disk Management to diagnose System Reserved partition problems to avoid more Windows Update complications.
What other Windows 10 problems should IT prepare to solve?
Windows 10 has its fair share of issues. Wi-Fi connectivity can be disrupted, which is most often the result of a legacy virtual private network or a device driver from an older device. Admins can use the Windows Update Troubleshooter to locate the issue and reconfigure the device. For privacy concerns, admins can turn off a user's unique advertising ID in the settings, which limits the amount of data Microsoft collects.
A more minor, but pestering problem is pop-up ads that are built into the OS. These are relatively easy to turn off in the settings.
Dig Deeper on Microsoft Windows 10 operating system