How to customize Windows 10 features
In Windows 10, users can change their authentication method, tweak the Start menu, choose their default save locations and more. Here's how.
As Microsoft's newest operating system continues to make its way into the enterprise, users want to know how they can customize Windows 10 to make the OS their own.

Download this free guide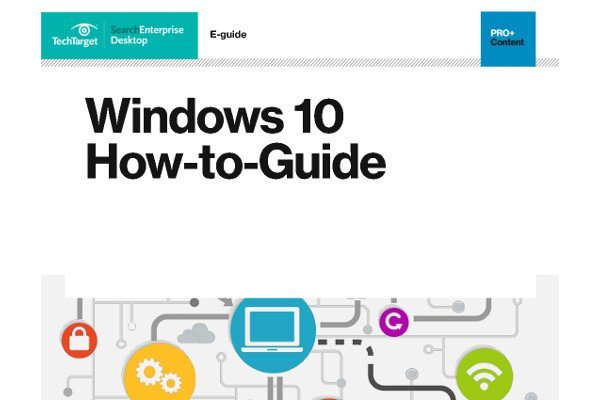 PDF: Windows 10 How-to-Guide
Simply upgrading to Windows 10 is not enough to ensure that this investment is worth your time. You need to know how to keep performance levels high and fix common problems as they arise. Download this full Windows 10 How-to-Guide now for more related content.
Some users might be easily distracted by the bevy of notifications the Windows 10 taskbar throws at them. Luckily, they can turn off or change those notifications. For the users who have trouble remembering their passwords, there are new password alternatives in Windows 10. Employees have a lot of Windows 10 customization options at their disposal to tweak the OS so that it works best for them.
Find out just how to customize Windows 10, including alterations to the Start menu and how to change default save locations.
How can users put a stop to notifications?
Constant notifications cause a lot of problems and can easily become a nuisance in Windows 10. They are a problem during presentations when they keep popping up, distracting the audience. They are an issue when users don't understand what they mean and keep contacting the help desk to find out if something is wrong. And they are a problem when they contain sensitive information other people should not see.
Fortunately, users can remove or alter the notifications they receive on the Windows 10 taskbar fairly easily. The first step is to open the Taskbar and Start Menu Properties sheet by right-clicking the left-most symbol on the taskbar and choosing the Properties command in the shortcut menu. In the Notification area, click on Customize to see a series of on/off sliders users can adjust to activate or deactivate certain notifications. Users can turn off notifications for specific apps or set their devices to withhold notifications while they are presenting. Users can also pick and choose which icons actually appear on their taskbars.
How can users customize the Start menu?
There are four major changes users can make to the Windows 10 Start menu. To access the options, users must click the Start button, then Settings, followed by Personalization. Once the Personalization tab opens, they can click the Start tab to make changes to the Start menu. In the Personalization tab, they can decide whether the Start menu shows their most-used apps or not. Users can also choose if their recently added apps show up on the Start menu. In addition, they can decide whether or not Windows 10 automatically boots into a Windows 8-esque Start screen instead of the more traditional desktop look. Finally, they can decide if their recently opened items display in Jump Lists or on the taskbar.
Users can also customize their live tiles. All they have to do is right-click a live tile and they can unpin it from the Start menu or resize it. Keep in mind, resizing a live tile will affect how much information the tile displays. Users can also rearrange their live tiles in any order they want, and they can even create live tiles for any app by right-clicking the app and choosing Pin to Start.
What types of authentication options exist in Windows 10?
Traditional passwords are not the best OS authentication method. They can be long and complex, must be changed constantly and are fairly easy to hack with malware. As a result, Microsoft pushed for a password-free OS with Windows 10. In the place of passwords, the company introduced biometric authentication through Windows Hello. With Hello, users can access Windows 10 with fingerprint, face or iris scanning. The biometric information is device-specific, so it lives on the individual device and never leaves.
Users have a lot of Windows 10 customization options at their disposal.
Workers can also use PINs in place of passwords. The OS requires the PIN to be at least four digits. It also locks out the device after four incorrect login attempts after which the user is presented with a challenge question. Like the biometric information, the PIN always remains on the individual device it is associated with.
Finally, users can choose to access their Windows 10 device with a picture password. To use this feature, users select a photo and make three gestures on the photo to unlock the device.
How can users change the default save location?
Windows has traditionally used libraries as the default save locations for different types of data. The libraries include Documents, Photos, Music and Video. If users want to automatically save their files somewhere else, they can in Windows 10. How they do it depends on whether their devices are domain-joined or not.
On non-domain-joined devices, users should move the libraries to change the default save location. They can do so by right-clicking the library they want to move in File Explorer and then picking the Properties command from the Shortcut menu. Once in the Shortcut menu, they should pick the Location tab to show where the library they want to move is currently located. They can then move the library by clicking Move after typing in the new location.
If the device is domain-joined, users can change the default save location with roaming profiles and folder redirection. At the Active Directory level, users can redirect their profiles to a centralized network location, which allows their libraries to follow them from device to device.