How to solve four common Windows 10 problems
Windows 10 comes with some concerns, including activation issues and device driver failures. Learn how to resolve these problems and more.
Users usually do not like when something doesn't work right. Whether it's a device, operating system or application, it better work -- and it better work well.

Download this free guide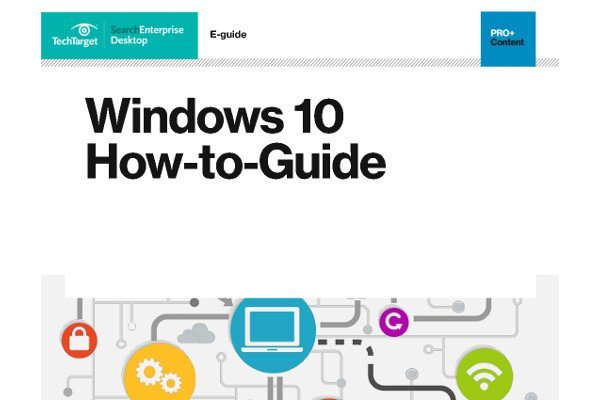 PDF: Windows 10 How-to-Guide
Simply upgrading to Windows 10 is not enough to ensure that this investment is worth your time. You need to know how to keep performance levels high and fix common problems as they arise. Download this full Windows 10 How-to-Guide now for more related content.
Windows 10 is no exception. No OS is perfect, but as Windows 10 adoption continues to rise, it's important for IT administrators to know what problems are likely to pop up and how to solve them. If admins can nip the common Windows 10 problems in the bud, they will keep users happy and create time to focus on more pressing concerns.
Common Windows 10 problems include activation issues, battery life problems and slow boot times. Find out why these Windows 10 issues crop up and how to fix them quickly.
Why won't Windows activate?
If admins can nip the common Windows 10 problems in the bud, they will keep users happy.
Before workers can use Windows 10, they must be able to activate the operating system. Sometimes, that's easier said than done. If admins have trouble activating Windows 10, they probably face one of two issues: a connectivity problem or a product key complication.
To find out if the product key is to blame, admins should right-click the Start menu and select System Command. They should scroll to the bottom of the resulting window and open the Windows Activation section, then click Activate Windows. A window should pop up explaining why the error occurred. The message could say, "Windows cannot activate right now" -- in which case, admins should wait and try again later -- or it could say, "The OS could not reach Windows activation servers," which means there's an internet connection problem. If it is the former and waiting does not work, admins can click a button in the window to get a new product key. If it is the latter, admins should test the internet connection, and if the device is not connected, troubleshoot that issue.
Why is startup slowing down?
Once admins activate Windows 10, users will want to boot the OS. Windows 10 startup is lightning-quick at first, but no matter what settings admins use -- including using "Turn on fast startup" and curating a list of which apps start up automatically -- the process eventually slows down from seconds to minutes.
The best way to reclaim faster startup times is to make the device's boot drive a solid-state drive (SSD). To do so, IT should back up users' data and install the SSD. Before the install, IT should create an image of the backup and put it on a USB drive. Also, remember to keep track of the product keys. After the install is complete, admins can turn the former boot drive into a data drive.
Quiz: Show off your knowledge of Windows 10 features
Are you a Windows 10 expert? Flaunt your knowledge with this quiz about app compatibility, the OS upgrade process and more.
Why does Windows 10 kill my battery?
Some Windows 10 features suck the life out of a device's battery. As a result, it is crucial to install the most recent version of the OS because newer versions do a better job of preserving battery life. Build 14332, for example, de-emphasizes nonessential background programs to lower the effect they have on battery life.
Cortana's active listening feature, which allows users to simply say, "Hey Cortana," to activate the digital assistant, is a real strain on a device's battery, because Cortana is constantly monitoring for the phrase. Admins can turn off active listening, and users can still work with the digital assistant. To do so, they must go into Notebook, click Settings and slide the bar next to "Hey Cortana" to off.
Background apps kill device batteries in Windows 10, too, because they are constantly downloading internet data in an effort to stay up to date. Of course, the downloads give users all the latest information they could want right at their fingertips, but the searching is not good for battery life. Admins can turn the constant download feature off on a per-app basis through the Settings menu. In Settings, they click System and Battery Saver to open up a new window. In the window, they can decide which background apps can receive data and send notifications.
How can I solve device driver problems?
Device drivers can cause a lot of graphics-related problems in Windows 10. Users might encounter a message that says, "Display driver stopped responding and has recovered." To combat this problem, admins should update users' driver software by rebooting and opening the Device Manager, right-clicking the graphics driver and selecting Update Driver Software. If this move does not fix the issue, admins can right-click the driver in question, click uninstall and follow the resulting prompts. They should then click Scan for Hardware Changes on the Device Manager toolbar to find out if an alteration is responsible for the problem.
For devices with graphics processing units, admins can stop the problem by increasing processing times. To do so, they must change the Timeout Detection and Recovery registry value. Of course, before they make any changes, admins should back up the registry.