Fotolia
Huawei MateBook proves 2-in-1s have enterprise prospects
Huawei's MateBook is a cheaper alternative to other 2-in-1s on the market, and it still ticks all the boxes enterprise users could need.
The MateBook -- a Windows 10-powered 2-in-1 -- is slick, stable and cheaper than its Core M rivals.
Huawei Technologies has a reputation for making premium hardware priced right; a reputation it's finally bringing Stateside after years of producing products for overseas markets. To keep it cheap, Huawei offers the MateBook and its accessories -- including the keyboard folio, MatePen stylus and MateDock USB hub -- separately.
The entry-level MateBook features a sixth-generation Intel Core M3 processor and plenty of RAM for day-to-day office tasks. It's even thinner than an iPhone 6s, and the keyboard case adds minimal girth, which makes it extremely portable. It's also a Signature Edition PC, meaning it ships with pure Windows 10 and no Huawei bloatware.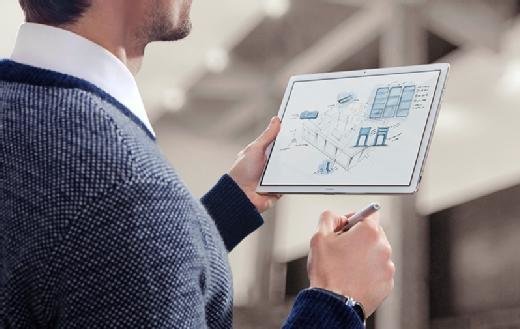 Its single USB Type-C input is limiting, but unlike most other device makers, Huawei bundles its device with adapters for standard USB accessories. Its battery life should last close to a full day with moderate use, and it charges fast.
The MateBook costs $200 less than both a Microsoft Surface Pro 4 with similar specs and the Samsung Galaxy TabPro S, which ships with a stylus and keyboard. Even factoring in the cost of these accessories, the MateBook comes out ahead.
Huawei MateBook specs
Display: 12-inch IPS TFT LCD, 2160 x 1440 resolution
OS: Windows 10 Home 64-bit
Chipset: Intel Core M3-6Y30 (900 MHz), up to Intel Core M5-6Y54 (up to 2.70 GHz)
Memory: 4 GB of 1866 MHz LPDDR3 RAM, up to 8 GB
Capacity: 128 GB solid-state drive, up to 512 GB
Ports: USB 3.0 Type-C, 3.5 mm headset, smart connector for keyboard
Build: 11 x 7.64 x 0.27 inches, 1.41 pounds (tablet only)
Battery: 33.7 Wh battery (4430 mAh @ 7.6V)
Camera: 5 megapixel front camera, dual array mics
Accessories: Ships with power adapter, USB-C data charger cable, USB-C to micro-USB cable, micro USB to USB-A adapter
Price: From $699 to $1,199, depending on configuration. Keyboard folio: $129; MatePen stylus: $59; MateDock USB hub: $89.
This article originally appeared in the September issue of the Modern Mobility e-zine.
Dig Deeper on Microsoft Windows hardware, including laptop and notebook reviews