Get started
Bring yourself up to speed with our introductory content.
Microsoft Office 365 tries to keep enterprises in its suite spot
IT shops may find that the entire Office 365 suite is a good deal, once they parse Microsoft's licensing options and address initial misgivings.
After over two years of general availability, the Office 365 suite has now morphed into what Microsoft intended all along. What was originally sold as a cloud-based suite that included offerings of Microsoft's server products has become something much larger. The vendor's current Office 365 strategy is intended to get more customers to a subscription model and into the cloud. Microsoft's long-term goal is to take its existing user base and turn it into cloud customers, thereby generating a constant revenue stream for the company.

Download this free guide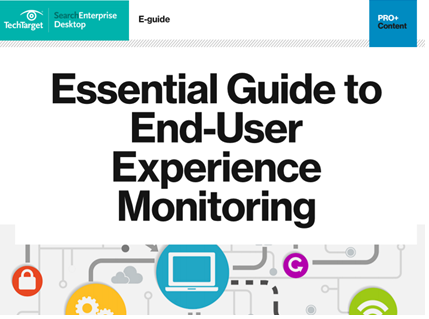 PDF: Essential Guide to End-User Experience Monitoring
Download this guide to compare tools in the end-user experience monitoring market and discover how they can help IT pinpoint and resolve problems faster.
By submitting your personal information, you agree that TechTarget and its partners may contact you regarding relevant content, products and special offers.
You also agree that your personal information may be transferred and processed in the United States, and that you have read and agree to the Terms of Use and the Privacy Policy.
With that in mind, it's crucial for longstanding IT administrators, Microsoft customers and business decision makers to understand exactly what Office 365 is, how things have changed since its initial release and what they're in for if they're weighing Microsoft as a cloud provider.
Explaining Microsoft Office 365
If you're new to Microsoft Office 365, it's important to understand exactly what it encompasses. Office 365 is a cloud-based productivity suite that includes Exchange Online, SharePoint Online and Lync Online, as well as Microsoft Office and Office Web Apps. Customers have various plans to choose from, depending on their needs.
Because Office 365 is subscription-based, the company will stream updated versions of the products and/or applications to which an organization subscribes. Therefore, customers will receive Microsoft Office 2013 and the 2013 versions of SharePoint, Exchange and Lync now, and they will be updated with new versions as they become available.
Why does Office 365 make sense?
Microsoft has been touting its "better together" strategy for some time now, and the Office 365 suite fits into that mind-set in a big way. A company that opts for the full Office 365 suite of products should get the most bang for its buck. The integration between server-based products, as well as with Office, will allow users to share and collaborate better than ever. Some highlights include, but are certainly not limited to, the following:
Lync Online, which allows for video conferencing and presence;
Site mailboxes via Exchange and SharePoint, which let users drag and drop messages, documents and more into a commonly shared mailbox; and
In addition, Microsoft's browser-based Office Web Apps are intended to work more smoothly with Office 365 and Windows 8, bringing mobile device workers in closer harmony with their desktop- and laptop-using peers.
Office 365 shortcomings and criticisms
Some experts note that new and improved features may not be enough to entice Office 365 adoption. Critics note that Microsoft could have focused on tablets and desktops separately. Many also point to the fact that Microsoft still does not allow for customizations of Office 365. This pushes many enterprises toward other cloud providers.
In addition, many organizations are delaying their Office 365 migrations, as they wait for bigger-name customers to move first. Also, many in IT fear that they might lose their jobs if administration moves from the desktop and data center to the cloud. Although, as time goes by, that fear appears to be waning.
There's no doubt that the Office 365 suite represents a gamble for Microsoft, as it tries to shift from being a software company to a services one. Subscriptions may make maintenance easier for IT shops, but cloud computing does raise legal and security concerns.
Office 365 licensing
Microsoft recently announced an Office 365 licensing overhaul. Depending on their plan, users with a single license had access to server-based applications, as well as desktop Office products. Recently, three new Office 365 versions were made available to customers. Microsoft hopes to make Office 365 more enticing to a greater audience.
Office 365 ProPlus includes traditional Office apps, such as Word and PowerPoint, and can be licensed on up to five devices. The license is tied to the user rather than the device. Office 365 Midsize Business includes ProPlus and Active Directory integration, and Office 365 Small Business is intended for shops with one to 10 employees.
Time will tell whether Microsoft's Office 365 strategy is successful in persuading enterprises to move to subscriptions and the cloud.
What do you think about the Office 365 suite? Do you have questions or comments regarding this FAQ? Email us.
Dig Deeper on Microsoft Office Suite