Microsoft Windows Vista: IE7, Windows Mail and Windows Calendar
Check out this excerpt from Microsoft Windows Vista Unleashed by Paul McFedries, with details on Internet Explorer 7, Windows Calendar and Windows Mail.
Microsoft Windows Vista Unleashed

By Paul McFedries
Microsoft Windows Vista Unleashed offers IT professionals details on the new features and improvements included with Windows Vista, as well as a fresh approach to unleashing the vast potential of Microsoft's latest desktop operating system.


Purchase the full book, Microsoft Windows Vista Unleashed.

Performance and stability improvements


Security enhancements and other key features


IE7, Windows Mail and Windows Calendar

The following excerpt is from chapter one entitled "An Overview of Windows Vista."

---
All new versions of Windows come with a few brand-new programs and tools, as well as a bunch of existing features that have been overhauled, tweaked, or merely prettified. Windows Vista is no exception, and I've talked about a few of these already (including Windows Sidebar, Windows Defender, and the Reliability Monitor). The next few sections take you through the main highlights of the rest of Vista's new and improved programs and tools.
Internet Explorer 7
We haven't seen a new web browser from Microsoft for several years, so you'd expect that Internet Explorer 7 would be chock full of new features. Alas, it's not. The most important new features are the security enhancements that I mentioned earlier (the Phishing Filter and Protected mode). Other than those and a slightly revamped interface, the list of significant new features is disappointingly meager:
Tabbed browsing -- Like Firefox, Opera, Safari and quite a few other browsers, Internet Explorer finally has tabbed browsing, in which each open page appears in its own tab within a single Internet Explorer window. Internet Explorer ups the tab ante a bit with a new feature called Quick Tabs that displays a live thumbnail of each tabbed page, as shown in Figure 1.11.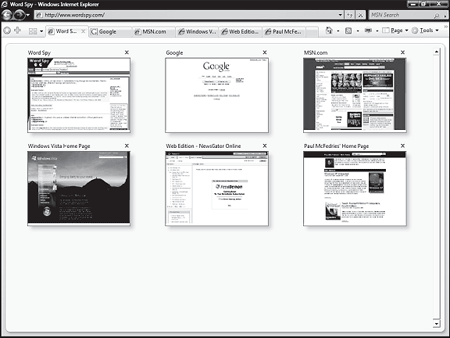 FIGURE 1.11: Internet Explorer 7 finally has tabbed browsing, but it improves on this feature with Quick Tabs, which provides live thumbnails of the tabbed pages.
Support for RSS feeds -- RSS (Real Simple Syndication) is becoming the preferred method for sites to enable readers to stay up-to-date with changing content. Internet Explorer 7 recognizes when a site has one or more RSS feeds available and enables you to view the feed. You can also subscribe to a feed to have Internet Explorer alert you when new content is available. Subscribed feeds appear in the new Feeds folder, which is part of the Favorites Center, a pane that also includes the Favorites and History folders.

Delete Browsing History -- This new feature gives you an easy way to delete the following data related to your past web browsing: temporary Internet files, cookies, history, saved form data, and remembered passwords. You can delete any one of these options, or you can delete all of them with a single click.

Multiple home pages -- Internet Explorer 7 enables you to specify up to eight home pages. When you launch Internet Explorer or click the Home button, Internet Explorer loads each home page in its own tab. This is a great new feature if you always open the same few sites at the start of each browsing session.

CAUTION There's no such thing as a free browsing lunch, of course. The more home pages you have, the longer it takes Internet Explorer to launch.

Manage Add-ons -- If you've installed an add-on program that adds new features such as a toolbar to Internet Explorer, you can use the new Manage Add-ons dialog box to see all the add-ons. You can also use it to enable or disable an add-on and delete an installed ActiveX control.
Windows Mail
Windows Mail is the new name for Outlook Express, which Microsoft needed to change because some people were getting it confused with Microsoft Outlook. Unfortunately, the name is just about all that's new with Windows Mail. Only three new features are of any significance:
Junk Mail Filter -- Borrowed from Microsoft Outlook's excellent spam filter, this does a fine job of detecting incoming spam and relegating it to the new Junk Email folder.

Search box -- Like the Vista Start menu and folder windows, Windows Mail comes with a Search box in the upper-right corner. You can use the Search box to perform as-you-type searches of the To, Cc, subject, and body text fields of the messages in the current folder.

Microsoft Help Groups -- Windows Mail comes with a preconfigured account for Microsoft's msnews.microsoft.com news server, which hosts more than 2,000 microsoft.public.* newsgroups. If you have a Microsoft Passport ID (such as a Hotmail address), you can log in and rate newsgroup posts as either Useful or Not Useful.
Windows Calendar
Windows is slowly evolving into a complete computing system in the sense that it contains everything that a user with simple needs could want. It has long had a word processor, text editor, graphics editor, web browser, email client, media player, and backup program. What's missing? On the security side, it's essential to have a bidirectional firewall and antispyware tool, and Vista has both of those. In addition, all of us need some way to track appointments and to-do lists, so we need a calendar application; Vista now comes with one of those, too, called Windows Calendar, and it's actually not bad for an operating system freebie. It has a nice, clean interface (see Figure 1.12), and it does all the basic jobs that a calendar should:
Create appointments, both one-time and recurring
Create all-day events
Schedule tasks, with the ability to set a priority flag and a completed flag
Set appointment and task reminders
View appointments by day, week, or month
Publish and subscribe to calendars using the iCal standard
Import Calendar (.ics) files
Create multiple calendars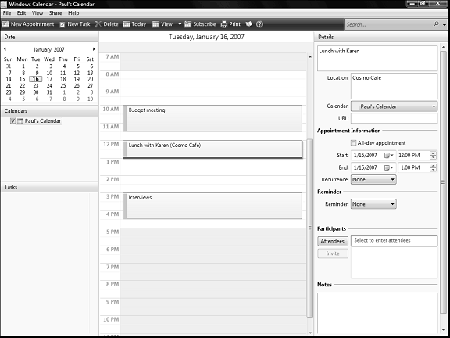 FIGURE 1.12: Windows Calendar is a reasonably competent calendar program.
Return to the main page, Microsoft Windows Vista: What's new under the hood.
Paul McFedries is the president of Logophilia Limited, a technical writing company. He has been working with computers for over 30 years, has been using Microsoft Windows since version 1, and is widely viewed as an expert in explaining Windows and Windows technology. Paul has written more than 40 books that have sold nearly three million copies worldwide.

Dig Deeper on Web browsers and applications