Dmitri Stalnuhhin - Fotolia
Get started
Bring yourself up to speed with our introductory content.
Office 2016 features better security, social collaboration
With Office 2016 Microsoft put an emphasis on security and social collaboration. It also made the mobile version a viable option for companies.
With the release of Office 2016 Microsoft enhanced the productivity suite's security and improved its collaboration capabilities.
Microsoft bolstered security by adding granular filtering and blocking to its data loss prevention (DLP) so IT administrators can make sure users don't send sensitive information to unauthorized locations, for example. And Microsoft Office 2016 features a slew of new collaboration tools, including coauthoring capabilities.

Download this free guide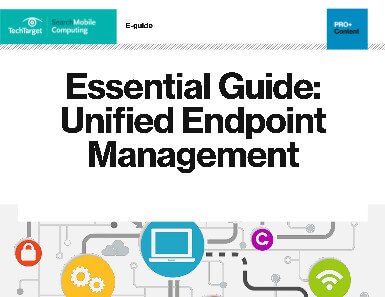 Free PDF: Your Essential Guide to Unified Endpoint Management
Download this 44-page guide to learn everything you need to know about UEM.
Learn more about security and social collaboration in Office 2016 and discover what separates the mobile version from the desktop version as well as other new features to look for.
How does Office 2016 incorporate social collaboration?
With Office 2016, Microsoft is throwing itself up against the likes of Box and Slack in the social collaboration game. Office 2016 has at least one major advantage over the competition -- users don't have to use a second application to share and collaborate within Office 2016. In Outlook, for example, users can work with a tool called Groups to create workspaces where they can share calendars, messages and more.
Office 2016 features co-authoring capabilities if users share Word, PowerPoint or OneNote 2016 documents on OneDrive or SharePoint Online. Office 2016 also integrates directly with Skype for Business to make video collaboration easier. Users can combine co-authoring and Skype for Business to work on documents at the same time and discuss changes over video.
What other interesting Office 2016 features are there?
Office 2016 includes a new drop down box that makes attaching files much easier. It presents a list of the most recent files users worked on so they don't have to dig through folders to find the file they want. Office 2016's ribbon at the top of the screen includes a feature called, "Tell me what you want to do." Users can work with this tool to find whatever Office 2016 features they need. All they have to do is type in what they are looking for and a shortcut to that feature pops up.
Microsoft took steps to make Office 2016 the most secure version of the productivity suite ever.
Word, Excel, PowerPoint and Outlook include Smart Lookup, which connects directly to Bing so users can search the internet within Office. When users right click a phrase they can select Smart Lookup and a list of search results appears on the right hand side of the screen.
Exchange comes with a mailbox assistant called Clutter. Clutter sorts a user's mail so he only has to look through important messages. The tool learns what a user deems important based on what he discards. It never deletes emails however; instead it moves junk email to the Clutter folder where users can grab the messages if they need to.
How does Office 2016 address security?
Microsoft took steps to make Office 2016 the most secure version of the productivity suite ever. Not only does it include data protection, DLP and authentication, but the productivity suite also comes with email and file encryption, multifactor authentication, document versioning and more.
IT administrators can designate certain information as sensitive. They can then locate that information in specific documents and files and let users know sensitive information exists in a particular file they are working with. Admins can use the rights management feature in the Enterprise Mobility Suite to make certain files self-protecting.
To make emailing documents safer, users can now send document links to other users instead of attaching the actual file to a message.
What's the difference between the mobile and desktop versions?
Beyond the standard vs. professional editions of Microsoft Office 2016, IT admins also have to decide if the mobile or desktop version of the productivity suite is right for their users. The decision is more complicated than it seems on the surface and really comes down to three factors: functionality, consistency and cost.
In the past, Office on mobile devices was essentially a document reader. Modern users demand the ability to work and edit on their mobile devices, so Microsoft made major changes with Office 2016. The mobile version does not have the same robust feature set as the desktop version, but it is touch-oriented and has the most common features users work with. It is still stripped down compared to the desktop version, lacking information such as the word count at the bottom of the screen.
Where the mobile version of Office 2016 excels is in consistency. It works well across a number of devices whereas the desktop version -- which is not tailored for touch screens -- struggles on phones and tablets.
The third variable is cost and its affect really depends on whether or not users have existing Office 365 subscriptions. Office 2016 is free on Windows mobile devices, but without Office 365 the mobile version is a glorified document viewer.
Dig Deeper on Microsoft Office Suite