Fotolia
Evaluate
Weigh the pros and cons of technologies, products and projects you are considering.
Safeguard against threats with third-party Windows 10 security software
Microsoft tries to keep Windows 10 safe, but there is still significant room for improvement. Third-party Windows 10 security software may be the missing piece.
With malware and other threats lurking in the darkness of the web, IT professionals must do everything they can to solidify their Windows 10 defenses.

Download this free guide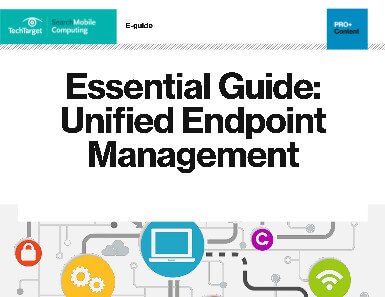 Free PDF: Your Essential Guide to Unified Endpoint Management
Download this 44-page guide to learn everything you need to know about UEM.
IT pros may want extra security measures when it comes to ensuring user privacy, enforcing encryption and protecting against malware in Windows 10. Microsoft is responsive to some of these issues, delivering security updates that directly combat privacy concerns, for example, but many IT pros want the company to do more. As a result, data safety is in IT pros' hands, and they have to decide where to go next.
A great option is to implement third-party Windows 10 security software. Third-party tools allow IT to achieve more advanced security in the areas it needs it the most. For example, a company may want more vulnerability testing and analysis or system monitoring and alerting.
Where can third-party tools help in Windows 10?
The top security risks IT needs to watch out for are a lack of encryption, malware vulnerabilities, out-of-date or unpatched software and, of course, unapproved user activity. When one weakness is exposed in these areas, Windows 10 security lags heavily.
Encryption is necessary for Windows 10 data security because it adds a layer of protection to data both on the move and at rest. IT should enable BitLocker for full-disk encryption in Windows 10 immediately. IT must also see the sizable risk users present based on what they click. If left unsupervised, users may find themselves in a phishing scam or worse and can put the whole organization at risk.
What third-party security software is available for Windows 10?
Given Windows 10's limitations in those areas, IT admins may want to add third-party support. This support may come in the form of firewalls, malware protection and analysis or software patching. Third-party Windows 10 security software can provide IT with more flexibility and focus on weak spots within the OS. If a company has security concerns in a particular area, such as data recovery, adding software with more options may be the best choice.
There are many useful third-party options that bulk up Windows 10 security. If IT wants added encryption, VeraCrypt enhances algorithms and encryption to protect against brute-force attacks. LUCY is one vulnerability analysis tool that tests security for email phishing and social hacking by simulating realistic cyberattacks. Third-party Windows 10 security software, such as VirusTotal, offers an analysis of files before opening them for additional malware protection. IT can use Elcomsoft System Recovery to enable OS password recovery. Last but not least, GFI LanGuard automates patch management for Windows, macOS and Linux and performs smart network and software auditing.
Why use third-party firewalls?
Windows Firewall has its advantages -- it does not require separate licensing, it is installed by default and admins can enable it with Group Policy -- but it is not impenetrable. For IT departments that want a little more control and added capabilities, third-party firewalls can be useful. When IT uses a firewall that is less prevalent than Windows Firewall, it is less likely to be targeted by as many attackers or attacked as frequently.
For IT departments that want a little more control and added capabilities, third-party firewalls can be useful.
Malware authors have to know the software to crack it, so depending on the type of third-party firewall IT decides to use, it can limit the number of attacks. Third-party vendors also have additional features, such as onscreen warnings of detected attacks, protection during system boot time, spam filtering and zero-day protection. Other vendors bundle their firewalls into a security suite that may include encryption, antivirus and online payment coverage.
See how well you understand Windows 10 features
Are you a Windows 10 expert? Flaunt your knowledge with this quiz about app compatibility, the OS upgrade process and more.
What about protecting third-party apps?
Microsoft sends patches for holes in security on the OS, but that does not include third-party apps, where intruders most often break in. Windows Server Update Services often does not support third-party software and leaves the upkeep to IT. Even with patch management products, third-party software can still be missing critical patches, especially because some software may not update remotely.
IT departments must make sure all software is up-to-date because one weak spot in defenses may cause a downward spiral. Keep everything updated, and use third-party Windows 10 security software where the OS needs reinforcement.
Dig Deeper on Endpoint security management tools