Fotolia
Windows 10 adoption rate strong out of the gates
Windows 10 is already second in OS market share, behind only Windows 7. See where other OSes stack up and find out how to make the leap from Windows XP to Windows 10.
You may have heard a rumor that Windows is headed for extinction. Just seven years ago the desktop mainstay owned a 95% share of the market. That number has dwindled to 90% today.
The numbers can be deceiving. Yes, Windows' market share has dropped since 2009, but in the intervening years the number of devices jumped from two billion to three billion. Many of those new billion endpoints are mobile devices that run non-Windows operating systems. Windows market share shrank because the market expanded in areas the OS doesn't address as directly.
As a result, the way users interact with Windows has changed. The PC as the lone portal to users' work life is a thing of the past because there are so many other options out there. Users can hop on a tablet or phone to send emails or manage work resources. They aren't tethered to PCs anymore.
Even as people move away from PCs and a reliance on Windows desktops, Windows apps are here to stay. To that end, Windows may ultimately turn into a form of middleware -- giving Windows apps what they need to work -- but users won't work with the OS directly.
If you dive into the market share by OS version Windows' continued dominance is obvious. Four of the top pieces of the pie belong to Windows. Windows 7 remains perched at the top of the food chain with a healthy 52% share, which makes sense given the tepid reception Windows 8 received.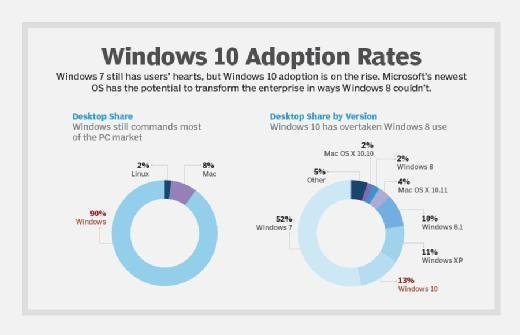 Windows' continued viability is even more evident when you see the Windows 10 adoption rate. The new OS has already gobbled up almost 13% of the market to place second. It's another indictment on the shortcomings of Windows 8 because the newest OS actually has a larger market share already than Windows 8 and 8.1 combined. Even more amazing is that Windows XP -- which Microsoft stopped supporting in 2014 -- is still third, and has a relatively comfortable lead on Windows 8.1.
Make the upgrade from Windows XP to Windows 10
Because Microsoft no longer supports it, any organization that still uses Windows XP is in a fairly precarious situation. The time to make a move to Windows 10 is at hand, but moving from Windows XP to Windows 10 is not the easiest transition in the world.
First of all, Microsoft offers a free upgrade for qualified users from Windows 7, 8 and 8.1. No such deal exists in XP. On top of that, Microsoft does not support in-place migrations or leapfrogs, although that doesn't mean you can't perform a leapfrog upgrade. The first step is to upgrade to a comparable edition of Vista and then move to Windows 7 and then to Windows 10. It's a complex, challenging and risky procedure so you should only do it as a last resort.
If you are preparing to move from Windows XP to Windows 10 it's important to remember XP often comes on older devices that may not be able to run the new OS as efficiently as newer devices. To make matters more complicated, because you can't do an in-place installation you have to reinstall every desktop app after you upgrade. With all of that in mind you must find out what apps your users work with, if those apps are compatible with Windows 10, if you have the tools to install the apps and how to prove if the migration was successful.