News
Stay informed about the latest enterprise technology news and product updates.
Microsoft revises Windows 7 downgrade terms
IT shops now have 18 months after Windows 7 launch to downgrade to previous Windows versions.
IT shops that move to Windows 7 immediately on its October 22 release, now have 18 months to downgrade those machines to previous versions of Windows, Microsoft said this week.

Download this free guide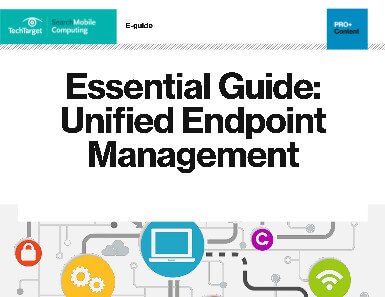 Free PDF: Your Essential Guide to Unified Endpoint Management
Download this 44-page guide to learn everything you need to know about UEM.

By submitting your personal information, you agree that TechTarget and its partners may contact you regarding relevant content, products and special offers.

You also agree that your personal information may be transferred and processed in the United States, and that you have read and agree to the Terms of Use and the Privacy Policy.

That's a big improvement over the six month deadline the company had originally outlined, said Paul Degroot, analyst with Directions on Microsoft, Kirkland, Wash.

Six months is not enough time for most companies -- which typically wait for the first service pack to move to a new OS. By that time, the downgrade deadline was up.

Before Microsoft issued its restatement, Degroot counseled customers to take advantage of a little-advertised promotion that enabled customers to cover all PCs purchased since August 1, 2008 to downgrade their OSes. But that promotion was to expire June 30.

Another option was to buy two years of Software Assurance (SA) maintenance under Microsoft Open License, at $108 per desktop in volume, for downgrade and upgrade rights.

For companies with Enterprise Agreement (EA) volume licensing deals and SA, the point was moot since they can downgrade at any time. But in the past few years during the Vista saga, Degroot said many companies let their OS coverage lapse.

EAs have three components -- for the OS, for Office and for client access licenses (CALs).

Dave Driggers, SMS manager for Alagasca, Birmingham, Ala., said his company had revised its volume licensing on OSes last year for precisely this reason. "You have to protect the OS to get downgrade rights. We've never done that before, but we did it last year to cover the bases," he said.

Driggers expects Alagasca will start moving its 1,500 Windows XP desktops to Windows 7 in 2011. "If testing goes well, then we'll do a wipe and load."

IT pros and VARs supporting them are watching what Microsoft does on downgrades/upgrades carefully.

"I hope that what Microsoft does for the sake of the end user makes an upgrade path for Windows 7. My clients will stay with MS Windows XP Pro until they are 'forced' by their software vendors to upgrade. So far none of these [have gone] to Vista," said Tina Shilling, manager for Computer Central, a Wilson, N.C. IT solution provider.

"The average customer will NOT be willing to pay for the time and software to go from XP Pro then to Vista just to get to Windows 7.0. I am glad Microsoft heard what their resellers and system builders have been telling them if they are offering an upgrade product."

Not a ton of business customers went to Vista, but Microsoft has to treat those who did with kid gloves, observers said.

Microsoft's senior vice president Bill Veghte told TechEd 2009 attendees last month that Microsoft would protect that Vista investment but provided no details.

Degroot said Microsoft's late-breaking changes were a smart and necessary move given customer feedback. But he and others said Microsoft licensing is overly complex.

Directions on Microsoft has been hosting two-day seminars on Microsoft licensing plans and has seen huge response.
Dig Deeper on Microsoft Windows 7 operating system