News
Stay informed about the latest enterprise technology news and product updates.
Are netbooks on their way out?
Our expert had dismissed netbooks until he tried one. The devices fill a niche for travelers or children, but will they overcome limitations and earn enterprise adoption?
I've always taken a different approach to working on the road than most of people. While small and light laptops seem to be the status quo, I prefer the largest laptop that Hewlett-Packard makes. I love having a big screen, decent-quality speakers and two hard drives. In fact, I've got my laptop tricked out with a terabyte of storage space. I use one drive for applications, and the other contains a cached copy of everything that's stored on my primary file server. This allows me to work almost as efficiently in a hotel room as at home.

Download this free guide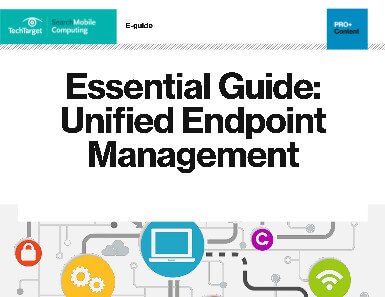 Free PDF: Your Essential Guide to Unified Endpoint Management
Download this 44-page guide to learn everything you need to know about UEM.
Since I prefer to use a true desktop replacement over an ultraportable device, I have to admit I never gave netbooks a serious look. Besides, a friend who is an IT analyst kept telling me that netbooks are soon going to be extinct, so there seemed to be little reason for me to purchase one. However, back in November, an extremely cramped transatlantic flight got me thinking about the possible benefits of netbooks. Upon my return home, I purchased a netbook so that I could see what the hype was all about.
The price
I spent about $300 on my netbook, which is about the average price. Although $300 for a computer seems like a bargain, my friend who predicts the netbook's demise argues that netbooks are a waste of money since you can buy a low-end laptop for less than $500. But I believe the netbook's price point will continue to work in its favor, ultimately preventing its extinction.
The salesman at the store where I bought my netbook told me that a lot of parents buy netbooks for their children: It's a great way to help children develop computer skills without losing a lot of money if the netbook is broken, stolen or misplaced.
The form factor
The size (or lack thereof) of the netbook's keyboard reinforces the idea that netbooks are only for children. While I don't think that netbooks are just for kids, it is interesting to note that they were the computers of choice for children participating in the One Laptop Per Child program.
A lot of adults have complained about the small keyboards of netbooks. While I will be the first to admit that my netbook's keyboard is small, I haven't found it to be overly restrictive. I have even used it to write a few articles, but I have to admit that I wouldn't want to write anything more than 1,000 words (about the length of this article) without a full-size USB keyboard.
Functionality
Another factor that, according to my friend, is contributing to the netbook's eventual demise is its lack of functionality. Netbooks are typically equipped with modest hardware and watered-down operating systems (OSes). My netbook came with an Intel Atom processor, 1 GB of RAM and a 160 GB hard drive. It also included Windows 7 Starter Edition.
In spite of the netbook's modest hardware, the OS is often the real limiting factor. Windows 7 Starter Edition is designed to prevent users from opening more than three applications at a time. You can, however, open more than three instances of a single application, and Windows utilities such as Control Panel applets and the Task Manager do not count against the number of simultaneous applications that can be run.
Although most consumers are likely to use netbooks in their stock configurations, they are upgradable. Shortly after buying my netbook I upgraded the memory to 2 GB and replaced the 160 GB hard drive with a 350 GB drive. I also had a spare Windows 7 Ultimate license, so I replaced the netbook's OS as well.
After all of these upgrades, I have found that my netbook works about as well as a normal laptop. I have no trouble running most Windows applications, and my netbook plays full-screen video smoothly. The only apps I've had difficulty running are CPU-intensive (video games, video editing programs, CAD programs, etc.). I have also had problems with applications that enforce a minimum screen resolution higher than the netbook's native resolution. A perfect example is Space Shuttle Mission 2007 from Exciting Simulations.
However, like laptops, netbooks are constantly evolving. For example, the first netbooks didn't even have hard drives. They depended solely on flash memory and often had a total capacity of between 4 GB and 16 GB. Such specs would be laughable today, which only goes to show just how far netbooks have come.
Are netbooks going extinct?
There may be certain disadvantages to netbooks, but in my opinion, netbooks are here to stay. If nothing else, as long as prices remain low, the consumer market and various charity programs will keep netbooks afloat. Many consumers have also gone on record as saying that they like netbooks because they provide a cheap way to gain access to the Internet. It is also common for consumers to use netbooks as a second or third PC.
If nothing else, as long as prices remain low, the consumer market and various charity programs will keep netbooks afloat.
,
I also think netbooks may have a future in the corporate market. Many organizations are beginning to deploy virtual desktop infrastructure (VDI) to cut costs. VDI has a reputation for allowing users to access their Windows desktops with any available hardware, but VDI doesn't really work with current mobile devices. Netbooks provide a good middle ground between mobile devices and full-blown laptops. They can run most of the same software as a laptop but have a design and a price point that is more comparable to a mobile device. I expect many more business travelers will use netbooks as VDI becomes more widespread.
Finally, I think that netbook hardware will continue to evolve, giving us more powerful netbooks in the future. Such devices may not always be called netbooks, though. It is possible that manufacturers may simply rebrand them as ultraportable laptops.
ABOUT THE AUTHOR
Brien M. Posey , MCSE, has received Microsoft's Most Valuable Professional Award four times for his work with Windows Server, IIS and Exchange Server. He has served as CIO for a nationwide chain of hospitals and healthcare facilities and was once a network administrator for Fort Knox. You can visit his personal website at www.brienposey.com.
Dig Deeper on Microsoft Windows hardware, including laptop and notebook reviews