News
Stay informed about the latest enterprise technology news and product updates.
Microsoft pre-release of Windows 8 now open to scrutiny
Many IT shops are just installing Windows 7, but like it or not, it's time to start talking about Windows 8. This OS lets many apps work across a wide range of end-user devices.
ANAHEIM, Calif. – With a new tiled, touch screen-enabled interface, Microsoft showcased its much-anticipated Windows 8 client OS, which the company hopes will boost developers' confidence and maintain their loyalty in the face of tough competition from Apple.
At Microsoft's BUILD developer conference here this week, Steven Sinofsky, president of Microsoft's Windows and Windows Live division, showed various applications that take advantage of the operating system's new Metro graphical interface.
Sinofsky demonstrated the ability of many of those applications to work across a wide range of desktop PCs, tablets, phones and other mobile devices from companies such as Hewlett-Packard and Samsung. It could simplify the IT administrator's task of installing the same mission-critical application across the enterprise.
The WinRT application programming interfaces (APIs), which Microsoft unveiled here, could help ensure developer loyalty. The APIs allow developers to use an array of tools and frameworks, including HTML5 and JavaScript with Silverlight and .NET, to create applications that take advantage of Metro.
These applications can run alongside existing Windows 7 applications and across Intel's x86 and Atom processors, as well as those from ARM, according to Sinofsky (see chart below).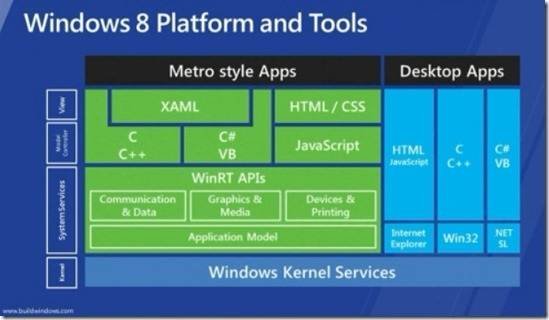 "WinRT will let you pick the tools you prefer to build your [Metro] apps and to use those tools in any combination to build a single app," Sinofsky said. "They can work as a unified toolkit. We accomplish this through the Windows kernel services."
Speaking at a workshop here this week, Ales Holecek, a Microsoft distinguished engineer working on Windows, said Microsoft's idea with Windows 8 is to "put XAML, HTML and JavaScript on an equal footing."
Pointing out there are no PCs that exploit Windows 8 yet, Michael Angiulo, corporate vice president for Windows planning and ecosystem, showed how Windows 8 can run on a variety of Windows 7-compatible devices – including tablets that run Intel's Atom-based processors, an HP Phoenix PC with USB 3.0 compatibility and a super-thin Toshiba model. Angiulo demonstrated boot times in as little as eight seconds on all devices.
Microsoft showed the BUILD crowd a Samsung tablet running Windows 8, but it was not an ARM-based device, instead running on a second-generation Intel Core i5. (Company representatives emphasized many times that Windows 8 will run on ARM-based processors and offer a new "connected standby" power state that allows customers to power up and down quickly.)
Microsoft will release some Windows 8 code beginning tonight at 8 p.m. Pacific Time. As for the full release, Sinofsky was vague, noting the same milestones -- beta, release candidate, release to manufacturing and general availability -- as with Windows 7, but no specific timeline.
Dig Deeper on Microsoft Windows 7 operating system