archerix - Fotolia
News
Stay informed about the latest enterprise technology news and product updates.
New Samsung Notebook 7, Notebook 7 Force announced
Two new laptops will be available from Samsung later this year. The Notebook 7 and Notebook 7 Force were designed for consumers and content creators, Samsung said.
Samsung announced the Notebook 7 and Notebook 7 Force -- two new laptops built with next-generation graphics and expandable storage, designed specifically for content creators and consumers.
The Samsung Notebook 7 is available in 13-inch and 15-inch models and is built with a high-definition glass display. It also has gigabit Wi-Fi so users can instantly transfer or download large files or stream online without buffering. Additionally, the Notebook 7 has Dolby Atmos audio.
Both sizes also come with a USB-C port, two USB 3.0 ports, an HDMI port and a micro SD slot. They have up to 16 GB of memory and up to 512 GB of storage. The 15-inch model has one SSD expandable slot.
The Notebook 7 Force has Nvidia GeForce GTX 1650 graphics, which, according to Samsung, has up to 70% faster speeds than the previous generation GTX. The Force also has expandable storage and quick file-reading capabilities, as well as gigabit Wi-fi. As for ports, it comes with a USB-C, two USB 3.0 ports, an HDMI port, RJ45 (LAN) port, micro SD slot and a security slot.
The 7 Force has up to 24 GB of memory with up to 512 GB storage plus two expandable slots, one HDD and one SSD.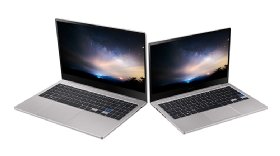 Both the 7 and 7 Force have fingerprint security and Intel 8th generation core processors. According to Samsung, the laptops have a reengineered lattice keyboard and an ultra-wide precision touchpad to navigate with better accuracy.
According to Samsung, the designs for the 7 and 7 Force are brand new. The 13-inch Notebook 7 is 13.7 mm thick and weighs 2.8 pounds. The 15-inch Notebook 7 is 15.9 mm thick and weighs just under 4 pounds. The Notebook 7 Force, which has a 15-inch display, is 17.9 mm thick and weighs just over 4 pounds.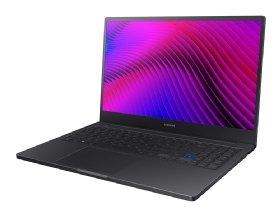 From aesthetics, the Notebook 7 looks to be a competitor for the MacBook Pro. The 13-inch Pro is thicker and heavier at 14.9 mm and 3 pounds. The 15-inch Pro is thinner at 15.5 mm, but slightly heavier at 4 pounds. The 13-inch Pro has a quad-core Intel Core i7 processor, while the 15-inch Pro has an eight-core Intel Core i9 processor.
Both Apple and Samsung place emphasis on graphic capabilities and content creation possibilities.
The Notebook 7 and 7 Force will first launch in Korea and Hong Kong, and will launch in the United States and Brazil later in 2019. The 7 will start at $999 for the 13-inch, $1,099 for the 15-inch and $1,499 for the Force.