Share this item with your network:
The key to end-user computing

oporkka - Fotolia
Workspace suites wait for IT to catch up
Workspaces give users the data, desktops and apps they need on any device. But too much of a good thing may not be so suite.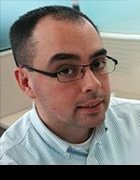 By
Long gone are the days when business workers relied solely on Windows applications installed on company-owned computers.
Today's end users access a variety of application types throughout the day. Physical Windows desktops still play an important role, but web apps, mobile apps and virtual desktops and applications are in the mix as well. Depending on where they are and what they're doing, workers may not want or be able to use certain apps on their corporate-issued laptops, instead turning to smartphones, tablets and even wearables. They might not have access to all their data from these devices, either.
In the face of such complexity, it's not easy for users to get their work done. And it's really not easy for IT to manage and secure these disparate applications, devices and data sources.
Enter workspace suites. These emerging end-user computing products aim to provide a portal for users to access all of their required resources from anywhere -- plus a unified console for IT to control everything.
"It really is about how you deliver applications and data to the plethora of device types, and the onslaught of different types of applications," said Robert Young, a research director at IDC.
It's a promising concept, but reality hasn't quite caught up. Some IT departments, especially those still dipping their toes into the enterprise mobility waters, aren't ready to jump into the deep end. Meanwhile, others have concerns about cost, vendor lock-in and the integration of workspaces' different components.
"There's quite a bit of hype around it," said Mike Nelson, an IT architect in the insurance and financial industry.
Take only what you need
Workspace suites, such as VMware Workspace One and Citrix Cloud, combine desktop and application virtualization, enterprise mobility management (EMM), enterprise file-sharing and other technologies. Organizations will likely deploy most if not all of these components at some point in the future. Most of these technologies on their own, however, have not reached critical mass, which hinders adoption of workspace suites.
"A lot of enterprises are looking at it, but they're really only implementing what they need," Nelson said.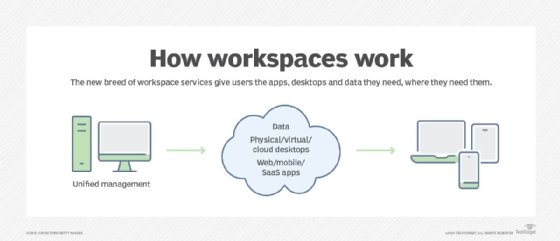 Just 9% of PCs accessed virtual desktop infrastructure (VDI) in 2015, but that number will increase to 40% by 2020, according to market research firm Technavio. IT departments that may have dismissed desktop and application virtualization in the past are taking another look now as more workers telecommute and use their own devices, Young said. At the same time, the emergence of converged and hyper-converged infrastructure technologies helps reduce the cost and complexity of deploying VDI, he said.
Mobility is a tougher nut to crack. Mobile devices and apps are easy for consumers to use securely, but that's because the major platform vendors (Apple and Google) have the vast resources required to create a positive, seamless user experience. It's difficult for IT departments to replicate that experience internally, and when they don't, enterprise mobility projects can sputter, said Alastair Cooke, a virtualization trainer and consultant in New Zealand.
Changes in attitudes
Even in organizations that have successfully adopted mobility and desktop and application virtualization, workspace suites can present challenges. For example, the IT staff in charge of desktop and application virtualization may not be the same as the IT staff in charge of mobility. And each team may have its own policies and procedures. It's not easy to bring these groups together and unify management of multiple technologies, and if certain responsibilities fall through the cracks, it can lead to security and compliance problems, Young said.
Furthermore, veteran IT administrators, who have worked in siloes for their whole careers, are likely to resist change, Nelson said. But newer admins, who are used to working with various devices and application types, will embrace the workspace approach, he said.
"They don't want to have to use different interfaces to manage their desktops, their mobile devices and their data," he added.
House of cards
IT professionals also have concerns about the maturity of workspaces. Although vendors promise a unified experience for IT and users, that isn't always the case.
"There's still integration work that has to happen," Young said. "They're still kind of separate products."
This lack of integration makes it hard to deploy workspace suites and keep them up and running afterwards, Cooke said.
"There are too many places where it can go wrong, which is a very unstable house of cards," he said.
You're getting these bundles, but you're paying for a lot of things you don't use.

Mike NelsonIT architect
Another issue is the disparity between how vendors market these suites and how organizations purchase end-user computing technologies. A common vendor tactic is to include licenses for a new technology, such as EMM, along with the licenses for a more established technology, such as desktop virtualization, to boost adoption numbers.
For example, a company might already have access to two EMM products -- say, Microsoft Intune and Citrix XenMobile -- through its existing software licenses with those vendors. It would be hard for this company to justify paying for VMware Workspace One because that would be yet another product that offers EMM.
"You're getting these bundles, but you're paying for a lot of things you don't use," Nelson said, likening workspace suites to cable television packages.
For small and medium-sized businesses especially, the price can be prohibitive, Young said.
"The problem becomes, what if I don't want to use all those products?" he said.
A pressing issue?
Organizations must also consider their existing investments in other end-user computing products. The value of buying a suite may not outweigh the cost of ripping and replacing the virtualization, EMM and data products an organization already owns, Young said.
In addition, "there can be a lot of retraining required if you want to switch to another vendor's product, which is a concern," he said.
Workspace suites aim to solve a specific problem: providing secure access to disparate corporate resources across a wide variety of devices. For many organizations, however, it's not a pressing issue.
IT departments that still focus on providing a well-managed, homogenous desktop environment can pass on workspace suites for the time being, Cooke said.
"Workspaces aren't necessarily the answer to every problem," he said.
Dig Deeper on Endpoint security management tools