geometrix - Fotolia
PC market decline coming to an end
The PC market decline has encouraged vendors to innovate in order to survive. With this and several other factors, the decline is set to see a marked slowdown.
The yearslong PC market decline may finally be over, thanks to increasing acceptance of Windows 10 and more innovation around 2-in-1s.
IT experts have debated the death of PCs for years now, as smartphones and tablets have emerged. But thanks to PC hardware and software improvements, such as faster processors, better battery life, and more lightweight and secure devices, the market is on the verge of a turnaround. The PC market will see 1.6% growth in 2018 and 2019, according to a July report from Gartner.
"Today, PCs are a lot better in terms of performance," said Matt Kosht, an IT director at a utility company in Alaska. "Even cheap PCs are better at business tasks."
The PC market declined 4.3% from the second quarter of 2016 to the same period this year, Gartner said. Growth in the mobile market could be to blame.
"Since the only device that people could buy six or seven years ago was PCs, that's all they purchased," said Ranjit Atwal, research director at Gartner. "Now, we ... buy multiple devices."
But the shift from PCs to other devices is occurring mostly among consumers and not in business, Atwal said. Business users will need to upgrade to newer PCs with more power and efficiency, thereby slowing down and eventually reversing the market decline, he added.
"On the business side, most users still have a PC as a main computing device," he said. "Over the years, companies held onto their PCs, which is why there was a decline in shipments. But what we are seeing now is that they are trying to replace the PCs [with new ones]."
Kosht agreed.
"I don't think PCs are going away, not by a long shot," he said.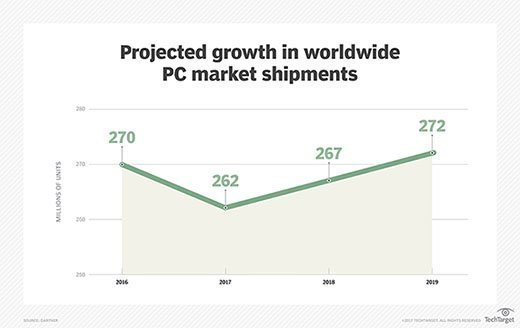 Windows 10 plays major role in PC uptick
On the business side, most users still have a PC as a main computing device.

Ranjit Atwalresearch director at Gartner
Microsoft has been successful with infusing the market with much-needed innovation in Windows 10. Although most organizations still use Windows 7, this phase is nearing an end, especially because Microsoft will no longer support that operating system after January 2020. When Microsoft launched Windows 10 in 2015, many organizations chose to stick with Windows 7 because 2020 was still a long time away. That is no longer the case.
The fact that Windows 10 offers newer hardware and improved security is another reason why the PC market decline will see a slowdown.
"Windows 10 came at the right time," Atwal said. "Organizations are ... focused on power, they are focused on mobility, they are focused on security, and a lot of those elements are incorporated in Windows 10. They can't stay with Windows 7 because it doesn't have that sort of productivity."
Ultramobiles contribute to PC market growth
Gartner's PC market data and projections included the Apple MacBook Air, Microsoft Surface Pro and 2-in-1 devices, such as Lenovo's Yoga tablets -- a category it refers to as "premium ultramobiles."
The innovation in 2-in-1s and the other premium ultramobiles has injected the overall PC market with new life. These devices allow for faster processing power and better hardware, despite their light weight, making them popular among both consumers and businesses.
Two-in-one devices and other premium ultramobiles allow employees to do everything that a traditional work PC does in a more user-friendly format, said Melanie Seekins, chair of the Credentialed Mobile Device Security Professionals organization.
"A Surface ... gives the best of both worlds," Seekins said. "It gives you everything you love or enjoy about Microsoft and adds the touch and feel of a regular tablet, so now you can write on the screen or pull out your keyboard if you wanted."
Dig Deeper on Microsoft Windows hardware, including laptop and notebook reviews