geometrix - Fotolia
Jamf Pro 10 self-service features entice Apple admins
The new version of the Jamf Pro management software, out next week, features an overhauled user interface, more automation and advanced security capabilities.
MINNEAPOLIS -- Contextual security and end-user self-service capabilities in the new version of Jamf Pro are welcome features for IT professionals who use the software to manage Apple devices.
Jamf Pro 10, which Jamf shops have been awaiting for more than a year, will also come with updates to the IT management dashboard, new patching and compliance features and an overhauled user interface.
"We like the new format; it's more user-friendly now," said Bobby Tishaw, vice president of IT operations at Comprehensive Pain Specialists, a healthcare organization in Franklin, Tenn. "It hasn't been really intuitive before."
The new version will be generally available next week, Jamf Software said here at its annual user conference, Jamf Nation. At last year's conference, CEO Dean Hager said the plan was to ship Jamf Pro 10 in the first half of this year. But in a June letter to customers, Hager said it was "taking longer than we thought" because of all the major changes being made to the product.
What's new in Jamf Pro 10
Jamf Pro allows IT to configure, secure and manage Apple Macs, iPads, iPhones and Apple TV devices. Formerly called Casper Suite, its features include app distribution and management, self-service capabilities for users and asset management capabilities such as license tracking, device inventory and compliance reporting and alerting.
New in Jamf Pro 10 are a redesigned interface that aims to provide simpler navigation and dashboard reports that let IT more easily view compliance information. The software also provides security warnings based on end-user context. When an admin sets up a configuration profile for a Mac, for example, he might get a notification that he needs to configure additional settings to meet the company's security standards.
Comprehensive Pain Specialists is doing a Jamf Pro proof of concept for its macOS and iOS devices and is eager to implement Jamf Pro 10, Tishaw said.
"Having the security messages pop up is really handy," he said.
The patch management is going to be huge for us.

Jesse SandstromApple systems administrator, Jive Communications
The new version also includes more features that allow IT to automate some aspects of software patching and more easily see what devices need patches, especially for third-party software. These capabilities may help some organizations eliminate the need for third-party patch management tools.
"The patch management is going to be huge for us," said Jesse Sandstrom, Apple systems administrator at Jive Communications, a unified communications provider based in Orem, Utah. "To have something that's more automated and does things for us in Jamf, a tool that we already use, is really going to bring it all together."
IT 'excited' about self service
The automation comes in with a new feature that lets IT set notifications to remind users to download and install patches and set a grace period in which they have to do it. That's all part of Jamf's self-service portal, where end users can manage their app downloads and updates, bookmarks, printer connections and more on their own.
"Our engineers seem to be really excited about it," said Jeff Rivers, technical specialist at Commerce Bank, based in Kansas City, Mo.
The bank uses Jamf Pro in a test environment and plans to move to Jamf Pro 10 in production for about 100 Macs in 2018.
"We're trying to guide things more into self-service," Rivers said. "When they can click on something and it's all there, the users are happy."
The updated Jamf Pro 10 self-service portal will include more bookmark customization capabilities, plus more detailed information on in-progress app downloads and updates. Organizations can also add their own branding to the portal.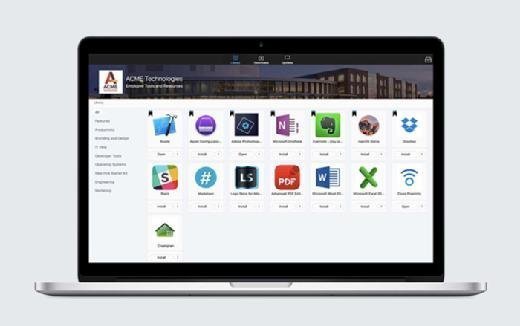 Sandstrom and the Jive Communications' marketing team have been working on logos and icons to include in the self-service portal while awaiting Jamf Pro 10, which the company plans to upgrade to.
"If we can make it more familiar to [users], they'll use it more," he said.
The self-service improvements are the most appealing aspects of Jamf Pro 10, said a senior technology architect at a healthcare IT solutions provider in Kansas City, whose role is specifically geared toward ensuring user satisfaction.
"We want to make things as simple as possible for them," said the architect, who requested anonymity because he was not authorized to speak with press. "For the user experience, the branding is huge."
Microsoft integration
Microsoft and Jamf also demonstrated the new integration between Jamf Pro and Microsoft's Enterprise Mobility and Security (EMS) suite. The capability, announced at last month's Microsoft Ignite conference, allows IT to block users from using non-compliant Macs to access applications that are connected to Azure Active Directory. Users must register any devices that they want to access those apps from -- including Office 365. And when users attempt to access them, Microsoft Intune works with Azure's conditional access policies to either allow or prevent access based on compliance standards that IT sets.
Tishaw's company will consider doing macOS and Windows management together through the new integration, he said.
"We have a lot of Windows too, so that was interesting," he said.
The Kansas City healthcare solutions provider already uses Jamf and Intune, so the new capability is particularly enticing, the architect said.
"That integration piece and the ability to say 'this device is compliant, this device isn't compliant' is important," he said.
The Microsoft integration will be available later this year, Jamf said.
Dig Deeper on Alternative operating systems