How to find and use the Windows 8 start menu and admin tools
Users who miss Windows 7's interface shouldn't despair; the Windows 8 start menu can still be found. Get help tracking down Windows admin tools.
As OEMs market Microsoft's latest desktop operating system, many users and IT professionals still have questions about the Windows 8 user interface. Is it a winner or a loser? Do we really want to be thinking outside the box for enterprise desktops?
When Windows 7 came out, I was its biggest fan. I could not get the beta on my laptop fast enough and suffered being on the bleeding edge with my employer's IT department, but it was worth it. Windows 7 had better performance, a more organized desktop and cool Aero features.
More on this topic
Faceoff: iPad user and novice review the Windows tablet
How to use the Windows 8 Task Manager
Will users accept Windows 8's new UI?
Working with (and around) Microsoft Windows 8 touch
IT is still concerned about Windows 8's security, even with enhancements
The OS also included native virtual hard disk boot, new BitLocker features, and the many enterprise-level features of DirectAccess and BranchCache. All that, combined with Windows Server 2008 R2, made a powerful reason to make the move to Windows 7. Window 8 is another story. Obviously, Microsoft is betting the farm on touchscreens and mobile devices, which is probably not all that bad of a bet. There are those who are saying your phone is the new laptop.
I had played with Windows 8 and was unimpressed. I even had to ask a colleague how to get to the command prompt. Then I listened to a presentation by Microsoft at the TechMentor 2012 conference. When Windows 8 is viewed in the context of mobile devices, including the Microsoft Surface tablet, it really does make sense.
But what about the period of time before tablets become the primary enterprise desktop -- if ever? How will users get their work done in Windows 8? Let's look at the flashy new Windows 8 start menu and user interface (UI) from an old techie's point of view.
The Windows 8 start menu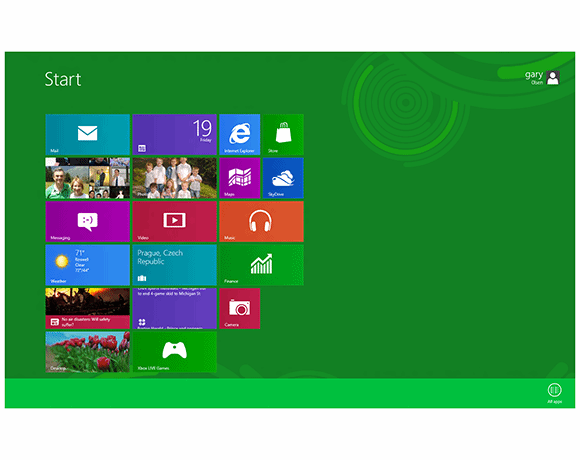 Figure 1: The Windows 8 Start menu splash screen
Click somewhere on this screen or hit any key to wake it up and log in. You'll then see the interface formerly known as "Metro" (Figure 1), which is similar to the Start button from Windows 7. I'll refer to this as the "Windows 8 start menu splash screen."
This UI is not intuitive. I've been using Microsoft's OS since Windows 3.1 -- yes, I have grandchildren -- and I've never had to get training for a Windows upgrade until now. As you can see, the start screen has cool "tiles" for photos, maps, music, messaging, email, and even Xbox and the Microsoft Store.
But what if you want to do some real work? It took me a while to navigate, but I eventually found the bare-bones desktop. No Start button, no search, no programs. I also found the Control Panel, but still could not find the command window or useful stuff -- until I discovered the Windows key.
All you need to know: Use the Windows key
This is truly the key to the kingdom. To get back to the Start screen, hit the Windows button on the keyboard. The Windows key is also the shortcut to all your favorite commands that you can't find anymore. Pressing the Windows key plus another key will produce the results as listed here. First, you'll want to use a couple to overcome the Start screen, which has nothing to do with real work.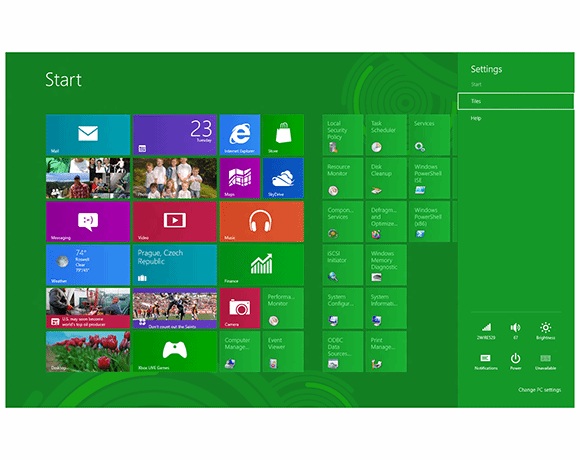 Figure 2: The Windows 8 settings "charm"
Getting to admin tools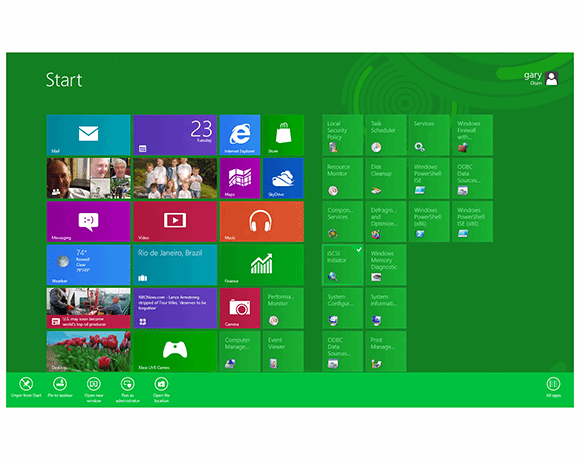 Figure 3: The iSCSI Initiator tile
Open the settings "charm," as shown in Figure 2. Click on the Tiles link, and then click on the button "Show Administrative Tools" to see a nice display of all the nice Windows admin tools. Of course, you may not care about stuff such as iSCSI Initiator. You can clean it up by right-clicking on the iSCSI Initiator tile, which opens the familiar "unpin from Start" options from Windows 7 (Figure 3).
Clicking on Event Viewer switches to the Desktop and opens Event Viewer. How cool is that? Just a few minutes of setup, and you can open what used to take a single click! Anyway, you get the idea.
Windows Z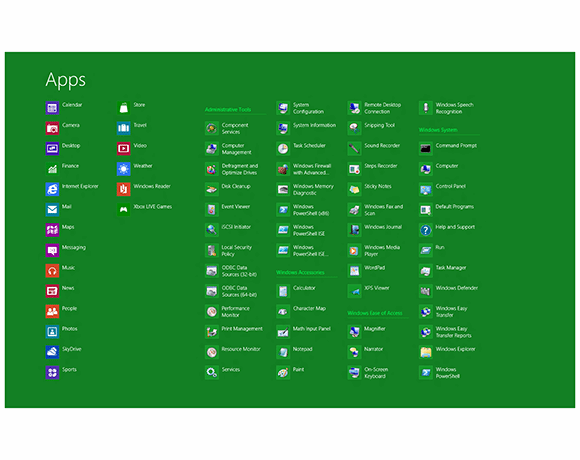 Figure 4: Finding apps using Windows Z
Using this key combination or a mouse right-click opens the App bar. Look carefully at the lower right corner of the screen, and you'll see the All Apps icon. Click, and voila! (See Figure 4.) We have solved the mystery of "Where are my apps?"
Now you can right-click on these just as for the Windows administrative tools apps. Pin apps to the Start menu, and they will show up on the Windows 8 start menu. Very cool. It took me only two weeks to find this without the benefit of the Windows shortcut keys.
So now, with the App bar and the admin tools, you can spend a few hours and get the Start screen configured. Of course, you still have to switch to the desktop for these to execute, but at least you found them:
Windows K Devices shows connected devices. This is where you can configure multiple displays.
Windows , (that's a comma) provides a temporary peek at the desktop, like Windows 7 Aero.
Windows D goes to the desktop (nice).
Windows F Search is much easier than that cumbersome Windows Start button and a single click.
Windows PgUp moves the start screen to the left monitor. PgDn moves it to the right monitor

Figure 5: Windows 8's Charms bar

Windows C opens the "Charms bar" (Figure 5). Here you have Search, Share, Start, Devices and Settings. You can also get to these by hovering over the small Minimize icon in the lower right of the screen. Handy if you can't remember the Windows key shortcuts.
Windows J switches focus among apps.
Windows R is Run.
Windows Q will search charms.
Windows E opens Windows Explorer.
Windows Break displays system properties.
I finally decided to try out the Start screen (aka Metro) tiles for setting up Internet Explorer, photos, video, etc. It was fairly easy until I tried to connect my email to Windows 8. There were lots of security restrictions to identify my email with a particular machine. It seems pretty secure -- except I never could get it to work.
From the perspective of an enterprise desktop admin, getting to know the Windows 8 UI is no fun. I'm sure, in time, we'll get used to the desktop being an app and having our PCs trying to be tablets. Maybe it will all make sense when tablets and phones are the enterprise desktop. But until then, I think using Windows 8 will be a bumpy ride, especially when you determine how much it will cost to train users.