Share this item with your network:
The key to end-user computing

Fotolia
The benefits of Windows 10 are hard to deny
The clock is ticking on Windows 7, so it's time to move to Windows 10. Microsoft's latest OS includes MDM APIs, Windows Hello and better endpoint control with Intune.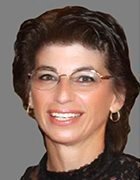 By
The mantra of many IT departments is "If it ain't broke (and it's still supported), don't fix it." But when it comes to Windows, this approach means they are not recognizing the many benefits of the latest operating system.
Windows 10 will have a positive effect on businesses when it finally becomes the corporate standard. Even though user acceptance has generally been positive for personal use, many business devices are still based on Windows 7. Some of the key benefits of Windows 10 include more management and control options, an enhanced user experience and improved stability.
Management and support
Desktop administrators can manage Windows 10 endpoints with a variety of technologies, including Active Directory, Microsoft Intune and third-party mobile device and application management software. These options give IT the power to control endpoints in some fashion, whether the business or the individual owns them.
Most businesses control endpoints based on Active Directory, and numerous new Group Policy Objects are available for Windows 10 devices. For authentication, for example, IT can enforce the use of a password or the biometrics features of Windows Hello instead of a four-digit PIN.
Intune's focus is to ensure that Microsoft Office 365 applications, not necessarily the entire device, are secured. This focus provides a novel form of endpoint security, especially as it relates to email. And it may cause organizations to more readily accept workers using their personal Windows 10 devices for business. In addition, Microsoft opened Windows 10 up to mobile device management APIs, so organizations can manage their PCs with the same software they use to control their smartphones and tablets -- an approach known as unified endpoint management.
Windows 10 has also proven to be a stable operating system with self-healing features. Whether a user stops the installation of an update midstream or powers off the computer ungracefully, for example, the system almost always recovers. "My computer died" is heard much less often. As a result, IT desktop support costs should significantly decrease.
User experience
The Windows 10 user experience is intuitive, and users generally adapt with little or no training. Because the operating system is nearly 2 years old, employees may already have experience with it on their home computers. Even the touchscreen features of Windows 10 are easy to use, which improves the user experience and can make workers more productive.
Show off your knowledge of Windows 10 features
Are you a Windows 10 expert? Flaunt your knowledge with this quiz about app compatibility, the OS upgrade process and more.
And with the correct hardware, Windows Hello can use fingerprint or facial recognition to authenticate users. Hello is also extremely easy to learn, it's more efficient than entering a complex password and it provides additional security.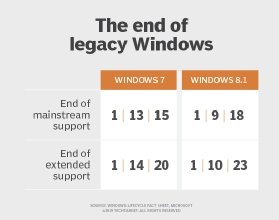 From a business perspective, however, the cost of touchscreen devices with Hello-enabled hardware may be prohibitive. The Microsoft Surface Pro 4, the leading Windows 10 2-in-1 device, costs $699 for an entry-level model and $1,699 on the high end. The benefits of Windows 10 may not outweigh these costs in some organizations. But touchscreens are not a requirement, and there are plenty of more economical options -- including upgrading existing Windows 7 devices. Just remember, the memory requirement associated with a good user experience on Windows 10 is 8 GB of RAM or higher.
Mainstream support for Windows 7 ended more than two years ago. There will come a day in the not-so-distant future -- Jan. 14, 2020, to be exact -- when Windows 7 reaches end of life. So the time to define a go-forward strategy that takes advantage of the benefits of Windows 10 is now.