Evaluate
Weigh the pros and cons of technologies, products and projects you are considering.
New Microsoft Office 2013 features you need to know about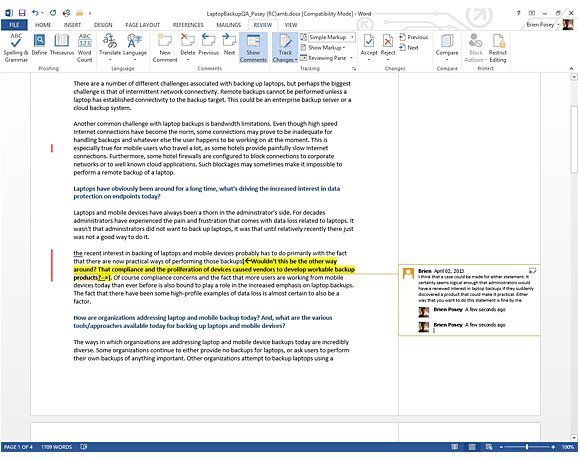 One of the really nice changes among Microsoft Office 2013 features is that the Comments feature is a lot cleaner. Previous versions of Office made it almost impossible to read documents as the editing cycle progressed. The change-tracking feature was really messy, and document comments sometimes got in the way.
Office 2013 simply uses a red mark to indicate which sections of the document have been modified. You can view the changes if you want to, but if you only need to see which sections have been modified, you can look for the red marks.
Document comments are also a lot cleaner. Office shows you where a comment exists, but you can view or hide comments as needed. Office 2013 also makes it easy to reply to a comment, and it is even possible to right-click on a comment and mark it as complete.
View All Photo Stories