Evaluate
Weigh the pros and cons of technologies, products and projects you are considering.
Three visual disk analyzer utilities to help you optimize disk space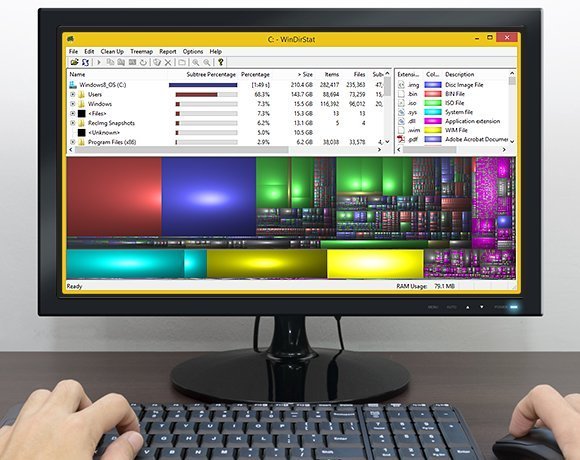 Source:
Getty Images/iStockphoto
WinDirStat is an open source disk analyzer for Microsoft Windows that displays a treemap to represent files and folders. To set up WinDirStat, download the latest WinDirStat installer file and double-click it to start the installation.
To reduce the number of files shown as "Unknown" to the barest minimum, right-click the program name and select Run as Administrator from the shortcut menu.
The WinDirStat Select Drives window lists the drives that the Windows disk tools have detected on your computer. Select All Local Drives or an individual drive from the list, or browse to a specific folder. Using the folder option, you can also navigate to a network drive (including cloud storage such as Dropbox or Microsoft OneDrive) or enter a Universal Naming Convention path. Then click OK to start the scan.
In our test, WinDirStat scanned a 450 GB disk and displayed the results shown here in less than 2 minutes.
The lower pane displays the treemap of the disk, representing files and folders as colored boxes and bars proportionate to their size. The directory list in the upper-left pane displays folders in ascending order by size (by default), and the treemap legend appears to the right.
Click a folder in the directory list to expand it to drill down to subfolders and files, or click a colored box in the treemap to display the folder in the directory list.
To delete a file, right-click it in the directory list, and select Delete from the shortcut menu. You can also open files and display their properties from the directory list or right-click a file or folder to open it in Windows Explorer (or File Explorer in Windows 8).
One word of caution: System files appear in the treemap and directory list -- for this and all other utilities discussed in this article -- so be careful not to select them when deleting files.
View All Photo Stories