Evaluate
Weigh the pros and cons of technologies, products and projects you are considering.
Three visual disk analyzer utilities to help you optimize disk space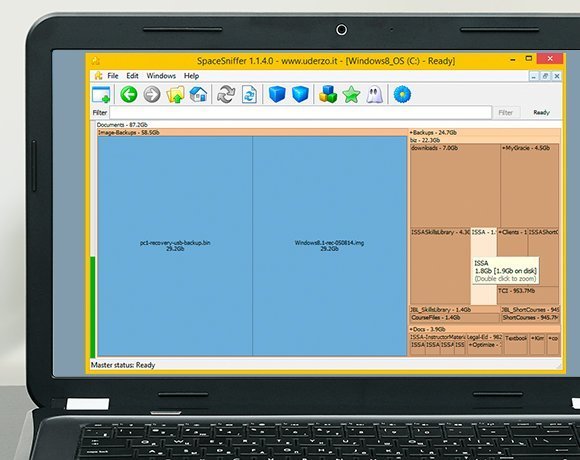 Source:
ronstik - Fotolia
SpaceSniffer is a free disk space analyzer that works much like WinDirStat, presenting scan results with colored boxes for files and folders. What we like about this tool's display is that you can right-click a box to get essential properties information, saving a few mouse clicks. Double-clicking a folder box zooms in to show you the files nested within the folder.
A nifty feature in SpaceSniffer is the ability to tag files and folders, making it easy to delete them (or perform some other operation) at one time. The utility also offers filtering, which lets you search for items by name, size, age, tag, attribute and more.
SpaceSniffer requires no installation -- just download and expand the setup file, and run the .exe file.
Keeping disks free of unnecessary file clutter doesn't have to be a labor-intensive process. Use WinDirStat, Glary Utilities or a similar free disk space analyzer regularly to optimize disks in minutes.
About the authors:
Kim Lindros is a writer, content developer and project manager who has worked around IT since the early 1990s. She co-authored MTA Microsoft Technology Associate Exam 98-349 Windows Operating System Fundamentals (Wiley, 2012), PC Basics with Windows 7 and Office 2010 (Jones & Bartlett Learning, 2010) and Introduction to Computers and Application Software (Jones & Bartlett Learning, 2014), among other textbooks, and has developed numerous college and corporate courses focused on IT security and Microsoft technologies.
Ed Tittel is a 30-year-plus veteran of the computing industry, who has worked as a programmer, a technical manager, a classroom instructor, a network consultant and a technical evangelist for companies including Burroughs, Schlumberger, Novell, IBM/Tivoli and NetQoS. Tittel has written and blogged for numerous publications and is the author of over 140 computing books with a special emphasis on information security, Web markup languages and development tools, and Windows operating systems.
View All Photo Stories