Share this item with your network:
The key to end-user computing

alphaspirit - Fotolia
Application layering frees up IT management
App layering can take a lot of the burden of application management off IT admins by allowing them to layer apps on top of the operating system.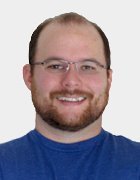 By
Over the past few years, a number of companies have addressed the challenges of application management by taking a more simplified approach known as layering.
Although each company's technology is different, they all view applications as something that can be compartmentalized and layered on top of a base Windows installation. This approach applies not only to physical desktops, but to virtual desktops as well.
The main benefit of application layering is that IT can spend less time managing and deploying most apps in an organization, which frees up time for other tasks and lets admins focus on the apps that are really challenging to maintain.
Three-headed monster
Originally, IT simply installed applications as needed. But as IT evolved and applications increased in number and complexity, admins developed new ways of dealing with them.
Application layering is another tool to help compartmentalize Windows.
First, they put applications in base images, which resulted in multiple images with different sets of applications and no simple way of installing updates. Then, IT moved to distributing app packages that automatically installed on individual desktops. Application streaming, which allowed IT to deliver applications to desktops on an as-needed basis, followed suit, and the centralized delivery of application packages became the standard.
Even though that approach has had success, one thing has become clear: This three-headed monster of application management is complicated, and each step of the way requires a special set of IT skills.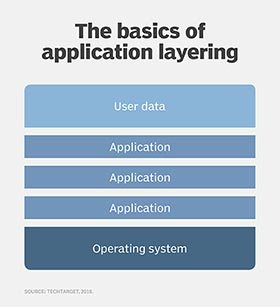 Gathering all the information needed to prepare an app for virtualized delivery can be challenging. IT must take into consideration other applications and the levels of isolation they need from the rest of the machine. Packaging requires some fancy footwork to ensure that an application works in every situation. And installing apps in the base image results in many, many base images, because the default set of apps changes per department.
Peeling back apps
Today, there is a lot of activity around application layering. The primary vendors and products on the market include FSLogix, Turbo, Ceedo, Citrix App Layering (formerly Unidesk), Numecent, Ivanti (formerly AppSense), VMware App Volumes, Cloudhouse and Liquidware Labs.
In the broadest terms, application layering is another tool to help compartmentalize Windows. In the same way user environment management allows users' workspaces to follow them to any desktop, layering separates the applications from the operating system so that they, too, can follow the user. This compartmentalization provides maximum flexibility, allowing IT to reduce the number of base images and number of applications in the base image, while still providing each user with his or her own application set.
Each vendor tackles layering differently on a technical level. None has a one-size-fits-all approach, and almost every organization will still need to rely on multiple deployment models.
Do you know the details of application layering?
App layering is a helpful tool. Show off your knowledge of the topic with this quiz on what criteria IT can use to layer apps, where app layering hard disks live and more.
As IT strives to become more streamlined in its broader move toward the cloud, application layering is gaining a lot of attention. Citrix acquired Unidesk in part, I believe, because XenDesktop's integration with Microsoft Azure means customers can now deploy layered apps to physical, virtual or cloud-based desktops.
Layering products have the ability to free up resources that were otherwise dedicated to attempting to untie the Gordian knot of application management. Ultimately, they will ease management challenges and make IT more responsive to changes in their end-user computing environments.
Dig Deeper on Windows applications