Problem solve
Get help with specific problems with your technologies, process and projects.
Associating proper applications with file types in Windows
Learn how to reset file extensions in Windows Vista and to assign the applications that should be used to open certain files on your computer.

File extension registrations have been around for as long as Windows itself. The basic idea behind them is that Windows recognizes a particular file extension as belonging to a certain application. For example, if you click on a file with the .DOC extension, then Windows knows to open the file in Microsoft Word.

While file extensions generally work pretty well, a lot of applications have a tendency to claim certain file extensions, even those that are already in use. For example, just last week I installed a utility that chose to associate the .ZIP file extension with itself, even though that extension was already being used by WinZip.
In previous versions of Windows, resetting a file extension was a fairly cumbersome process. Fortunately, it's much easer with Vista.
,
Although some applications ask if you want to change file extension associations as part of the installation process, there is no shortage of apps that recklessly hijack file extensions. That being the case, let's take a look at how to reset a file extension in Windows Vista.
In previous versions of Windows, resetting a file extension was a fairly cumbersome process. Fortunately, it's much easer with Vista. To reset a file extension, right-click on a file that uses the extension you want to reset and choose the Open With option from the resulting shortcut menu. Typically, Windows will then give you a couple of different options related to applications that it knows are capable of opening the file you have selected. You should know that choosing an application alone won't reset the extension. Instead, it causes Windows to open the file within the selected application. If you want to reset the file extension, you'll have to select the Choose Default Program option from the shortcut menu. You will then see the Open With dialog box shown in Figure A.
Figure A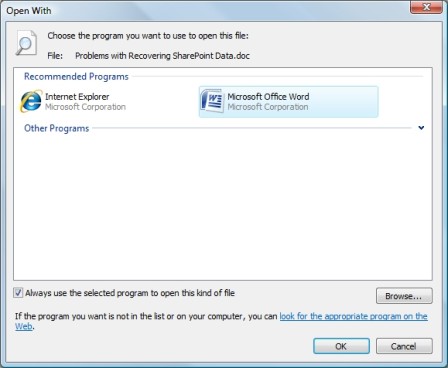 As you can see in Figure A, all you have to do is check the box that says Always Use the Selected Program to Open This Kind of File, then choose the desired application and click OK. If the application you want to use is not shown, then click the Browse button to locate the desired app.
Sometimes, you may want a bit more control over the extension registration process. If that's the case, you have a couple of other options for registering file extensions. For example, you can open the Windows Control Panel and click on the Programs link, followed by selecting Default Programs. Then choose the Associate a File Type or Protocol With a Program option and you will see a dialog box similar to the one that's shown in Figure B. All that's left to do is select the file extension that you want to reset and click the Change Program button. When you do, you will again be taken to the screen shown in Figure A, where you can choose the application that you want to associate with the file extension.
Figure B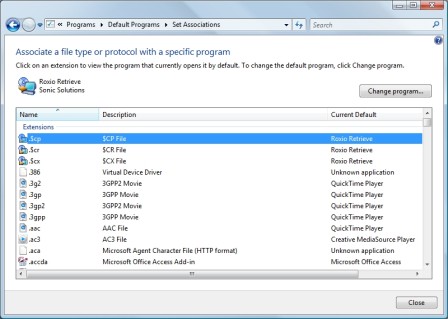 One last trick I want to show you is how to reset an entire application. For example, Windows Media Player uses about 30 different file extensions. There are lots of third-party applications, though, that have hijacked various file extensions used by the media player. Fortunately, there is an easy way to reclaim all of these file extensions in just a few steps.
To do so, open the Windows Control Panel and click on the Programs link, followed by Default Programs and Set Default Programs. You will see a screen like the one shown in Figure C. Next, just select the program you want to reclaim the file extensions for, and click the Set this Program as Default link.
Figure C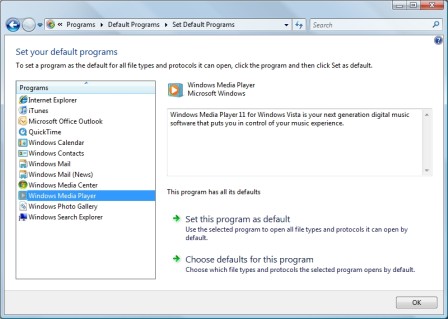 Unfortunately, you run the risk of file extensions being hijacked just about anytime you install an application. Still, it is fairly easy to reclaim these lost file extensions if you know the right steps.
Brien M. Posey, MCSE, has received Microsoft's Most Valuable Professional Award four times for his work with Windows Server, IIS and Exchange Server. He has served as CIO for a nationwide chain of hospitals and healthcare facilities, and was once a network administrator for Fort Knox. You can visit his personal Web site at www.brienposey.com.
Dig Deeper on Windows legacy operating systems