Manage
Learn to apply best practices and optimize your operations.
Before a Microsoft Office 2013 install, beware of potential gotchas
After you deal with a Microsoft Office 2013 install, know about both the problems and workarounds lurking in Office 2013 features.
Office 2013 is currently the top productivity suite, but it still has flaws that can challenge desktop administrators....
Continue Reading This Article
Enjoy this article as well as all of our content, including E-Guides, news, tips and more.
Before you conduct a Microsoft Office 2013 install, be aware of problems with file extensions and workarounds such as bypassing the Start screen. Let's take a look at some potential snags with Office 2013.
Although most upgrades to Microsoft Office 2013 will proceed smoothly, you might experience the occasional snag. Before you begin any installation, go through the usual checks as with any software update.
Getting past Office 2013 installation challenges
Make sure the system meets the minimum requirements. For example, you can install Office 2013 on Windows 7 or Windows 8 but not on a previous operating system version.
Back up all data, including Outlook .pst files. Be sure to uninstall the old version of Office if one is already present. (You can, however, do a side-by-side installation, but it will have problems with Outlook; more on that in a moment.)
You should also run Windows Update, temporarily disable antivirus software and run the Office 2013 install as a user with administrative rights.
If the Microsoft Office 2013 install hangs between 80% and 90%, the print spooler service is most likely interfering. Run Services.msc, locate the print spooler item, click Stop and then click OK. Resume the installation, and don't forget to restart the service after it completes. If the installation hangs at 94%, restart the computer and resume, if prompted, or start over.
You can also try to get past an installation hang by performing a repair. Open Control Panel, select Programs and Features, select the Microsoft Office 2013 product you're trying to install in the list, and select Change on the menu bar. Then select Online Repair.
Tackling Outlook problems with a side-by-side installation
Let's say a user needs to run both Office 2010 and Office 2013, but after you install Office 2013, the user no longer has access to Outlook 2010. This can occur if you installed the Click-to-Run version of Office 2013 on a computer running an MSI-based version of Outlook 2010. In this case, you cannot run both versions of Outlook simultaneously.
A side-by-side installation can also cause broken file type associations and problems with certain commands, such as the File > Send As Attachment command in other Office applications.
The command issue is a result of the user having Outlook 2010. Closing Outlook 2010 and issuing the File > Send As Attachment command should clear up the problem. Regardless, Microsoft recommends limiting the time users run Office versions side by side. That is, you should fully migrate users to Office 2013 as soon as possible.
Once you uninstall the old Office product(s), if file type associations are still causing problems, run a repair on the remaining Office installation.
What to do if Outlook 2013 won't open after an upgrade
While we're on the subject of Outlook, after upgrading from an older version of Office, a user might get an "Outlook cannot continue" or a similar message when attempting to open Outlook 2013. The culprit in this case is most likely the .pst file. Just move the .pst file to a different folder, open Outlook 2013 so a new .pst file is created, and then import the old .pst file into Outlook.
Disabling the Start screen
Microsoft introduced the Office Start screen in Office 2013, which is the first screen presented to a user when opening any Office 2013 application. The screen differs a bit from app to app, but it provides the user with a list of recently opened files and a list of templates for that application.
These templates include the blank document -- or workbook or presentation, depending on the app. The screen is handy for most users, but some might get annoyed and just want to start with a blank file, like in previous versions of Office.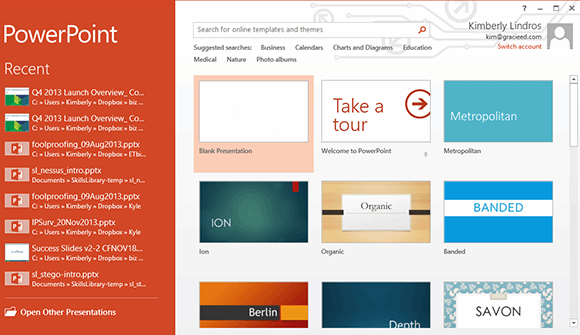 The apps within Microsoft Office 2013 have similar Start screens.
A user can simply press Enter or Esc to jump from the Office Start screen to a new, blank file. To prevent the Start screen from appearing at all, go to File > Options. On the General screen, uncheck the "Show the Start screen when this application starts" option. You'll need to do this once for each Office application.
Disabling access to Microsoft SkyDrive
As you probably know by now, Office 2013 is tightly integrated with Microsoft SkyDrive. In fact, selecting File > Save As in any Office 2013 application shows SkyDrive as the first entry in its list of file locations, even before "Computer." Because users log in to Office with a Microsoft account, the related SkyDrive is always available, too, as long as an Internet connection is available.
But some shops don't want files saved outside of the safe perimeter of in-house servers and storage, so you can untether Office 2013 from SkyDrive partially or totally.
To simply make SkyDrive less prominent, select File > Options and click Save in the left pane. There are three options to consider:
Don't show the Backstage view when opening or saving files. Checking this option doesn't actually prevent Backstage from appearing, which is where the SkyDrive location appears. Instead, after selecting this option, the Save As dialog box appears after a user presses Ctrl+S, selects File > Save, or clicks the Save icon on the Quick Access toolbar to save a new document. The same principle applies with the Open command.
Show additional places for saving, even if sign-in may be required. Uncheck this option.
Save to Computer by default. Check this option if you want users to save to the local computer by default.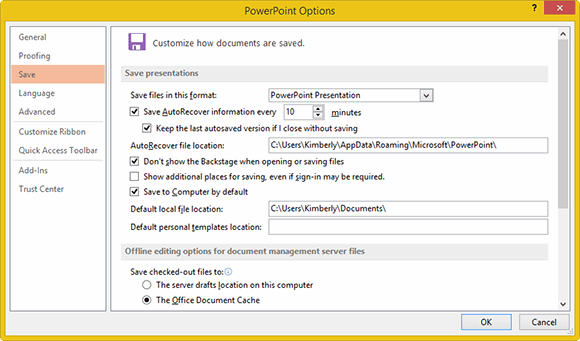 Disable access to SkyDrive in Office 2013 app options.
When you change these settings in one Office 2013 application, those changes apply to all Office 2013 products.
To disable access to SkyDrive, one method is to edit the Windows Registry. Be sure to back up the Registry first.
Open the Registry Editor (enter regedit in the Run dialog box). In the editor, navigate to HKEY_CURRENT_USER\Software\Microsoft\Office\15.0\Common\SignIn key. Right-click a blank area in the main pane on the right, select New > DWORD, and name it SignInOptions. Then, double-click the SignInOptions entry and set its value to 3.
To disable access to SkyDrive in an enterprise environment, download and install the latest Office 2013 Administrative Template files and Office Customization Tool. After the installation completes, open the Group Policy Editor on your domain controller.
Navigate through User Configuration > Administrative Templates > Microsoft Office 2013 > Miscellaneous. Locate and double-click the "Block signing into Office" item in the list of settings. In the Properties dialog box, click Enable and select the "None Allowed" option.
Understanding these potential gotchas and workarounds can help desktop admins and users well beyond a Microsoft Office 2013 install.
About the authors:
Kim Lindros is a full-time writer, content developer and project manager who has worked around IT since the early 1990s. She co-authored MTA Microsoft Technology Associate Exam 98-349 Windows Operating System Fundamentals (Wiley, 2012) and PC Basics with Windows 7 and Office 2010 (Jones & Bartlett Learning, 2010), among other textbooks. Lindros has also has developed numerous college and corporate courses focused on IT security, Microsoft technologies and Microsoft Office.
Ed Tittel is a 30-year-plus veteran of the computing industry who has worked as a programmer, a technical manager, a classroom instructor, a network consultant and a technical evangelist for companies that include Burroughs, Schlumberger, Novell, IBM/Tivoli and NetQoS. He has written and blogged for numerous publications and is the author of more than 140 computing books with a special emphasis on information security, Web markup languages and development tools, and Windows operating systems.