Problem solve
Get help with specific problems with your technologies, process and projects.
Checklist: How to configure the audit policy
A properly-configured audit policy can lead you to a goldmine of information in Windows event logs. Get help configuring the audit policy in this checklist.

Windows event logs can contain a goldmine of information to help you troubleshoot operational and security issues, detect an attack in progress, and examine the results of one that's over and done. However, the logs won't contain the information you need if you don't properly configure the auditing policy.

You may download a printer-friendly version.
Checklist: How to properly configure the audit policy
Configure multiple audit policies.
Understand that security-related events are recorded where they happen, and you may need to configure multiple policies in order to obtain the whole picture. To capture events
that happen on domain controllers, configure the audit policy in the default domain controller policy. To capture events on member servers and workstations, configure the
audit policy for a GPO linked to the container within which these computer accounts reside. If one policy fits all, the default domain policy is a good location. However, for maximum
flexibility, you may want to work with GPOs linked to different OUs. Download the Group Policy Management Console, a Microsoft freebie for the easiest approach to policy
configuration. An audit policy for standalone Windows computers can be configured in the StartControl PanelAdministrative ToolsLocal Security Policy.
Turn auditing on.
Windows NT, Windows 2000 and Windows XP do not have any auditing configured by default. Set one component in the audit policy to record success and/or failure events and
you have turned the audit policy on. Windows Server 2003 has auditing turned on by default. Hurrah! You should evaluate the default settings and adjust them to suit your organization.
Decide what to audit.
Table 1 lists the audit settings from Windows Server 2003 and their purposes. Earlier Windows audit policy may have slight differences in wording, but you'll be able to
compare them. Table 2 provides my recommendations.

Table 1: Audit Policy Settings

Audit Policy
Purpose
Audit account logon events
Records domain controller logon information. Kerberos events are recorded when this setting is configured.
Audit account management
Records changes to accounts. User creation and deletion, password change, group creation and deletion, group membership change, computer accounts created and deleted and so forth.
Audit directory service access
Enables recording of actions on Active Directory objects. To record specific object activity you must configure settings on specific object in the Active Directory. To record those events in the security log, you must turn object auditing on at this policy.
Audit logon events
Records logon events at the console used by the user including logon, logoff. Where IPsec is used, IKE events. SID filtering events.
Audit object access
Enables recording of access to files, folders, registry keys and printers, if auditing settings are set on the objects themselves. Additional events are generated if certificates are used. Event generation depends on this setting as well as local object setting.
Audit policy change
Records changes to user rights and trust relationships. Records changes to the audit policy, changes to IPsec agent and changes to Kerberos policy.
Audit privilege use
Privileges added to user's access token, and use of privileges. Setting this policy can generate multiple events per use of privilege.
Audit process tracking
Records process creation and exit, access to objects, backup of data protection master key (used by EFS and CryptProtectData and CryptUnprotectData operations). Records, dataprotection master key recovery, installation of service and creation of scheduled jobs. This setting can create numerous events for any running processes. It is often recommended that this policy not be enabled except in development environments or in environments where software evaluation is undertaken.
Audit system events
Records startup and shutdown events, loading of authentication packages, clearing of the audit log and change to the system time.

Table 2: Audit Policy Recommendations

| | | | |
| --- | --- | --- | --- |
| Audit Policy | Domain Controllers | Member Servers | Workstations |
| Audit account logon events | Success, Failure | Success, Failure | Success, Failure |
| Audit account management | Success, Failure | Success, Failure | Success, Failure |
| Audit directory service access | Success, Failure | N/A | N/A |
| Audit logon events | Success, Failure | Success, Failure | Success, Failure |
| Audit object access | Success, Failure | Success, Failure | Success, Failure |
| Audit policy change | Success, Failure | Success, Failure | Success, Failure |
| Audit privilege use | Not configured | Not configured | Not configured |
| Audit process tracking | Not configured | Not configured | Not configured |
| Audit system events | Success, Failure | Success, Failure | Success, Failure |

Configure event log settings.
The default event log settings on Windows systems will probably require enlarging the log file size and other settings. This will be a topic covered next time.
After audit settings are configured, the Windows event logs will start to build a goldmine of information --- but understanding and using that information requires another checklist,
one that I'll soon supply.
Windows Security Checklists offer you step-by-step advice for planning, setting up and hardening your Windows security infrastructure.
E-mail the editor to suggest additional checklist topics.
---
ABOUT THE AUTHOR:
Go back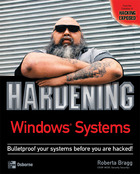 Roberta Bragg is author of "Hardening Windows systems" and a SearchWindowsSecurity.com resident expert. She is an MCSE, CISSP and Microsoft MVP, and a well-known information systems security consultant, columnist and speaker.
Click to ask Roberta a question or purchase her book here. Also, if you have specific questions or comments about any of Roberta's checklists, click to e-mail her directly. Copyright 2004