Dmitri Stalnuhhin - Fotolia
Control app updates with Windows 8 and 8.1 GPO settings
Some Windows 8 and 8.1 GPO settings that you might not know about can make dealing with automatic updates from Windows Store applications a lot easier.
With new and updated GPO settings in Windows 8 and 8.1 you can control updates to apps from the Windows Store and configure file associations for LOB applications.
You can configure Group Policy Object (GPO) settings using Local Group Policy Editor or a GPO that is configured in an Active Directory domain. In an enterprise deployment, you probably push policy settings from a GPO that is configured in an Active Directory domain, which allows you to control how you apply policy settings to specific computers.
Control Windows Store app updates
There are two types of applications for Windows 8 and later OSes: desktop applications and Windows Store applications. The ability to install application updates via the Windows Store was a new process in Windows 8. But installing updates from the Windows Store works differently in Windows 8 and 8.1.
In Windows 8, updates to Windows Store apps are downloaded automatically from the Windows Store, but the OS waits for the user to say that the updates can be applied. In Windows 8.1, Windows Store app updates are downloaded and installed automatically, without any user interaction.
It's OK to apply updates automatically to some Windows Store apps, but it's not a good idea on critical or line-of-business (LOB) applications. Fortunately, you can control automatic updates to Windows Store apps by configuring a few GPO settings. Keep in mind however that the settings you apply will be true for all Windows Store apps -- there are no GPO settings to control a specific Windows Store app.
Go to Computer Configuration\Administrative Templates\Windows Components\Store. There you will find four Group Policy settings: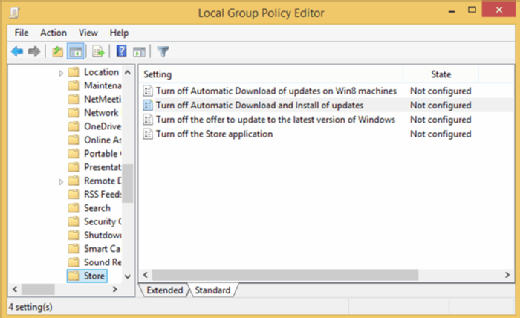 Enable Turn Off Automatic Download and Install of Updates to disable Windows 8.1's ability to download and install the updates to Windows Store apps automatically. If you want to disable Windows 8's ability to download the updates automatically, simply enable Turn Off Automatic Download of Updates on Win8 machines.
When you enable Turn Off the Store Application, you disable user access to the Windows Store. This also disables Windows' ability to download and process application updates automatically.
Turn Off the Store Applications must be disabled for Windows 8 or 8.1 to download and install updates to Windows Store apps. (Enabling Turn off the offer to update to the latest version of Windows lets you disable Windows' ability to show notifications if a new version of Windows is available.)
Edit file associations
Windows creates registry entries so Windows Explorer can open files with an associated program -- text files open with Notepad.exe, for instance. But Windows doesn't always know which executable to use to open a particular file. For example, if you don't have Microsoft Office installed on your computer, Windows doesn't know how to open Word, Excel and PowerPoint files. When you install Office, it modifies registry entries and associates executables to open those files.
But many in-house applications can't associate application files with the application executable during installation. And in Windows 8 and 8.1, some file types open in Modern apps. That's OK for a tablet user, but laptop or desktop users probably want to open files using desktops applications. In those cases, you have to tell Windows to open a file with a particular executable.
There's a way to do this using commands, but it can take a long time if you need to modify the file association settings on thousands of computers. And in that case, it might not be a feasible option to use the command option in the first place.
To control file association settings using a GPO, go to Computer Configuration\Administrative Templates\Windows Components\File Explorer and configure Set a default associations configuration file.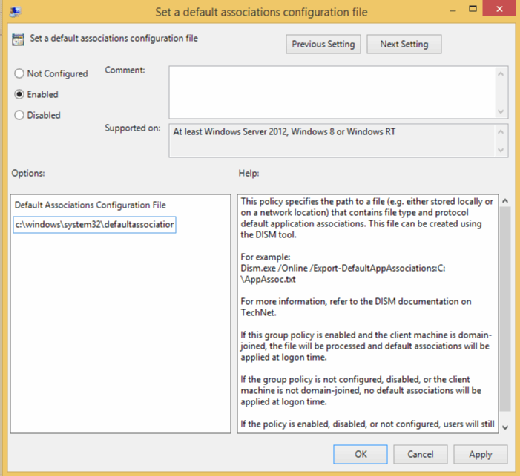 Once the GPO setting is enabled, you must specify the path of the XML file that contains the file association settings. Create that XML file by executing this command:
Dism.exe /Online /Export-DefaultAppAssociations:C:\Temp\FileAssoc.XML
Once the GPO setting is enabled, Windows clients running Windows 8 and 8.1 process the file association settings from the XML file at logon. It's a good idea to copy the XML file to a network location and specify the complete path in the GPO setting.
When the GPO setting is applied on Windows client computers, a registry entry called DefaultAssociationsConfiguration at HKLM\Software\Policies\Microsoft\Windows\System will be created on the destination computers that will hold the path to the XML file.
Next Steps
Disable Windows Store apps with Group Policy Objects.
Speed up Windows 8 performance with these registry tweaks
How to configure Start screen functions with Windows 8 GPOs