Manage
Learn to apply best practices and optimize your operations.
Devise a Windows XP end-of-life strategy before migrating to Windows 7
Make sure that you have a good business case for migrating from Windows XP, and plan accordingly before moving your enterprise to Windows 7.
The writing is on the wall: Windows 7 is coming. Slowly but surely, it's going to be the next big workstation operating system adopted in the enterprise. The question is, how are you going to get there?
Why move to a new OS? If you don't have a business justification for IT expenditures, what good are they anyway? Here are a couple of reasons for migrating from Windows XP:
Enhanced productivity
Windows 7 absolutely screams on systems with more than 4 GB of RAM. The 32-bit version of Windows XP that most systems are running today cannot take advantage of that much memory. Sure, a fast computer doesn't directly equate to increases in user efficiency. You could even argue that workstations don't need any more horsepower. However, many users need every extra bit of memory, processor speed and new hardware to support local virtual machines and the forthcoming onslaught of 64-bit applications. How is it in your environment?

Ongoing support
With the exception of netbook installations until October 2010, retail sales of Windows XP have stopped. By April 2014 -- which will be here before we know it -- all Windows XP support will cease. When Microsoft stops supporting an OS, third-party software vendors will undoubtedly follow suit. From a pure tech-support perspective, this doesn't look like a big deal. However, Microsoft not releasing service packs and hotfixes is a big deal. How is this going to affect IT, security and compliance in your business?
The technological tide keeps rising, regardless of any actual or perceived benefits of the new OS. In addition to Windows 7, we have to embrace the explosion of mobile devices and cloud computing, or we risk facing an environment that's ultimately more difficult to manage.
Ask yourself the following key questions regarding the context, timing and approach for phasing out Windows XP and moving to Windows 7: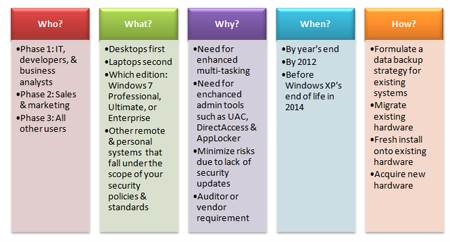 Finally, and perhaps most importantly, don't forget to think about how you're going to handle all of your old Windows XP-based systems when all is said and done. Will you keep them for test or training purposes? Will you give them away? There are a lot of security considerations when doing either, so think about data destruction before passing along older machines.
I'm all for using what you've got and not making IT expenditures when you don't have to. In your organization, this may mean hanging onto Windows XP indefinitely. Then again, is that what's really best for the business in the long term? Although your situation may be unique, Windows XP is ultimately going away, and an OS overhaul is not going to happen overnight -- or next year for that matter. You might as well start thinking about it now.
About the author: Kevin Beaver is an information security consultant and expert witness, as well as a seminar leader and keynote speaker at Atlanta-based Principle Logic LLC. In the industry for over two decades and having worked for himself the past eight years, Beaver specializes in performing independent security assessments in support of compliance and managing business risks. He has also authored/co-authored seven books on information security, including Hacking For Dummies and Hacking Wireless Networks For Dummies (Wiley). In addition, he's the creator of the Security On Wheels information security audio books and blog providing security learning for IT professionals on the go. Beaver can be reached at www.principlelogic.com.