Kirill Kedrinski - Fotolia
Evaluating Microsoft 365 vs. G Suite for enterprise use
Microsoft 365 vs. G Suite is a difficult choice to make, so organizations should evaluate each offering's features, support and pricing before they pick a cloud productivity suite.
Many organizations that have not taken the leap into cloud productivity services have a lot to gain from these subscriptions.
Modern cloud productivity services go beyond just email hosting or storage and collaboration tools. They also offer cloud-based private branch exchange, business process automation services and data visualization tools. Two vendors that offer cloud productivity services with these features are Microsoft and Google, but it can be difficult to understand exactly what tools, features, apps and services each offering provides.
Whether an organization is a startup or an established business that is looking to move on from its on-premises mail service, G Suite and Microsoft 365 are both quality options. These offerings each provide several valuable services that can help modernize collaboration and communication, and support process automation.
Organizations must understand the two sides of the Microsoft 365 vs. G Suite debate to determine which suite is the best option for them based on collaboration, enterprise content management, pricing, security and cloud storage. Office 365 tends to be popular among enterprise clients, while G Suite is commonly used in education, nonprofits and startups, but organizations should compare the details of each offering to their resources and needs.
Microsoft 365 vs. G Suite: collaboration tools and support
Microsoft has released several iterations of its collaboration platform as part of a productivity suite, starting with SharePoint and Office communicator, and ending with Microsoft Teams. This latest platform provides Microsoft customers with audio and video conferencing, chat and accessibility to enterprise content. Microsoft has learned from some of the successes of the Slack collaboration tool, incorporated several new features into Teams, including the following:
Support for Microsoft Office application integrations
Office 365 Groups integration
Basic subscription plan available for free
Support for dial-in numbers
Support for screen-sharing
Microsoft PSTN calling integration
Support on Windows and Linux OS
Support for interactive bots
Integration capabilities with other third-party software through connectors
Integration with Microsoft Planner for task management
Real-time translation services
Real-time transcribing services
On the other hand, Google has included its Hangouts platform as part of its G Suite plan. Hangouts offers text chat capabilities in addition to audio and video chat. However, the focus has always been around ease of use and supportability. G Suite's features include:
Support for Google Apps
Support for video and audio calls
Support for screen-sharing
Simple and easy-to-use interface
Support for emojis and stickers
When admins consider Microsoft 365 vs. G Suite, they should be aware of Google's plans to sunset Google Hangouts in G Suite in June 2020. Google is set to replace this offering with Google Chat and Meet. Many Google customers are concerned that they will have to look elsewhere for a tool that can support audio and video conferencing for their employees and customers.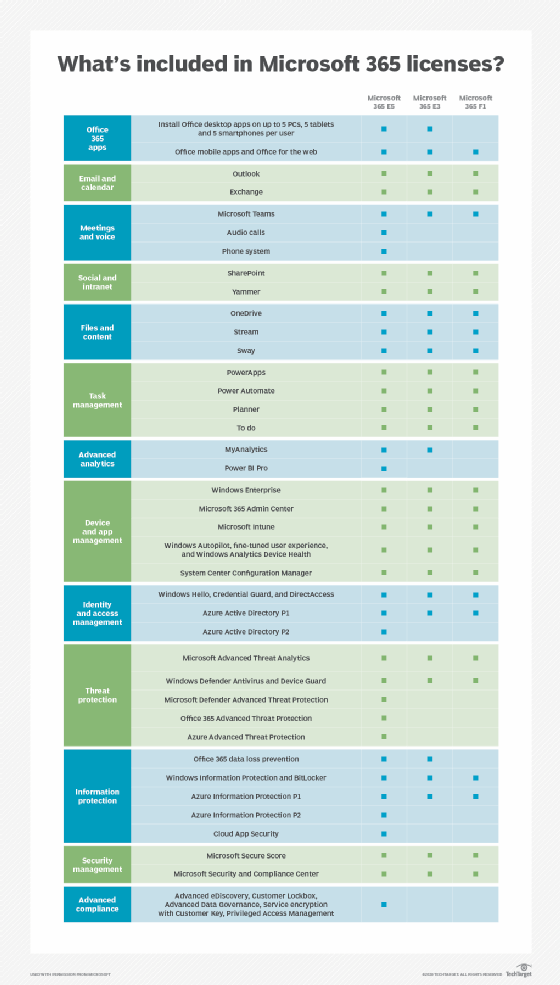 Compliance of the productivity suite is critical for most
When it comes to security and compliance, both Microsoft and Google meet many of the core compliance certifications that healthcare or finance organizations may need. Some of these certifications include ISO 27001, SSAE16, SOC 1, SOC 2, HIPAA, EU Data Protection Directive and GDPR.
When admins consider Microsoft 365 vs. G Suite, they should be aware of Google's plans to sunset Google Hangouts in G Suite in June 2020.
However, one of the concerns that many executives have when it comes to privacy is Google's reputation of data mining and focus on advertisement. This causes some customers to assume that Google is analyzing their data to gain insights into employee behavior. Google makes it very clear that its client data is protected and is not being mined for any advertising purpose, but this perception could hurt potential customers' interest in Google.
Enterprise content management for G Suite and Microsoft 365
Google recognizes that end users working within G Suite may need help managing their digital assets and content. G Suite includes an enterprise content management (ECM) tool called Google Drive Enterprise. It offers features such as data loss prevention to ensure company data never leaves the ECM system, a system for auditing data and the AI-driven Quick Access feature that helps users find the files they need.
Additionally, Google Sites provides a private intranet that allows users to upload documents and create, control and deliver digital content through a browser. Google Sites is easy to use and administer, making it an attractive platform to post events, announcements and different documents that employees might need.
SharePoint is Microsoft's offering for ECM and for over 20 years the platform has seen some significant changes. Most Office 365 plans -- F1, all enterprise and business plans -- include SharePoint Online. This platform provides some of the core functions used by OneDrive for document versioning, collaboration and business workflow automation. The SharePoint platform is also highly customizable, making it attractive for larger organizations that have the resources to customize its forms and streamline workflows. In fact, there are thousands of third-party apps such as timesheet trackers, time-off managers and help desk systems that turn SharePoint into a business app.
Cloud storage to support company's data in the cloud
Organizations may look to adopt hosted email services and documents into Microsoft or Google's cloud storage services. Google Drive and Microsoft OneDrive are both robust cloud storage platforms that offer customers a generous amount of storage to securely upload and access documents and data from any device. Google's individual storage quotas start at 30 GB and move into unlimited storage for organizations with the business or enterprise plan and more than 5 users on the platform. Microsoft provides its Office 365 subscribers with 1 TB of storage per user, but organizations can increase that limit to 5 TB per user by submitting a request.
Microsoft 365 vs. G Suite pricing comparison
When it comes to choosing between either Microsoft 365 vs. G Suite, pricing is a key factor. Google's pricing for G Suite includes three different plans: $6 per user, per month for the basic plan, $12 per user, per month for the business plan, and $25 per user, per month for the enterprise plan. These prices are the result of a price increase that Google implemented in early 2019.
Microsoft, on the other hand, offers customers years with no price increases. Office 365 plans start at $5 per user, per month for business essentials, $12.50 per user, per month for business premium, $20 per user, per month for E3 plan and $35 per user, per month for E5. Microsoft offers additional add-ons that allow organizations access to BI tools such as Power BI Professional, Power Apps for mobile application design and Power Automate, which supports business automation services. Organizations can add the applications to their plans individually, regardless of which subscription model they choose.