Arsgera - Fotolia
Get to know the latest Windows 10 security updates
The Windows 10 Fall Creators Update brings new features to the OS, including in the realm of security. Windows Hello includes user-proximity signals now, for example.
In a lot of ways, OS updates such as the Windows 10 Fall Creators Update are a hassle, but proper system maintenance is the only defensible approach to security incidents and related data breaches.
Yes, OS updates make IT professionals' lives a little more challenging in the short run, as they scramble to test compatibility and roll the update out across the enterprise, but they also help keep systems secure. And as Windows 10 adoption continues to rise, IT must put the Windows 10 Fall Creators Update on its radar, test it on a small subset of systems for a while, and when all is well, roll it out across the enterprise.
Windows 10 security updates are a top motivator for updating the OS, so it's important to know what the Fall Creators Update brings to the table in that context.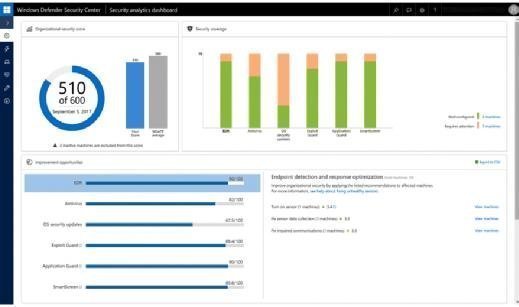 What Windows 10 security updates are in the Fall Creators Update?
Enterprise malware protection: Microsoft reworked Windows Defender Advanced Threat Protection to now include an impressive analytics dashboard and organizational scoring. It also added Windows Defender Device Guard, which boosts whitelisting capabilities. It is intended for critical workstations and servers, and it only allows specific executables to run and nothing more.
Internet browsing protection: The Windows Defender Application Guard adds hardware isolation from websites, cloud systems and internal network segments for Microsoft Edge.
Host intrusion prevention: Windows Defender Exploit Guard provides host-based intrusion prevention with Enhanced Mitigation Experience Toolkit-based controls.
There is no questioning whether or not Microsoft is trying to keep its products secure and customers happy.
Authentication: Windows Hello adds support for multifactor authentication and user-proximity signals. The proximity signals allow the OS to know the user's whereabouts. So, if the user is in the office, Windows Hello can use that as a factor for authentication and allow him to log in. But, if he is somewhere less secure, such as a public place, the user cannot log in.
Mobile device management (MDM): Windows Information Protection adds cloud-centric data loss prevention controls. IT can also auto-enroll devices already joined to Active Directory into its MDM.
Windows Updates: The Fall Creators Update includes Windows Server Update Services for the Windows Mixed Reality platform.
Microsoft also updated its Windows security baselines, which include the security configuration standards it supports and recommends.
Some IT pros might find that some of these Windows 10 security updates actually make their lives more complicated, but there is no questioning whether or not Microsoft is trying to keep its products secure and customers happy.