JumalaSika ltd - Fotolia
Get started
Bring yourself up to speed with our introductory content.
Hands-on look at Microsoft's Edge Web browser
Microsoft Edge, the new browser for Windows 10, makes reading websites easier, allows users to annotate a page and integrates with Cortana.
Edge, Microsoft's new default browser for Windows 10, provides a lightweight alternative to Internet Explorer's bloated and cumbersome past.
Microsoft hopes the Edge Web browser can win back some of the company's diminished share in the market, most of which has gone to Google Chrome.
Built from the ground up, Edge borrows some of Internet Explorer's (IE) more recent technologies, but it leaves behind a lot of the dead weight. Windows 10 still ships with IE to support legacy applications and websites, but Microsoft's focus is squarely on its new browser.

Download this free guide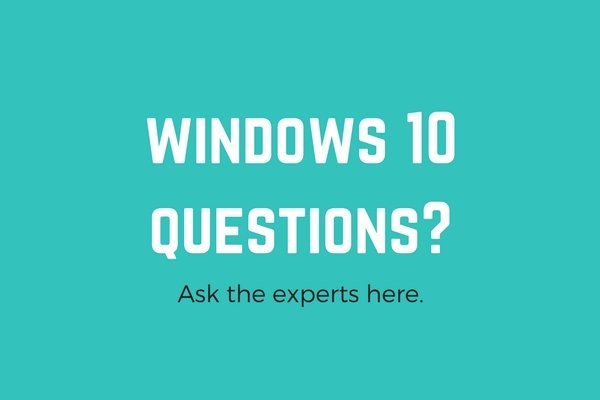 72-Page PDF: Windows 10 Frequently Asked Questions
In this comprehensive guide, our experts answer the most frequently asked Windows 10 questions ranging from the OS itself, to migration, to user-adoption, and everything in between.
By submitting your personal information, you agree that TechTarget and its partners may contact you regarding relevant content, products and special offers.
You also agree that your personal information may be transferred and processed in the United States, and that you have read and agree to the Terms of Use and the Privacy Policy.
How to get started with the Edge browser
When you open the Edge browser, you'll notice clean lines, a simple interface and easily accessible options. You're also confronted by a busy, MSN-style homepage, complete with headlines and rotating images. There's enough pizzazz to distract you long enough to forget why you opened the browser in the first place.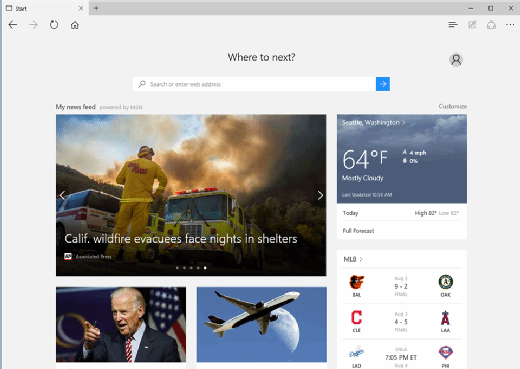 All the amenities of a modern browser are present. You can search from the address bar, launch private browsing sessions, share a webpage, search its contents or print a page. The browser even supports a set of built-in developer tools, just like Chrome and the Firefox developer edition. You can access most of these features from the options menu.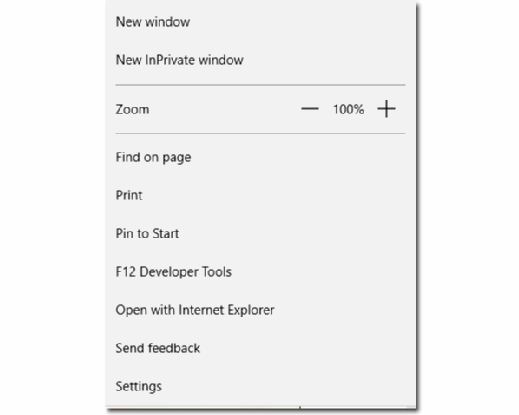 Notice the Settings option at the bottom of the menu. Edge supports basic and advanced settings. Basic settings let you choose a theme, display the Favorites bar, configure the Start page and clear the browser data, for example. Advanced options let you dig deeper and block pop-ups, enable Do Not Track requests, set the default search engine, block cookies and more.
Within advanced settings, you can also choose your own Start page, including a blank one. If you stick with the default Start page, you can pin additional content from the options menu and, to a certain degree, customize the information display.
Edge eliminates reading clutter
Microsoft has made a point to improve your reading experience. For example, the Favorites bar is hidden by default to provide a cleaner interface. You can still easily display Favorites and add to them by clicking the star button on the toolbar. You'll also find an option in settings for importing favorites from IE and other browsers. This can be a fairly useful option because Edge does not automatically import your IE favorites when you upgrade to Windows 10.
You can also find your favorites in the Hub, a special pane where you can access your history, downloads and reading list. The reading list is a handy feature for bookmarking webpages you want to view later, but don't necessarily want to add to your favorites.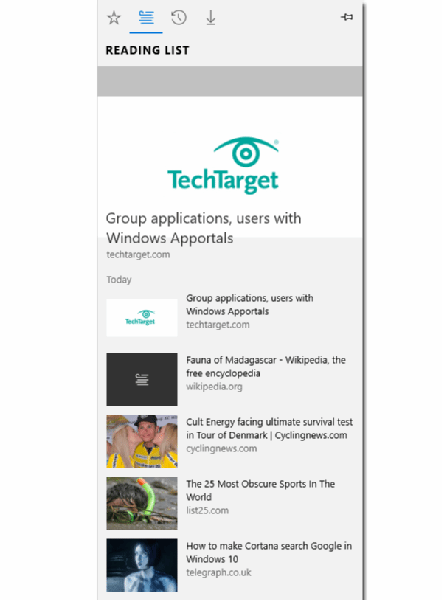 The Edge Web browser includes another useful feature, Reading View, which renders a page in a more readable format, without the common distractions of many sites.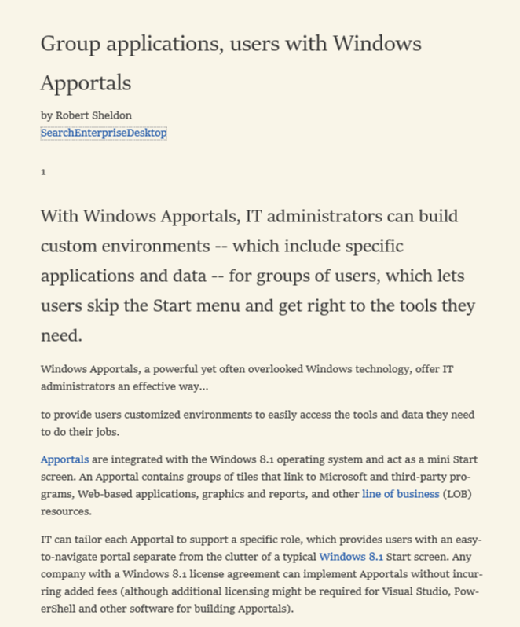 On sites that don't support Reading View, the tool -- which is located in the upper right corner of the browser -- is grayed out. It's missing altogether on the default Start page.
Write directly on webpages
Microsoft is entering a new frontier by providing options for annotating a webpage. The Web Notes feature lets you underline, highlight or clip text, and add notes. You can use these features to share information, set up reminders or simply doodle.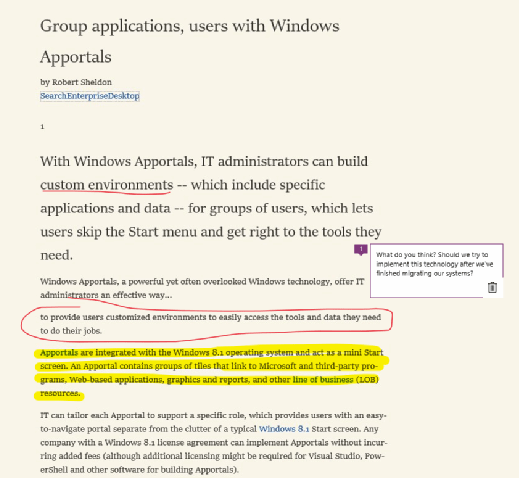 When you access Web Notes, the browser takes a snapshot of the page and creates a separate file to write on -- you're not modifying the original webpage. You can use a mouse, track pad or touch screen to add or remove any mark-up elements you want.
After you finish marking up a page, you can save it to OneNote or add it to your favorites or reading list. If you then access the file from one of those locations, you can link back to the original page on the source website. Edge also lets you share the marked-up page via e-mail or OneNote.
Cortana integrates with the Edge Web browser
Cortana is a virtual personal assistant built into Windows 10; it is similar to Siri on iOS devices. Cortana can help you find files, track packages, manage your calendar and even tell jokes. Cortana is integrated into Edge, but does not offer the complete feature set you'll find on Windows 10 in general. For example, you can't use voice commands in Edge, but Cortana still adds a couple interesting features to the browser.
The most useful tool lets you highlight a word or phrase on a webpage and then ask Cortana for information about that term without leaving the original page. Edge opens a pane where Cortana provides the information, without disrupting your current browsing experience.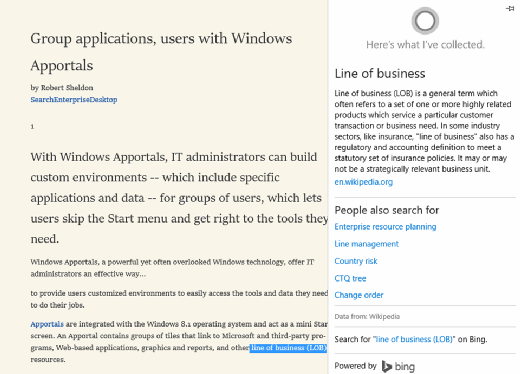 With Cortana, you get the information you need when you need it, without weeding through a lot of irrelevant results. This makes accessing at least some information a tad more efficient than in Bing and Google.
Edge still a work in progress
Although Edge appears to be superior to IE, it's still in its infancy. As such, you'll probably run into a few buggy operations, missing features or unpolished tools. Edge is a lightweight browser and it lacks some of the features of IE, which means some legacy pages won't load in Edge; you'll still be stuck with IE in those cases.
Edge borrows some of IE's more recent technologies, but it leaves behind a lot of the dead weight.
Edge is also very much a Windows 10 browser. Unlike Chrome, which has different versions that run on various device types, such as Android and iOS smartphones and tablets. But Edge is limited to Windows desktops as of this writing, though it will likely be part of Windows 10 Mobile when Microsoft releases it. Microsoft phones represent only a small portion of the mobile market and, given the continued trend toward mobility, Microsoft could have difficulty generating the type of loyalty cross-platform products claim.
Still, Microsoft needed to give IE the boot, and is doing so in an effective way. By leaving IE in place, Microsoft is free to push the Edge Web browser beyond IE's limits, providing a browser light-years ahead of its predecessor, while ensuring the stability of legacy apps. Edge might not be everything Chrome and Firefox are, but it certainly has the potential to become a rival.
Dig Deeper on Microsoft Windows 10 operating system