How Microsoft OneNote 2010 can improve productivity, organization
If organization isn't your strong suit, you can get help from Microsoft OneNote 2010. This powerful tool can save important emails, documents and more in easy-to-find locations.
The most underused program in the Microsoft Office suite may also be one of its most useful organization tools: OneNote. IT professionals looking to increase their productivity should take advantage of all this program has to offer.
In the first part of this two-part tip, I introduced the concept of using Microsoft OneNote as a productivity tool and explained how to create custom templates. OneNote 2010 collects email and documents from programs such as Outlook, Excel PowerPoint and even webpages into folders called "Notebooks." Each Notebook has subdivisions called "Sections," which contain "Pages" for even more organization.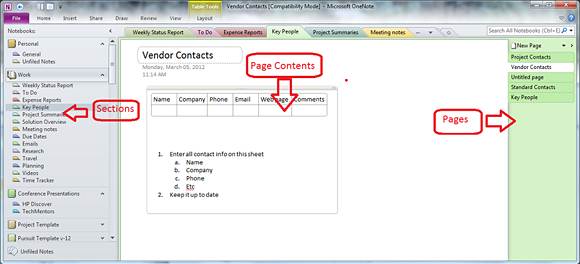 Figure 1
Microsoft OneNote can also create tables and outlines and store project notes, emails, schedules, documents, research and more in easy-to-find locations. Here are some examples of how IT pros can benefit from using Microsoft OneNote.
Figure 1 shows the layout of OneNote 2010. You can see your Notebook tabs at the top, Sections listed on the left and Pages listed on the right. Notebooks have major category headings concerning projects, contracts, computer support and maintenance, customer names, etc. Sections have titles regarding contacts, meetings, email, status reports, ID numbers, contract numbers, project overviews and whatever else makes sense to you. The actual content -- charts, email, notes, etc. -- is contained on Pages.
OneNote 2010 Notebooks are limited only by your imagination and need. The following suggestions can help you get started, but you'll get additional ideas as you use Microsoft OneNote. I've found the following Sections to be useful:
1. Contacts: A table showing contact information for all members of a project team can be put in this Section. I use it to keep track of various project stakeholders. This is also handy for remembering the roles of specific people.
2. Meetings: Users can keep meeting minutes in this Section. I find it much faster than handwritten notes and better than Word documents, because the meeting notes are in context with other project information, and Word documents can get scattered. The outlining and formatting features make it easy to produce organized notes that you can send to attendees and use to recall what was discussed or accomplished.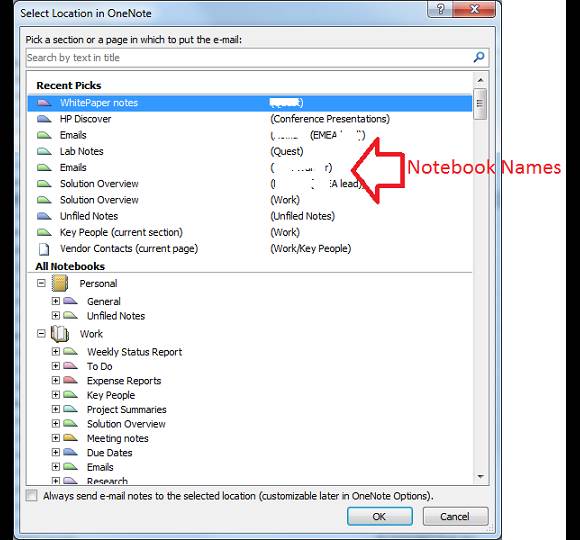 Figure 2
3. Email: In this Section, each Page is a separate email. Outlook includes a OneNote icon in the ribbon of email messages. Clicking on that icon puts a copy of the message in whatever Microsoft OneNote location you desire. Figure 2 shows the dialog that lets you browse to the OneNote Notebook and Section in which to file it. Microsoft OneNote will remember recent locations for saved information. This is much better than filing emails in .PST files or saving them as text because you can keep specific messages as needed. Save all of the related messages in the .PST file and just keep the key ones in OneNote.
4. Timelines, status reports: Create a chart using OneNote's chart tool or import from Excel, Word, etc. To create a chart in Microsoft OneNote, simply type, then hit the Tab key to make a new cell. Hitting the Enter key will create a new row. Right-click in a cell, and select Table to add or remove rows and columns. You can simply copy and paste information from other apps. I make a weekly status report for my manager by creating a table in OneNote, updating it each week and then cutting and pasting it into an email. OneNote 2010 makes it easy because I always know where to find the report -- no searching through directories and files.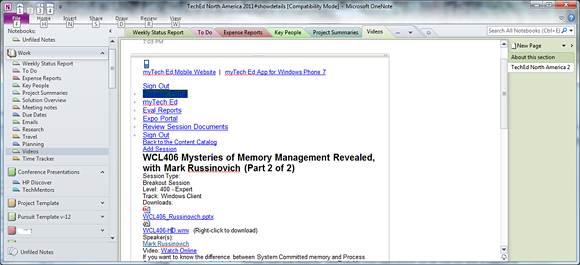 Figure 3
5. Training: I have a training Notebook with Sections for each class I have taken. In the Sections, I have Pages with information about the training (who, what, when, where) and notes I take during each course. In the case of Web-based courses, I can embed PowerPoint slides, videos and Web links. This allows me to easily find the course and review the material at a later date (Figure 3).
6. Track travel expenses, schedules, etc.: Create a standard travel Notebook with a travel expense Page for each trip. Just create the Page template, and copy it as needed. These Pages could be copied to appropriate project Notebooks and Sections, which helps keep track of expenses related to specific projects.
7. Other tables that might be created include inventory reports, licensing information, support phone numbers and IDs.
Other Microsoft OneNote features
In addition to the ability to create charts and directly save an email to a Page, Microsoft OneNote includes a number of useful features.
-- You can create templates of custom Notebooks, as described in Part 1 of this series. Once you find a layout of Sections and Pages that's reusable for different projects, open up a new Notebook, create a Section -- call it "template" -- and hit Ctrl-K or click on Insert > Hyperlink and point to the Notebook file (Figure 4). These files will have an extension of .onepkg. To create a new Notebook, just click on that hyperlink, give it a new name when prompted, and voilà, you have a new Notebook with all the Sections, Pages, tables and other layouts you created.
-- All OneNote Notebooks can be viewed and used in both the 2007 and 2010 versions. If you need to open a OneNote 2010 Notebook in OneNote 2007, it has to be converted to a 2007 version in OneNote 2010. Right-click on the 2010 Notebook in the left-hand pane, and select Properties (Figure 5). Select the Convert to 2007 option, save it, and then open that Notebook in OneNote 2007. Conversely, OneNote 2007 Notebooks can be opened and used in OneNote 2010, and if you want them to be true 2010 Notebooks, they must be converted to the 2010 version using the same method described here.
-- You can send OneNote Pages to Word documents and email. Open and click in the OneNote Page. Go to File > Send (Figure 6). Select one of the options to save it in a new Word file or send as email, PDF, etc.
-- With Microsoft OneNote, you can copy and paste text from a document into a OneNote Page and it won't lose its formatting.
-- You can print directly to OneNote 2010. This feature comes in handy for when you don't want to waste paper and ink on webpages that don't have formatted printing options, when you just want a record of a page but don't want to save the file, or when you don't have access to a printer. Just go to the Print option in the browser, and OneNote shows up as a print device. Click the print button, and the OneNote location dialog provides the option to file in a desired location. This location-selection option was not available in OneNote 2007 and is a great improvement. The result can be seen in Figure 7 -- nice formatting, no messy files, and it's filed in a logical place. It also works for OneNote 2010 installed with Microsoft Office 2007.
Final thoughts on OneNote 2010
In addition to the features mentioned here, Microsoft OneNote 2010 Plain & Simple by Peter Weverka contains how-to information on sharing OneNote files, interfacing with webpages, customizing the toolbar and ribbon and much more.
Microsoft OneNote is a highly effective productivity tool that seems to be a well-kept secret. Putting information from a variety of sources into Notebooks, Sections and Pages makes it very easy to find everything based on your personal organization needs, without having to search your computer. While OneNote 2010 doesn't replace mail folders and file directories, it is invaluable for saving important information in a clean, easy-to-find system.
ABOUT THE AUTHOR:
Gary Olsen is a solution architect in Hewlett-Packard's Technology Services organization and lives in Roswell, Ga. He has worked in the IT industry since 1981 and holds an M.S. in computer-aided manufacturing from Brigham Young University. Olsen has authored numerous technical articles for TechTarget, Redmond Magazine and TechNet magazine, and he has presented numerous times at the HP Technology Forum. He is a Microsoft MVP for Directory Services and is the founder and president of the Atlanta Active Directory Users Group.