Problem solve
Get help with specific problems with your technologies, process and projects.
How to install the Windows XP Recovery Console
What happens when you can't use Safe Mood to fix an OS that won't boot? Try the Windows XP Recovery Console. Microsoft MVP Brien M. Posey explains step one -- installation.
Normally, when Windows is unable to boot, I advise people to boot the system into Safe Mode. Safe Mode loads the Windows operating system using a minimal set of drivers and services. The basic idea is that the components that are most likely to have caused the problem are omitted and, subsequently, you can load a "minimalist" version of Windows and use it to repair the problem.

The problem with Safe Mode is that it isn't an alternate operating system; rather, it's a watered down version of the OS that you are trying to repair. As such, there is always a chance that some of the required components for use in Safe Mode are the same damaged components that prevent Windows from loading. When this happens, using Safe Mode won't help. Fortunately, there is an alternative -- the Windows XP Recovery Console.

Download this free guide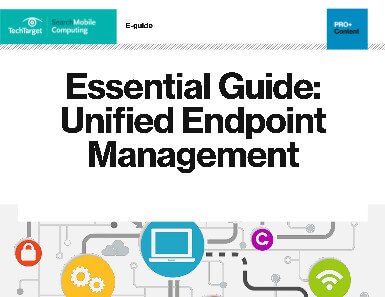 Free PDF: Your Essential Guide to Unified Endpoint Management
Download this 44-page guide to learn everything you need to know about UEM.
By submitting your personal information, you agree that TechTarget and its partners may contact you regarding relevant content, products and special offers.
You also agree that your personal information may be transferred and processed in the United States, and that you have read and agree to the Terms of Use and the Privacy Policy.
The Recovery Console allows you to boot the system to a Command Prompt and then use various commands to repair the problem. Before I go on, I want to point out that the command prompt environment used by the Recovery Console is different than the one that is accessible through Windows. It is also different from the environment you are taken to if you boot the system using Safe Mode with the Command Prompt option. The Recovery Console is specially designed to help you repair low-level problems with Windows.
There are two options for accessing the Recovery Console. Assuming that a problem has not yet occurred, you can install the Recovery Console as a startup option. If you need to repair a system that has already crashed, then you can load the Recovery Console directly from the Windows XP installation CD.
Installing the Windows XP Recovery Console
If you would like to proactively install the Recovery Console onto a machine's hard drive so it will be available during times of crisis, you must begin the process by booting Windows and logging in as an administrator. After doing so, insert the Windows XP installation CD and click Exit when the Windows XP splash screen appears.
At this point, you must open a Command Prompt window (available on the Start | All Programs | Accessories menu), and enter the following command:
F:\I386\WINNT32.EXE /CMDCONS
There are two things you must keep in mind when you enter this command.
This command assumes that your CD is located in drive F. If that isn't the case, you will have to substitute the appropriate drive letter.
You must use the installation CD that matches the version of Windows that is installed. For example, assume you decided to install the Recovery Console on a laptop that is currently running Windows XP Media Center Edition 2005. If you were to attempt to install the Recovery Console off of a Windows XP Professional CD, you would get an error message indicating that the Windows versions do not match.
After entering the command, you should see the screen shown in Figure A. This screen informs you that the Recovery Console will require 7 MB of disk space and asks you if you want to continue the installation. Click Yes and the Recovery Console will be installed.
Figure A


The entire installation process is automatic, and there is nothing else you need to do other than clicking OK when you see the screen shown in Figure B.
Figure B


Notice in Figure B that the dialog box indicates that you should use the Help command to view the commands that are available to you through the Recovery Console. This further illustrates the point that I made earlier about the Recovery Console being different from a normal Command Prompt environment.
Loading the Recovery Console from CD
Accessing the Recovery Console from the Windows XP installation CD is fairly simple. Begin the process by booting the machine from the installation CD. Windows Setup will spend a few minutes loading the various drivers. Then it takes you to a screen that asks if you want to set up Windows now, repair an existing Windows installation using the Recovery Console, or quit. Press the R key to access the Recovery Console option. Upon doing so, you will be taken to a screen that's similar to the one that's shown in Figure C.
Figure C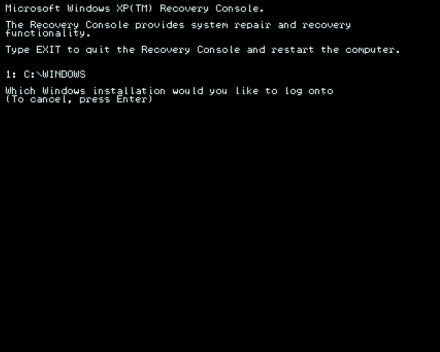 As you can see in Figure C, the Recovery Console displays any Windows installations that have been detected on the system's hard drive and assigns a number to each of these installations. Enter the number that was assigned to the Windows installation that you want to work with and you will be prompted for the local administrator's password for that installation. After entering the password, you will be taken to a rather normal looking command prompt, as shown in Figure D.
Figure D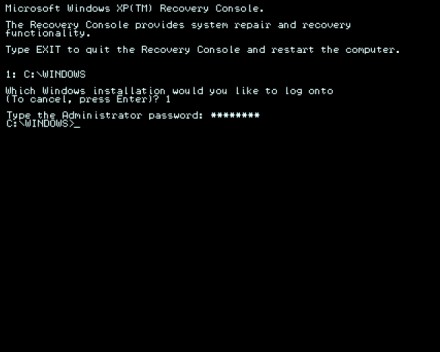 Now you know two different methods for accessing the Windows XP Recovery Console. In part two, I will discuss how to use the Recovery Console once it's been installed.


THE WINDOWS XP RECOVERY CONSOLE



How to install it


How to use it


Regaining lost functionality

Brien M. Posey, MCSE, is a Microsoft Most Valuable Professional for his work with Windows 2000 Server, Exchange Server and IIS. He has served as CIO for a nationwide chain of hospitals and was once in charge of IT security for Fort Knox. He writes regularly for SearchWinComputing.com and other TechTarget sites.
Dig Deeper on Microsoft Windows XP Pro