How to navigate the Windows 10 file cleanup waters
After upgrading to Windows 10, an old version of the OS remains, taking up precious disk space. Admins should know how to remove it as well as other wasteful apps and files.
The Windows 10 Anniversary Update made Windows 10 file cleanup a little more interesting, including reducing the rollback period -- the time IT has to revert back to the previous version -- from 30 days to 10.
When admins upgrade Windows, they install a new copy of the operating system. The previous installation resides in a directory named Windows.old, in addition to a few other files they use during the download and install process. All those files remain on the system for a period while the OS permits admins to roll back operations to the previous version if needed. But this takes up a lot of space, so admins may want to clean up devices by deleting anything users don't need.
Files that IT may want to remove appear in Disk Cleanup under the following headings or categories:
Setup log files;
Windows upgrade log files;
RetailDemo offline content;
Windows Electronic Software Download (ESD) installation files;
Previous Windows installation(s); and
Temporary Windows installation files.
The last three items are generally the biggest files. A previous Windows installation is likely to be more than 10 GB, and may even reach 20 GB depending on how many applications and resources were on the OS. ESD installation files are typically 3 to 5 GB, and temporary Windows installation files are usually between 3 and 4 GB. Getting rid of these files can free up substantial disk space.
Performing a post-upgrade Windows 10 file cleanup
As long as admins have a current backup of the previous OS, there's no reason to keep rollback files after an upgrade. They can use the built-in Disk Cleanup tool, diskmgr.exe, to delete them. Once the tool performs an initial disk scan, however, admins must click the Clean Up System Files button to get rid of Windows.old and anything else they don't want: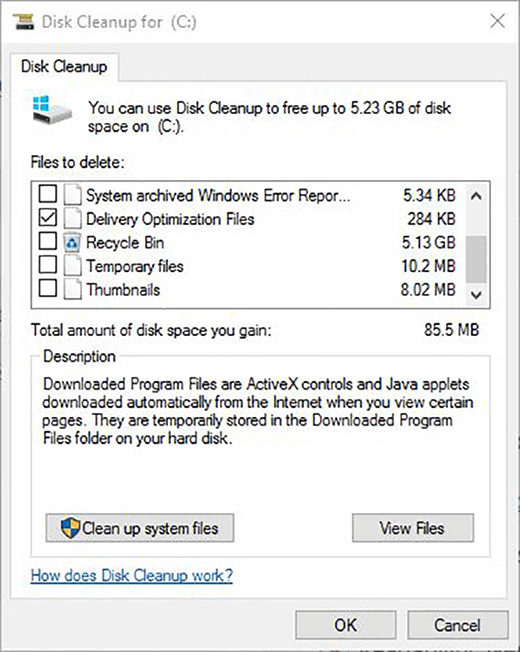 The space savings from this kind of Windows 10 file cleanup can exceed 18 to 20 GB. For space-constrained systems it's a good idea to perform this type of cleanup sooner rather than later. On less space-constrained systems, Windows 10 deletes most of this automatically 10 days after the upgrade.
Other forms of Windows 10 cleanup
Even if admins don't have leftover files from a recent upgrade to clean up, they can still make room on the Windows drive with other techniques. One way is to get rid of obsolete or unused device drivers.
As long as admins have a current backup of the previous OS, there's no reason to keep rollback files after an upgrade.
Another way is to uninstall and delete applications users don't work with or don't want. Admins can use the built-in Programs and Features item in Control Panel to do this. The third-party tool Revo Uninstaller can perform more aggressive cleanups to free up even more space. It's available in both a free version and a commercial Pro version. Piriform's CCleaner is another particularly good option. Even its basic free version does the job.
It's also a good idea for users to make an occasional pass over their Downloads and Documents folders to delete any files they no longer need. They can also copy files that are more than three months old from the C: drive library folders (i.e., Downloads, Documents, Photos and Music) to an archive on another, bigger drive attached to other systems. The process won't recover the tens of GB they can get after a Windows upgrade, but over time it recovers similar amounts of storage.
One cleanup proves challenging
Even if admins take steps to get rid of Windows.old on all their machines, it can hang around. In some cases neither CCleaner nor Disk Cleanup can eliminate the folder entirely and remove every last vestige of Version 1511 from those machines.
Other drivers and Windows Store apps can be hard to delete, too. Changing permissions doesn't work, nor does attempting to use the Unlocker program, a third-party tool designed to stop processes that prevent users and admins from deleting particular files.
If admins have these problems, they can boot the affected machines to a USB flash drive with the Windows 10 Version 1607 installer and run Setup.exe to get to the command prompt. From there, navigate to the bottom of each folder chain in the Windows.old directory using the change directory (cd) command. Then use the delete (del) command to delete any unwanted files. For each directory to be deleted, use the remove directory (rmdir) command. Once all that is done, return to the C: drive root to delete Windows.old.