Problem solve
Get help with specific problems with your technologies, process and projects.
How to test a single machine for Windows Vista compatibility issues
Using a free tool from Microsoft, admins in small companies can easily test a PC for application and hardware compatibility with Windows Vista.
Part 1 | Part 2 | Part 3 | Part 4

Unless you've been living under a rock for the last year or so, you've no doubt heard that one of the biggest concerns with Windows Vista involves issues with compatibility, most notably that Vista's new security features prevent many legacy applications from running. When you combine that with the fact that Windows Vista requires more powerful hardware than Windows XP, you can see why so many companies have been reluctant to upgrade.

Microsoft has tried to make the upgrade process easier by offering the Deployment Workbench, a suite of programs aimed at performing enterprise compatibility testing for Vista deployments. Although the Deployment Workbench works quite well, at times using it can be overkill, especially for smaller organizations.

As an alternative, let's take a look at a quick and dirty method of testing a machine for Windows Vista compatibility. Although this technique is geared toward testing a single machine, it works equally well in small companies that don't have a lot of PCs.

The Windows Vista Upgrade Advisor

The simplest way to test a machine for Windows Vista compatibility is with a tool called the Windows Vista Upgrade Advisor (WVUA). The Windows Vista Upgrade Advisor is a free tool that tests both application and hardware compatibility, and you can download it from Microsoft's website.

The download consists of a 6.6 MB MSI file. In my own organization, I simply put this file onto a USB flash drive and went from PC to PC, testing for compatibility with Windows Vista.

Unfortunately, you can't run the Windows Vista Upgrade Advisor directly from a flash drive. In spite of its small size, it has to be installed onto the machine that is being tested. Fortunately, installation is really simple. Simply double-click on the MSI file to launch the Setup wizard. The wizard basically just asks you to accept the end user license agreement and confirm the installation path. Tell the wizard whether or not you want a desktop shortcut, and you're done.

Running the WVUA

Running the Windows Vista Upgrade Advisor is almost as simple as installing it. When you launch the tool, you will see a splash screen similar to the one shown in Figure A. As you can see in the figure, all you have to do to begin the process is click the Start Scan button.

Figure A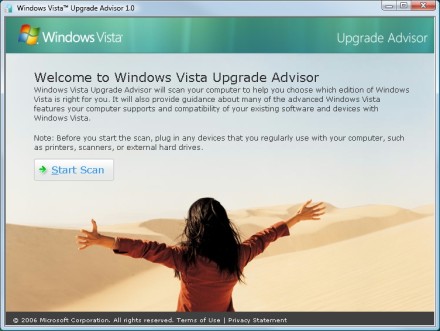 At this point, Windows Vista Upgrade Advisor will begin performing an automated scan of the system. The length of time that the scan takes to complete depends on a number of factors, such as your machine's hardware capabilities and the number of applications that are installed. Most of the time, the scan will complete in two or three minutes.
While you are waiting for the scan to complete, the Windows Vista Upgrade Advisor displays comparative information about the features included in the various versions of Windows Vista, as shown in Figure B. If you require more detailed information about a specific version, click on the buttons at the bottom of the screen.
Figure B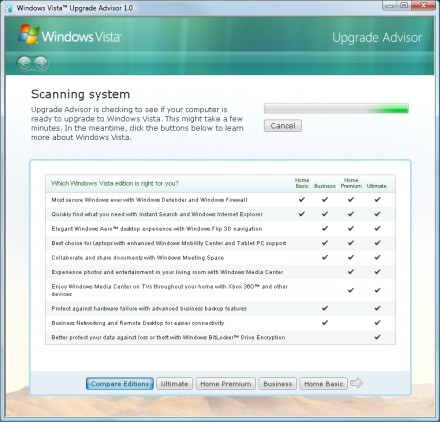 When the scan completes, click the See Details button to see the results of the scan. The results look like what you see in Figure C. Note that there are absolutely no known issues on my PC to prevent me from upgrading to Windows Vista. The reason for this is that I ran the Windows Vista Upgrade Advisor on a machine that is already running Vista. When you run the tool on a Windows XP machine, you will rarely get such positive results.
Figure C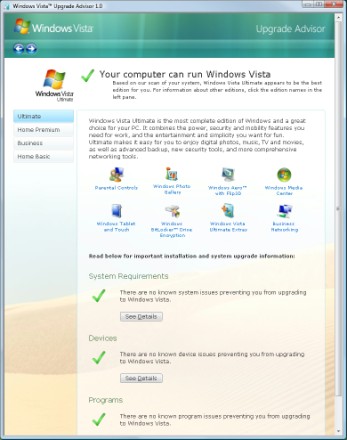 The various editions of Windows Vista seem to have their own requirements. In Figure C above, notice the tabs at the top left portion of the screen. You can click on the tabs to find out how well your system is prepared to upgrade to a specific version of Vista. In fact, Microsoft recommends running the Windows Vista Upgrade Advisor if you are thinking about upgrading from one version of Vista to another.
Normally, after running the WVUA, you would click the See Details button found in the System Requirements, Devices and Programs sections to get detailed information about the issues that the tool encountered during the scan. As I mentioned before, the system that I am running has no known issues. If you look at Figure D, though, you'll get a basic idea of the application compatibility information that WVUA gives you. The screens containing compatibility information on the machine's system requirements and hardware devices are presented in a similar manner.
Figure D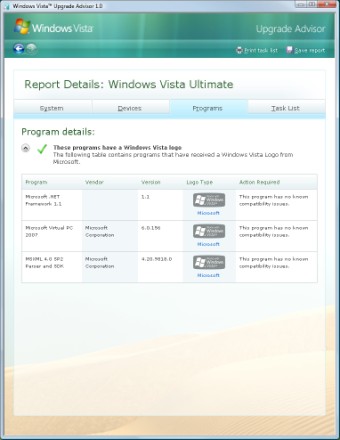 It's important to remember that the Windows Vista Upgrade Advisor is not suitable for use in large organizations because it lacks the ability to scan and report on multiple PCs. If you only need to test a single PC, however, then Windows Vista Upgrade Advisor is an ideal tool.


WINDOWS VISTA COMPATIBILITY ISSUES



Why they exist and what to expect


Testing a single machine


Testing a large enterprise


Workarounds for compatibility problems

Brien M. Posey, MCSE, has received Microsoft's Most Valuable Professional Award four times for his work with Windows Server, IIS and Exchange Server. He has served as CIO for a nationwide chain of hospitals and healthcare facilities, and was once a network administrator for Fort Knox. You can visit his personal Web site at www.brienposey.com.
Dig Deeper on Windows applications